Another day, another helicopter weed bust in Spain. Expanded live coverage of the Vuelta a Espana cycling race via helicopter television cameras allowed Spanish authorities to bust an illegal rooftop marijuana grow operation outside of Barcelona.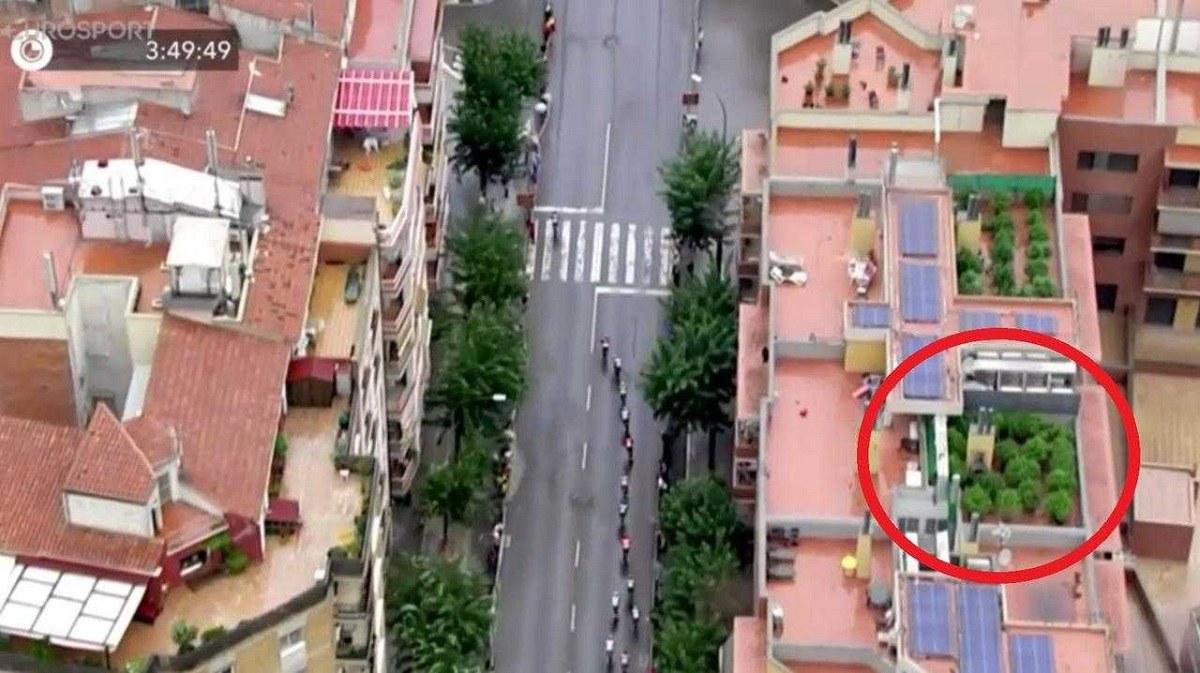 On Saturday, during Stage 8 of the Vuelta a Espana took cyclists from Valls, Spain through a hilly 167 km ride to the town of Igualada. German cyclist Nikias Arndt won the stage, but everyone has been buzzing about the big weed bust that happened a couple of days later thanks to incriminating helicopter footage.
At the beginning of the summer, NBA player D'Angelo Russell got popped at LaGuardia Airport in New York City by TSA. Hey it's no Spain weed bust, but former member of the Brooklyn Nets attempted to sneak marijuana in his baggage on a flight to Louisville.
Excuse Me While I Kiss the Sky
Local police in Igualada, located approximately 70 km from Barcelona, utilized race footage to discover an illegal marijuana grow op occurring in the last place they'd look for a crop of dank weed.
At first glance, the bushy green plants looked like small trees inhabiting a lush rooftop garden. Upon closer inspection, the vegetation was actually a thriving urban marijuana plantation.
On Monday, law enforcement authorities raided the apartment building where the plants were growing. Officials seized 40 plants and shut down the aerial plantation. A local spokesman said police charged no one with a crime. Police confiscated the plants for evidence.
"We received information via social media that there was a marijuana plantation on the roof of a block of flats in Igualada," said a spokeswoman from Mossos d'Esquadra.
Cannabis is legal for personal consumption in Spain. However, local laws prohibits commercial cultivation.
🔴 🚁 El helicóptero de #LaVuelta19 descubre una plantación de marihuana en una azotea. pic.twitter.com/Zhry3x1rng

— AUGC Guardia Civil (@AUGC_Comunica) September 3, 2019
What Is the Vuelta a Espana?
Vuelta a Espana is the final major race in the Grand Tour. The majority of the three-week race occurs in Spain. It also featured a couple of stages on the France border. The Vuelta a Espana ends on September 15. Let's all pray to the ghost of Jerry Garcia that there will not be another weed bust in Spain.
Colombia's Nairo Quintana won the first stage of the Vuelta a Espana. Colombia has been crushing the cycling scene in 2019. Earlier this summer, Egan Bernal became the first rider from Colombia to win the Tour de France.
Barcelona, the party capital of Europe, has no shortage of tokers. It's no surprise someone stumbled upon a grow op. It's just the weirdness of the helicopter weed bust that made headlines and generated 420-friendly clickbait. Helicopters covering a bicycle race is the last way growers thought they would get pinched. Then again, in the drone era, you have to secure your stash at all costs.