Snoop Dogg proved at Saturday's Los Angeles Kings game that he can learn new tricks. The rap artist, who lives in Southern California, took part as the "celebrity guest of honor," participating in the ceremonial puck drop and acting as disc jockey before the game.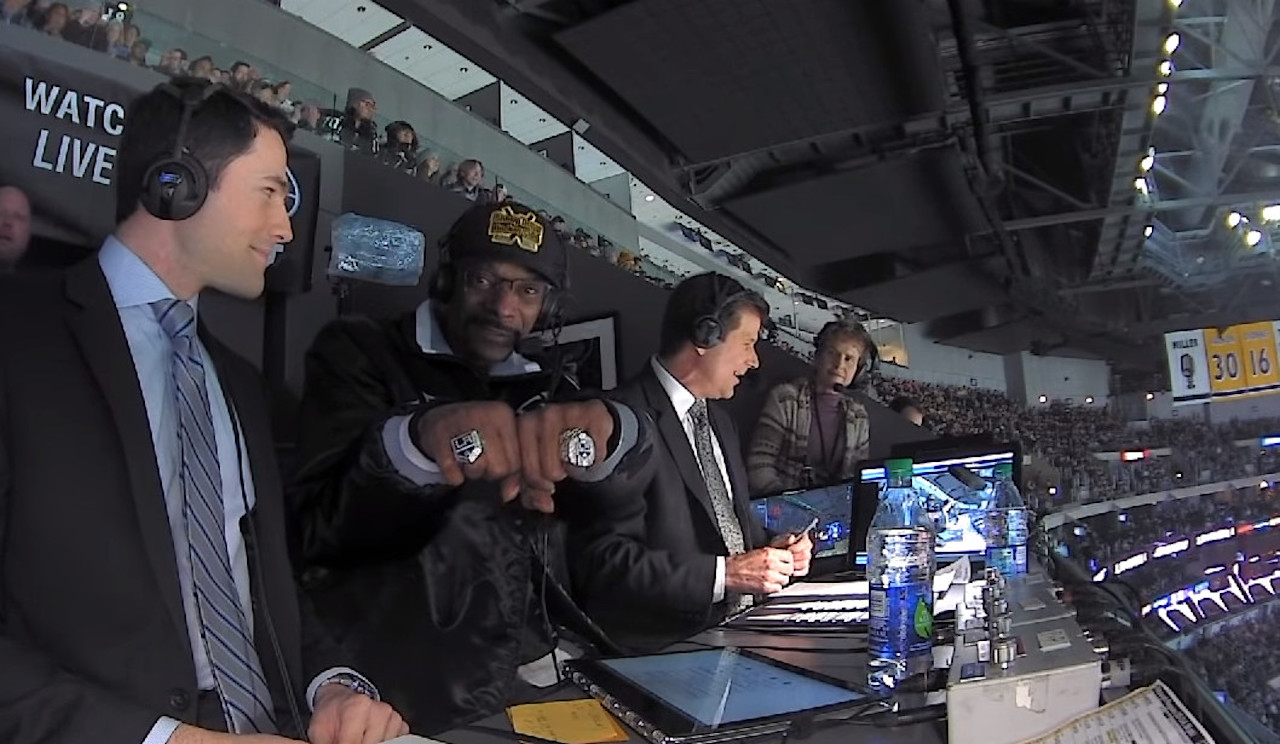 It was his time as a play-by-play announcer, however, that made the biggest splash. Dogg, whose real name is Calvin Broadus Jr., joined Fox Sport's Los Angeles Kings' broadcast team of Alex Faust and Jim Fox and gave his unique take on the Kings against the Pittsburgh Penguins.
https://twitter.com/i/status/1084303035369574400
Dogg joined the crew in the first period and enthralled viewers with phrases such as, "Oh, come on nephew," and "Somebody's gonna want that moolah."
Hit with Viewers
The 47-year-old artist and television personality also proved to be quite knowledgeable about the sport, even if his deliver was unconventional. When the Kings were passing the puck too much to Dogg's liking, he was critical of the strategy.
https://twitter.com/LAKings/status/1084331849797623808
"Somebody gotta be willing to take a shot," Dogg said. "It can't be all passes, somebody gotta want that money. Who want the money? Who want the money!?"
When the players got into a scrap after the whistle, Dogg egged them on to pick up the physicality.
"He fired on cuz, hold on now," Dogg said. "Get it cracking then, let's go. Snoop Dogg in the house let me see something!"
The team might want to bring Dogg back. The Kings are in last place in the Pacific Division, but defeated Pittsburgh, 5-2.
Star Sightings Regular Occurrence
Celebrities have taken to hockey in recent years, with more and more of them being seen at games. Actor Mike Myers has been a Toronto Maple Leafs fan for years, and fellow actor Jim Belushi has been a die hard Chicago Blackhawks fan.
Singer Carrie Underwood became a fan by marriage. She wed former Nashville Predators forward Mike Fisher. Erin Andrews is married to former King Jarett Stoll. Rapper Lil' Jon has been a ardent supporter of the Vegas Golden Knights since their debut in 2017.
Of course not all celebrity fans make good hockey fans. Actress Susan Sarandon might support the New York Rangers, but as evidenced by last year's appearance in the broadcast booth below, should probably keep her day job.