Anthony Smith can take another step toward a second shot at the light heavyweight title on Saturday, but only if he can beat rising contender Ryan Spann in the main event of UFC Fight Night 192.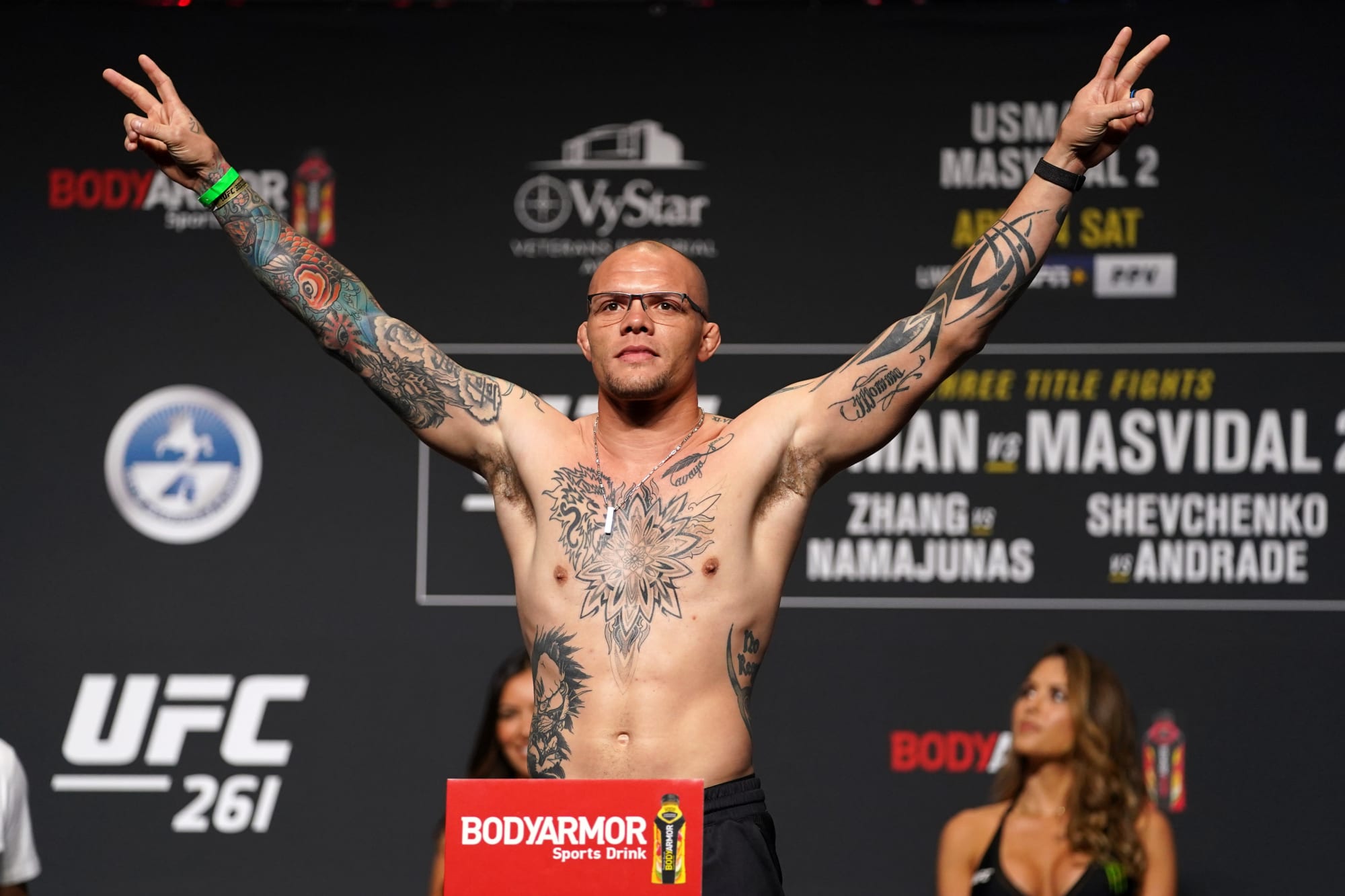 Smith and Spann both hold hopes of working their way into the light heavyweight championship picture, though they've reached that point via vastly different paths.
Smith sees path back to second title fight
The 33-year-old Smith (35-16) has already fought for the light heavyweight title once, losing by unanimous decision to Jon Jones back in 2019. "Lionheart" has built a reputation for fighting in entertaining, action-packed bouts, and in making unlikely comebacks after taking extensive punishment early on.
Smith is currently riding a two-fight winning streak, stopping Devin Clark and Jimmy Crute within the past year. He now ranks No. 6 in the light heavyweight division, and while he is some way from a title shot against Jan Blachowicz, he says he deserves to move in that direction if he can win on Saturday.
"I think after this fight, if I go in and have a dominant performance, I don't think I have to defend my position anymore and I can go back to climbing," Smith told reporters. "That's why [a rematch with Aleksandar Rakic] makes sense to me. I have to climb ahead of me."
Meanwhile, the 30-year-old Spann (19-6) has now won nine of his last 10 fights, including five of six since joining the UFC in 2018. His lone loss during that time came last September when Johnny Walker knocked him out in the first round.
Comeback ability gives edge to Lionheart
Spann has risen to No. 11 in the UFC's light heavyweight rankings. That's high enough that he can now see the top of the mountain, though he still has some distance to climb before he gets there.
"For the longest you hear, 'You can do this,' or 'You can do that,'" Spann told reporters. "But for the longest when you're fighting for free hearing that you can be champion of the world, you're looking down a dark tunnel. Now, I've gotten to the point where I can see glimpses of the light. Now, it just makes me stronger, makes me freer. I'm happy because I'm actually seeing fruits of my labor now."
---
Anthony Smith vs. Ryan Spann Odds (via FanDuel Sportsbook)
Anthony Smith: -172
Ryan Spann: +144
Method of Victory
Smith by KO/TKO: +250
Spann by KO/TKO: +500
Smith by Submission: +390
Spann by Submission: +500
Smith by Decision: +390
Spann by Decision: +600
Draw: +5000
---
Smith comes into the fight as a -172 favorite over Spann (+144), according to FanDuel Sportsbook. Both men have the ability to finish the fight at any time, but Smith has shown that he can withstand plenty of pressure and damage, and still come back to win fights. That may be the decisive factor that makes him the favorite in this bout.
Smith sees the fight even in even blunter terms, dismissing Spann ahead of the bout.
"Ryan doesn't present many problems," Smith said, via Sports Illustrated. "I just don't see anywhere he wins this fight."