Sidney Gilstrap-Portley, 25, tried to relive his high school glory days by posing as a 17-year old homeless teenager in Dallas, Texas displaced by Hurricane Harvey.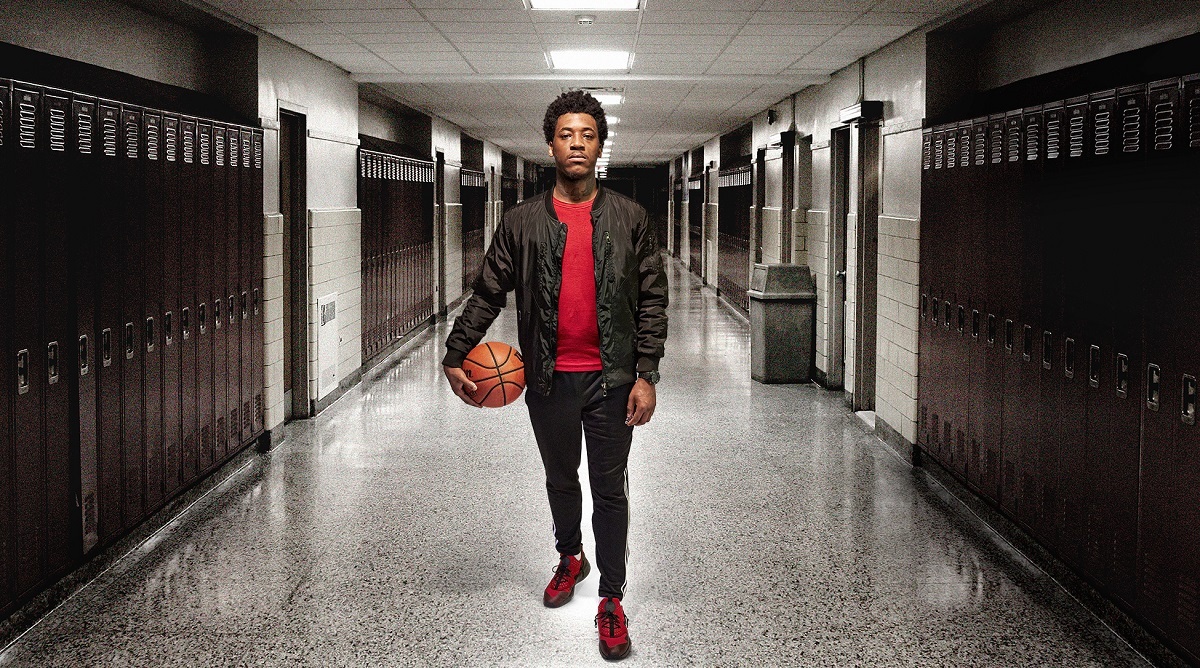 Sports Illustrated recently profiled Gilstrap-Portley, who became the star player at Hillcrest High School in Dallas. He played for a full season under the name Rashun Richardson and led Hillcrest to a stunning upset the #1 team in the country. Eventually, an opposing coach recognized him. When authorities discovered his real identity, police arrested Gilstrap-Portley for forging government documents.
Like a Movie Plot
In the 1999 film Never Been Kissed, Drew Barrymore plays dorky journalist who decides to pose as a high school student to research teenage culture. He brother, played by David Arquette, decides to also go undercover to accompany his sister. He is in his 20s, but dreams of playing high school baseball again, so tries out for the team and quickly becomes one of the popular kids in school.
Gilstrap-Portley, a 6-foot-1 guard, had lots of talent as a pure scorer, but he failed to overcome issues with authority during his teenage years. He graduated from North Mesquite High School in 2011, but had gotten kicked off the basketball team his senior year. Dreams of landing a scholarship to college or playing in the NBA were shattered. He played a season for Dallas Christian College, a Division II school, but dropped put because he could not afford tuition.
Flash forward to the summer of 2017. Gilstrap-Portley moved in with his girlfriend and their child in Mesquite, Texas. He could not shake his old basketball aspirations. He decided to enroll in a local high school and hoped to get enough of a highlight reel together, that could garner him a tryout with a team in Europe.
Back to School
Gilstrap-Portley found Skyline High School, in East Dallas, that did not require paperwork to process new students. He posed as a refugee from Houston who was displaced after Hurricane Harvey. He claimed he lost his ID and documents in the wake of the devastating storm that ravaged Texas.
After a month at his first school, Gilstrap-Portley transferred to Hillcrest High School where he registered as a 17-year old named Rashun Richardson. The school enrolls him as a freshman. Once the coach saw him play, everyone welcomed the newcomer.
Gilstrap-Portley led the team in scoring, but he made national headlines when Hillcrest traveled to Louisiana to play in a basketball tournament. He dropped 40 points against Huntington, the top-ranked team in the country.
Hillcrest advanced to the Texas state playoffs, but they lost in the opening round. Hillcrest's conference awarded Gilstrap-Portley with the offensive player of the year. An opposing coach recognized Gilstrap-Portley from his former playing days. A couple of months later, Gilstrap-Portley was arrested by police. His gig was up.
One and Done
In 2006, the NBA determined that they would no longer accept high school students directly into the pro ranks. They would require a minimum age of 19-years old with at least one year of collegiate hoops or some sort of organized professional ball (e.g. Europe or China).
The days of the top high schoolers going directly to the NBA were over. Since 2006, many of the premier programs in the NCAA have become havens for one-and-done players. Kentucky and Duke come to mind as the teams that attract the best of the best from the high school ranks.
Coach John Calipari from Kentucky has a revolving door of freshman who play for a season and head onto the NBA. Duke currently has Zion Williamson on its roster. You only have to watch some of Williamson's highlight clips to see why the one-and-done is a terrible idea. Some high school players are talented enough to make a transition to the pro ranks.
Prom to NBA
In 1962, Reggie Hardin became the first high schooler to be selected in the NBA draft. The center from Detroit went in the fourth round to his local team, the Detroit Pistons. Due to a rule prohibiting high school players, Hardin had to play minor league ball for a season.
In 1971, the US Supreme Court decided in Haywood vs. NBA that high school players should be available to participate in the NBA draft if they can show evidence of a financial hardship.
In 1975, high school star Darryl Dawkins declared for the NBA draft. The Philadelphia Sixers drafted the 6-foot-11 dunk machine with the fifth overall pick. He played in the NBA for 14 seasons and is most remembered for his backboard-shattering dunks.
HIGH SCHOOL TO NBA
Darryl Dawkins (1975, Philadelphia Sixers)
Kevin Garnett (1995, Minnesota Timberwolves)
Kobe Bryant (1996, Charlotte Hornets)
Tracy McGrady (1997, Toronto Raptors)
Darius Miles (2000, LA Clippers)
Kwame Brown (2001, Washington Wizards)
Tyson Chandler (2001, LA Clippers)
Amar'e Stoudemire (2002, Phoenix Suns)
LeBron James (2003, Cleveland Cavs)
Dwight Howard (2004, Orlando Magic)
JR Smith (2004, New Orleans Hornets)
Andrew Bynum (2005, LA Lakers)
Monta Ellis (2005, Golden State Warriors)
LeBron James, Kwame Brown, and Dwight Howard were the only high school players selected with the first pick in the NBA draft. Star players like Moses Malone and Shawn Kemp sat out a year after high school before heading to the NBA.
Most recently, Anfernee Simons (2018) and Thon Maker (2016) skipped college. Both sat out a full season before declaring themselves eligible for the draft.
Emmanuel Mudiay, the starting point guard for the New York Knicks, played pro ball in China for a season before the Denver Nuggets drafted him in 2015. Brandon Jennings graduated from high school in 2008, but played in Europe for a season before the Milwaukee Bucks drafted Jennings in the first round with the tenth overall pick in the 2009 NBA Draft.