A weekend of UFC and boxing action resulted in two devastating knockouts, with both Valentina Shevchenko and Gennady "GGG" Golovkin delivering emphatic wins against overmatched opponents.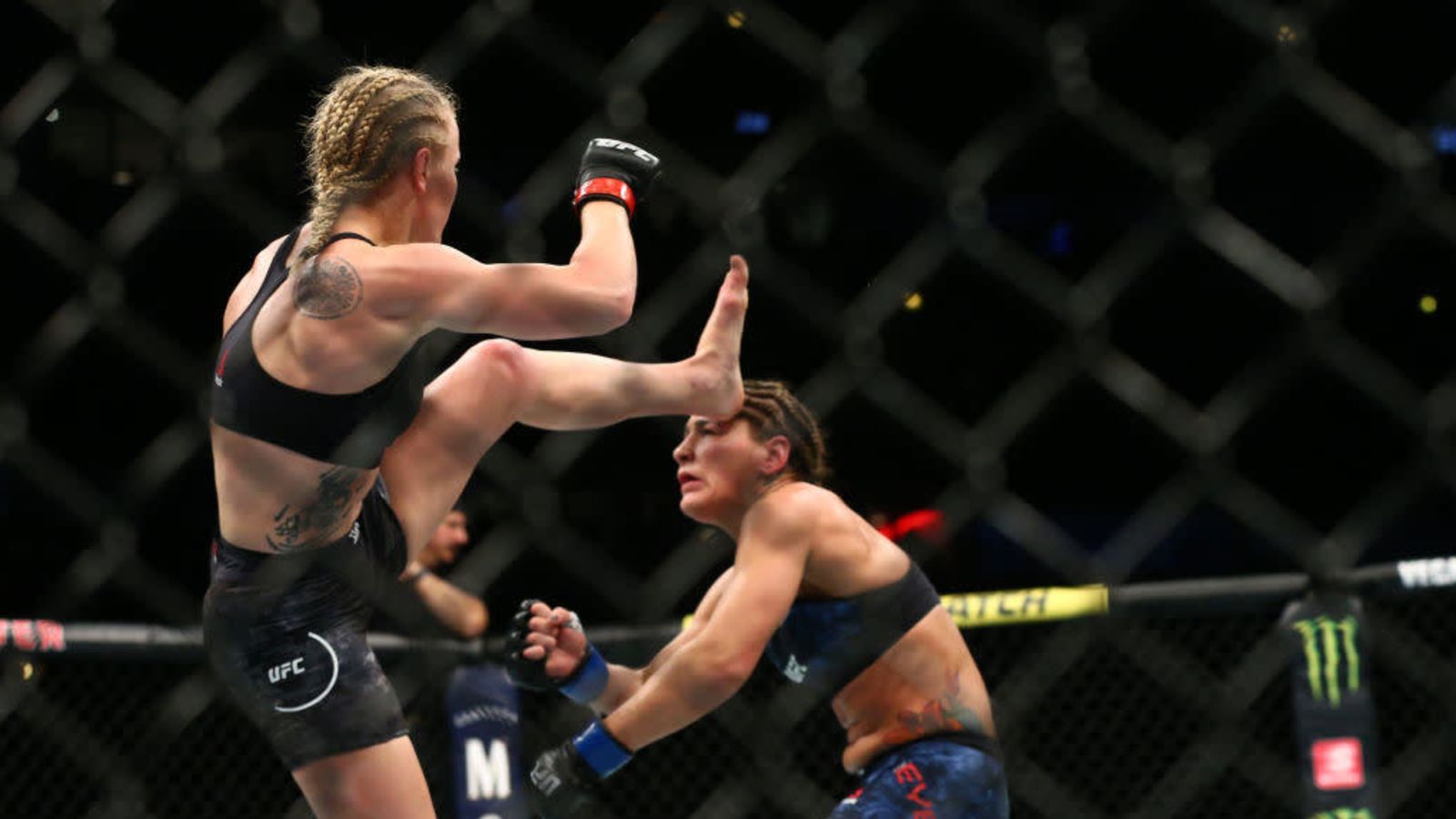 Shevchenko in particular scored what is a candidate for knockout of the year in UFC against flyweight title challenger Jessica Eye at UFC 238.
Shevchenko Lands Scary Head Kick
The finish came early in the second round, with Shevchenko (17-3) landing a clean head kick to Eye's forehead.
HOLY SMOKES! 🔥 Valentina Shevchenko knocked out Jessica Eye at #UFC238 with one of the most devastating kicks you'll ever see — or hear (sound up)pic.twitter.com/sxTLnUskzi

— Austin Kellerman (@AustinKellerman) June 9, 2019
The blow knocked Eye (14-7, 1 NC) unconscious for several minutes, though Eye would eventually get up and receive a round of applause from the crowd and Shevchenko herself, who gave her defeated opponent a hug before they left the Octagon.
"If you are not doing this kind of KO, you will get this kind of KO, and no one wants to get it," Shevchenko said after the fight. "That's why we are training very hard to be better than our opponents. Everybody who steps into the Octagon, they know what they can get."
Shevchenko had come into the fight as an overwhelming favorite, with DraftKings Sportsbook listing her at odds of -1115.
After the fight, Dana White said that the knockout might make it more difficult to find willing opponents for the flyweight champion.
"She is literally a wrecking machine," White said. "It's getting to the point where you have to start thinking, who is she gonna fight next? There's always opponents but she is so nasty, I don't know who is gonna be jumping up screaming for Shevchenko, I can tell you that."
GGG Dominates Rolls at MSG
A similar story played out at Madison Square Garden, where former middleweight boxing champion Gennady Golovkin (39-1-1, 34 KOs) had little trouble dispatching with the relatively unknown Steve Rolls (19-1, 10 KOs). Few expected the fight to have much competitive value, with sportsbooks offering odds in the neighborhood of -6000 on the former champion – though the upset by Andy Ruiz over Anthony Joshua the prior weekend reminded everyone that anything was possible.
But Golovkin was in control for most of the fight, ultimately finishing off Rolls with a massive left hook in the fourth round.
The emphatic victory gave GGG a much-needed win following his majority decision loss to Canelo Alvarez last September, with Golovkin hoping that a big win might set up a third fight between the middleweight rivals.
"The fans know who they want me to fight next," Golovkin said after his victory. "I'm ready for September. I'm ready for Canelo. Just bring him, just ask him. I'm ready. If you want big drama show, please tell him."
The first fight between Canelo and Golovkin ended in a controversial draw in 2017, in a fight that most observers thought GGG had won. The second result was also controversial, though not to the same extent: fans and pundits agreed that the fight was both exciting and extremely close, making it hard to argue with any outcome.