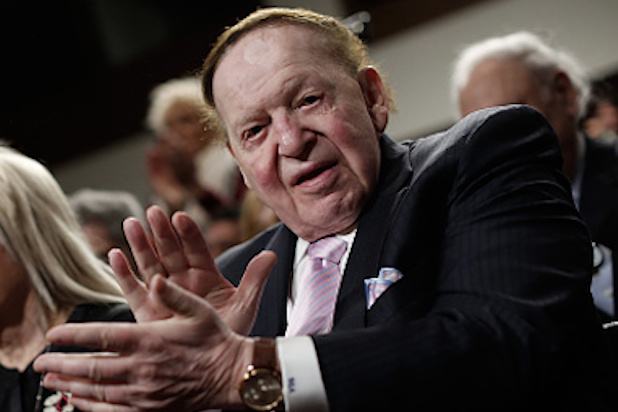 Sheldon Adelson is working hard to bring the NFL to Las Vegas, but the billionaire casino tycoon says if the deal falls through, he won't be losing any sleep.
The Las Vegas Sands founder has been collaborating with Oakland Raiders owner Mark Davis to relocate the franchise to Sin City.
Adelson has gathered a group of investors who have committed upwards of $750 million to build an NFL stadium somewhere near the famed Strip. The rest of the proposed $1.9 billion project would need to come from the Southern Nevada Tourism Infrastructure Committee.
Several potential locations have been discussed, Davis has pledged $500 million in funding and a lifetime commitment to Las Vegas, and NFL owners seem to support the transfer.
But still, nothing is set in stone, and that's just fine with the $30 billion man.
"A guy in my position doesn't need anything," Adelson told Yahoo Finance recently. "I've got everything I need, I can do anything I want. I don't need this."
"If I'm going to have to go out and beg Mark Davis or somebody else to do it, I'm out. If they want to find somebody who is desperate as a football fan and wants to be a part of a football club, then they picked the wrong guy. That's not me," Adelson explained.
Let's "Review" Adelson's Claims
While Adelson is presenting a mood of indifference to Yahoo, his Las Vegas Review-Journal newspaper is devoting plenty of print space to the cause. Through a subsidiary, Adelson purchased the newspaper in 2015, which is Nevada's largest daily, for $140 million.
By OnlineGambling.com's count, the paper published over a dozen stories in August alone focusing on the potential move of the Raiders from California to Nevada. That's a lot of coverage for something Adelson says he doesn't need.
The 83-year-old denies he's pressuring the editorial staff to cover the Oakland to Las Vegas rumors.
"The newspaper has nothing to do with the stadium. If the editor thinks it's worthwhile, let him do stories on it," Adelson explained.
Mike Hengel, the previous editor of the Review-Journal, resigned following Adelson's acquisition of the media company. Casino and gaming industry reporter Howard Stutz also departed.
Viva Las Vegas
Adelson remains optimistic on international gambling and continues to expand his gambling empire overseas. The Parisian, a $2.5 billion casino resort in Macau, opened today in China.
Domestically, Adelson has become, well, like his politics, very conservative.
Gambling revenue has become stagnate in Las Vegas, and the city has slowly begun transforming its image to attract the Millennial and next generation of visitor. Steve Wynn is contemplating replacing his golf course with a family friendly lake, eSports lounges are popping up, and casinos like Lucky Dragon and Resorts World are targeting specific Asian demographics.
Trends come and go, but in America football is here to stay. Hosting 65,000 fans every Sunday afternoon at least eight times a year would provide a substantial boost to hotel occupancy rates and generate new sources of revenue for Las Vegas.