There have been some mild surprises this season, but as NFL Week 7 begins the picture is getting clearer of who the good teams are. There are some marquee match ups like New England at Chicago, and New Orleans at Baltimore which will answer that question further.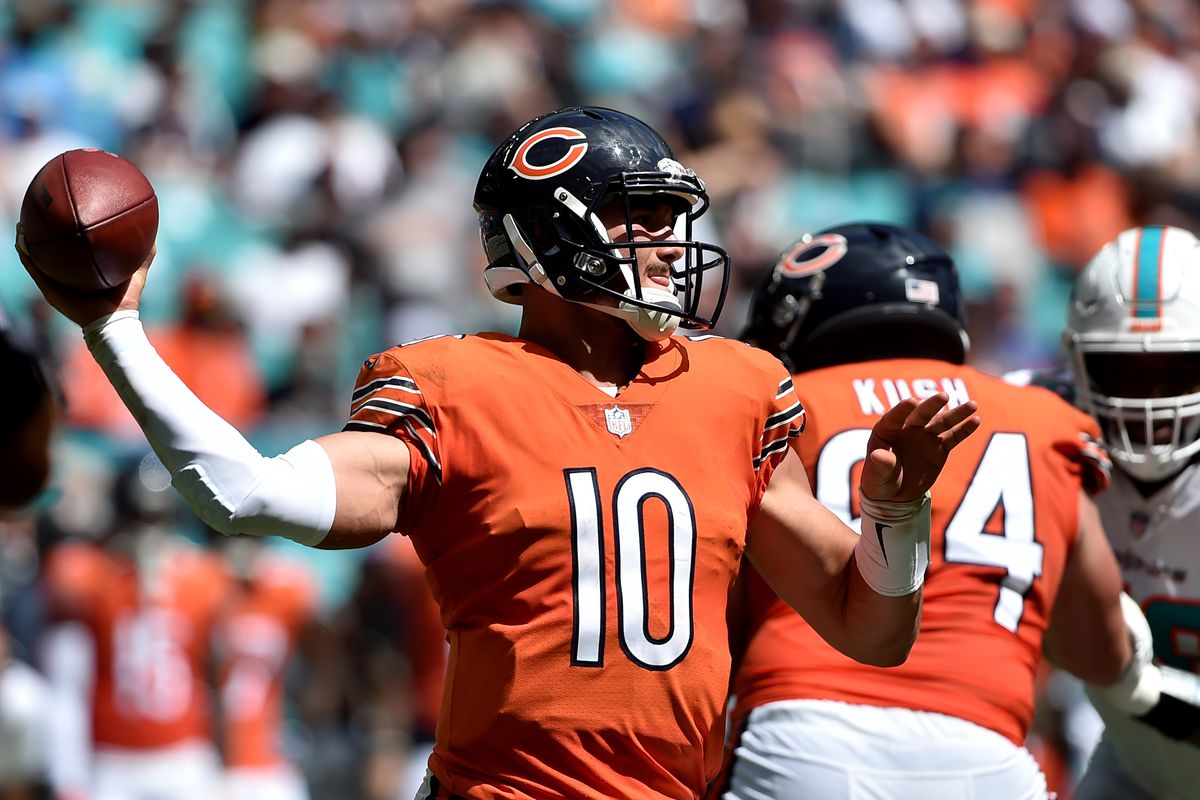 Those games are tough calls, though we do like the home team in both contests. Some of the other Sunday games seem to provide better odds.
Below are the Five Bets we like this week.
1. New England -3 at Chicago
How in the name of George Halas did Chicago lose outright to Miami last week as a 7-point favorite. One theory is that both of the Bears' losses have been on the road. This week they host New England, who handed AFC rival Kansas City its first loss of the season.
Did the Patriots expend too much emotional energy in the thrilling Sunday night victory of the Chiefs? Getting up for another marquee game might be too much for Tom Brady and the boys. They might get a break, though, if Khalil Mack is unable to play because of an injured ankle. If he is healthy the Bears will pose more problems for the offensive line in their attempt to give Brady enough time to find receivers.
Chicago plays well at home and doesn't want a two-game losing streak. Besides getting three points seems like a gift. This would be a good moneyline bet at +125.
Take Chicago and the points.
2. Cleveland +3 at Tampa Bay
After handing out points like Halloween candy Tampa Bay decided to part ways with defensive coordinator Mike Smith. His replacement, Mark Duffner, will have six days to put together a plan to prevent opponents from piling up points.
Fortunately, they play Cleveland, who despite Baker Mayfield proving it was worth the gamble to take him No. 1 in the draft. They are smarting after a 38-14 drubbing handed to them by the LA Chargers. Mayfield was blunt about the defeat in talking to reporters on Wednesday.
"That is the worst loss that I have ever had," Mayfield said. "You have to push forward and just have to do your job, and you will find out what this team is made of. It is never about the week before or if you win or lose. It is how you react from it. Coming off of a loss, we will really see what this team is made of."
They are made of mediocre talent at wide receiver, and Mayfield can't win by himself.
Take Tampa Bay and give away the points.
3. Cincinnati +6 at Kansas City
After losing a heartbreaker to the New England Patriots, Kansas City returns home and takes on a more manageable opponent. Cincinnati had won two consecutive games, but lost at home to the Pittsburgh Steelers.
Now they travel to Kansas City and face a Chiefs team that wants to avenge its first loss of the season. This will be a statement game for Kansas City.
Take Kansas City and give away the points.
4. Minnesota -3.5 at New York Jets
Why does this feel like a trap game? It is hard to fathom why Minnesota is only favored by 3.5 points against a New York Jets team that should be able to dominate.
The Vikings are on a two-game winning streak, while the Jets have also won their last two games. This is the third straight home game for the Jets, and we aren't falling for this trap.
Take Minnesota and give away the points.
5. Carolina +4.5 at Philadelphia
The key to Philadelphia is to look at the teams they have won and lost to this season. Their three victories were against Atlanta, Indianapolis and New York. The Eagles three losses have come with road games at Tampa Bay and Tennessee, and a home lost to Minnesota.
Not exactly the type of record to give a gambler confidence. But the Panthers haven't been a model of consistency either. They have lost to Atlanta, New York and Washington.
We think Carolina will lose its third straight.
Take Philadelphia and give away the points