LSU and the SEC dominated the NFL Draft, setting or tying draft and conference records with how many players were taken. There were 63 players selected from the SEC, with LSU leading the way with 14 players, including No. 1 overall pick, quarterback Joe Burrow.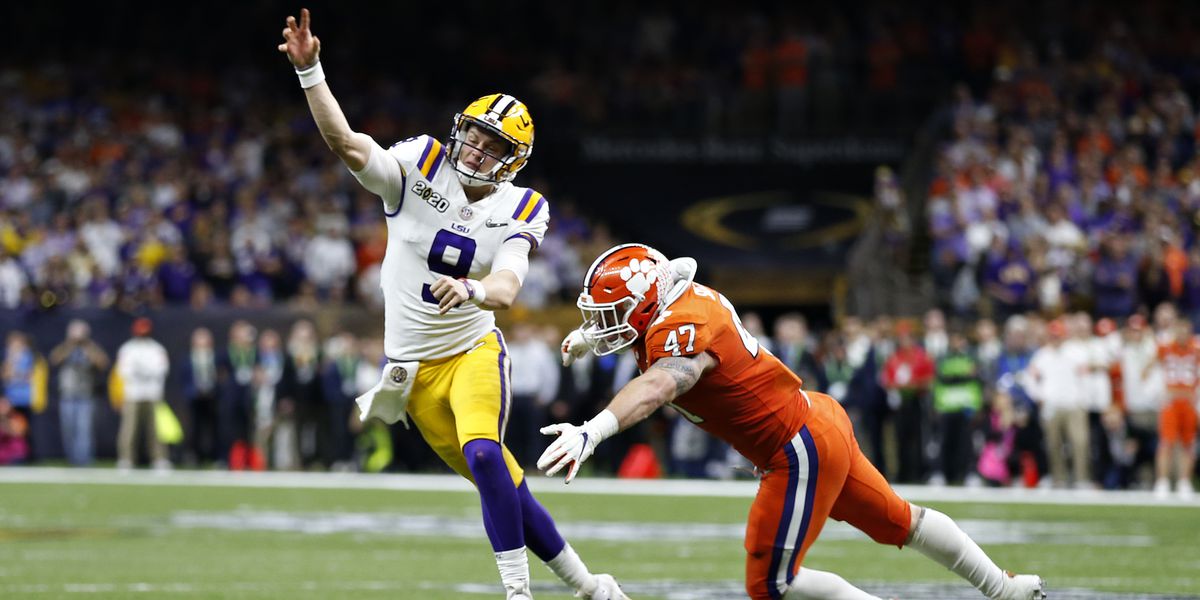 It was the 14th consecutive NFL Draft where the SEC had the most players taken. All but one of the 14 SEC teams (Ole Miss) had at least one player selected.
---
SEC Schools Draft Count
LSU 14
Alabama 9
Florida 7
Georgia 7
Auburn 6
Mississippi State 5
South Carolina 4
Arkansas 2
Kentucky 2
Missouri 2
Tennessee 2
Texas A&M 2
Vanderbilt 1
---
The conference set the record for the most first-round picks with 15. BetMGM, however, set the line for the most picks in the first round at 15.5. The under cashed at -182.
LSU Leads Way for the SEC
The SEC broke or tied a slew of NFL Draft records throughout the three-day process. The conference had six top-10 picks, 10 top-20 selections, and 25 picks in the first two rounds. With a total of 14 players selected, LSU broke an SEC record previously held by Alabama for the most players drafted in a single year.
LSU head coach Ed Orgeron told a local radio show that it was like a parent watching his own kids get drafted.
"What a great weekend for all of our players who got drafted, I want to congratulate every one of them, we are so proud of them," Orgeron said. "Very proud, very humbled that their parents decided to trust us in the recruiting process and trust the things that we told them."
| | | |
| --- | --- | --- |
| LSU Players Drafted | Team | When Picked |
| Joe Burrow/QB | Cincinnati | Round 1, Pick 1 |
| K'lavon Chaisson/Edge | Jacksonville | Round 1, Pick 20 |
| Justin Jefferson/WR | Minnesota | Round 1, Pick 22 |
| Patrick Queen/LB | Baltimore | Round 1, Pick 28 |
| Clyde Edwards-Helaire/RB | Kansas City | Round 1, Pick 32 |
| Grant Delpit/DB | Cleveland | Round 2, Pick 12 |
| Kristian Fulton/CB | Tennessee | Round 2, Pick 29 |
| Damien Lewis/OL | Seattle | Round 3, Pick 5 |
| Lloyd Cushenberry/OL | Denver | Round 3, Pick 19 |
| Jacob Phillips/LB | Cleveland | Round 3, Pick 33 |
| Saahdiq Charles/OL | Washington | Round 4, Pick 2 |
| Rashard Lawrence/DT | Arizona | Round 4, Pick 25 |
| Blake Ferguson/LS | Miami | Round 6, Pick 6 |
| Stephen Sullivan/TE | Seattle | Round 7, Pick 37 |
Orgeron said the NFL Draft has a direct correlation with the school's recruiting process, telling Sports Illustrated he received a commitment from a star defensive end prospect following the draft.
"That's always been a big part of our recruiting pitch," Orgeron said. "Part of the recruiting process is to trust our own evaluation whether he's a two-star, a three-star or a five-star, it's all about how good is the player in your eyes? We've decided as a staff that character is going to be at the top. Our program was on the TV a lot this weekend, and it's going to help us in recruiting."
Saban-Belichick Ties Continue in Draft
Alabama head coach Nick Saban and New England Patriots head coach Bill Belichick have had a strong working relationship over the years. Saban was part of Belichick's staff in Cleveland, and since Saban returned to the college ranks in 1995, he has seen several players go to New England in the draft.
With linebacker Anfernee Jennings going to the Patriots in the third round, Belichick has now taken 10 players from a Saban-coached team. The first was Michigan State offensive tackle Greg Randall in the 1995 draft.
ESPN Stats and Info reported that since 1967, no college-professional coach tandem has selected more players.