While Kentucky and Auburn fight for the SEC conference crown, a trio of SEC teams are on the March Madness bubble, including Florida (16-9), Arkansas (16-9), and South Carolina (16-9).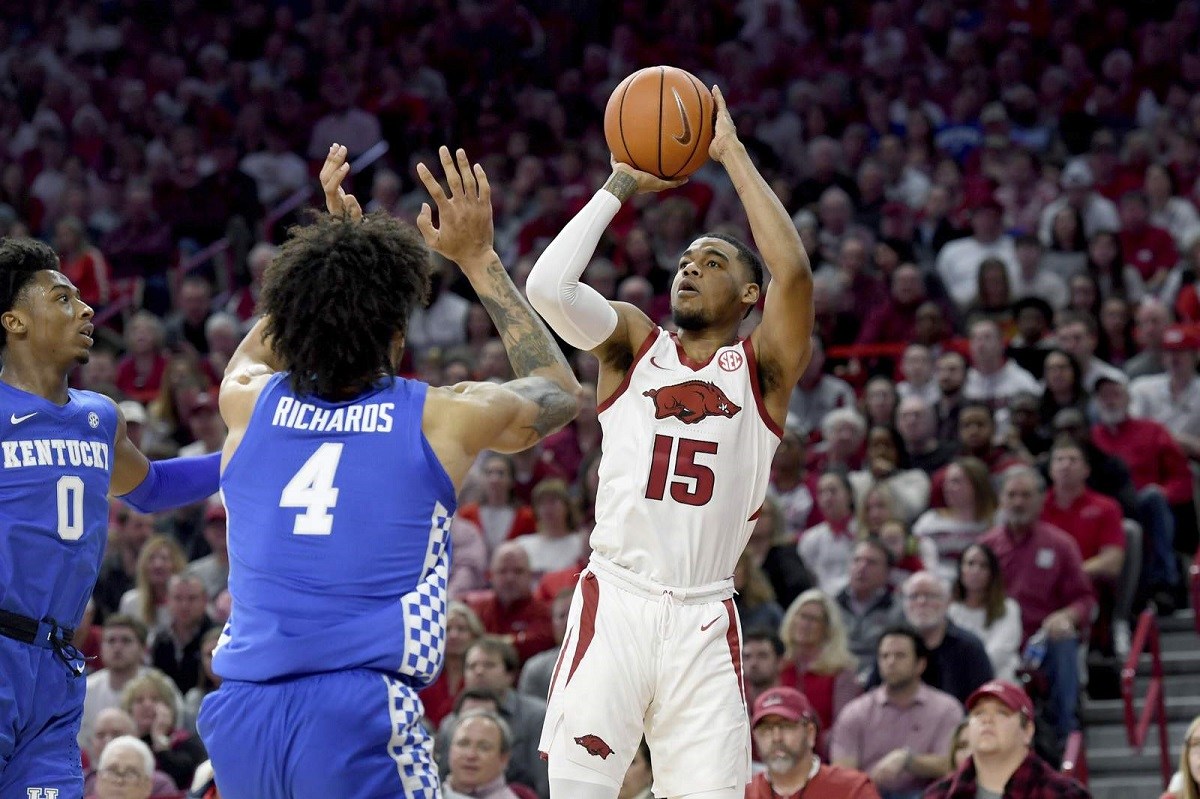 According to ESPN's Bracketology, six SEC teams are in contention for March Madness berths.
Kentucky and Auburn have been hovering around the AP Poll Top 10, while LSU recently tumbled out of the Top 25. Those three teams are locks for the tournament. The future remains uncertain for Florida, South Carolina, and Arkansas.
The winner of the SEC tournament earns an automatic berth to the tournament, so it's in the bubble teams' best interest to get hot at the right time. But running the table in the SEC tournament seems like a daunting task. That's why each team needs to win its remaining regular season games, and hope one of the other bubble teams falters down the stretch.
SEC Standings
Kentucky 20-5 (10-2 in SEC)
Auburn 22-3 (9-3)
LSU 18-7 (9-3)
Florida 16-9 (8-4)
South Carolina 16-9 (8-4)
Mississippi St 16-9 (7-5)
Arkansas 16-9 (4-8)
Florida has a chance to gain an edge over another bubble team with a Tuesday night matchup against Arkansas. Frank Martin and the South Carolina Gamecocks visit Mississippi State, with both bubble teams looking to earn an at-large invite to March Madness.
Florida: Hungry Gators
Florida (16-9) is tied for fourth place in the SEC with an 8-4 record. The Gators won four out of their last five games after a three-game skid. Kerry Blackshear, Jr., a senior 6-foot-10 center, leads Florida with 13.5 points and 7.7 rebounds per game.
Florida is stuck on the bubble with two tough games this week, including a home tussle against the Razorbacks when Arkansas comes to Gainesville. Later this week, they head to Lexington, Kentucky, to play the #10 Wildcats. Two wins puts the Gators in a much better spot. Two losses could end their postseason aspirations.
On Deck: Arkansas, at #10 Kentucky, LSU, at Tennessee
Key Wins: #4 Auburn, #18 Xavier
Losses: #1 Baylor, #24 Butler, LSU, FSU, UConn, Utah State, Missouri, Ole Miss, Miss St.
South Carolina: Blocked Gamecocks
Three years ago, Frank Martin guided South Carolina to the Final Four. He's had two mediocre teams since then (17-16 and 16-16), and has failed to advance to March Madness since 2017. This season, the Gamecocks (16-9) are on the precipice of a 20-win season, but only have six games remaining on the schedule.
Out of all of the bubble teams, South Carolina has the softest schedule. They don't face any more ranked teams, with a home game against LSU as their toughest test.
South Carolina has won three in a row, and they're 8-2 in their last 10 games.
On Deck: at Mississippi State, LSU, Georgia, at Alabama
Key Wins: #10 Kentucky, #9 Virginia
Losses: #16 Auburn, Houston, Tennessee, Florida, Stetson, Northern Iowa, Wichita State, Boston U
Arkansas: Streaky Hogs
Arkansas started out 14-2, but shot themselves in the foot since then. They're in the middle of a four-game skid with a 2-7 clip over their last nine games. If Arkansas doesn't end its losing streak this week, then they're probably dunzo and you can pop their bubble.
Arkansas might have one of the most underrated players in the country with Mason Jones. Jones, a 6-foot-4 junior guard, leads the Razorbacks with 20.8 points, 6.0 rebounds, and 3.3 assists. He has six, 30-point games this season, and hit 40-plus twice. He lit up Tulsa for 41 and dropped 40 against Auburn in an OT loss two weeks ago.
On Deck: at Florida, Missouri, Tennessee, at Georgia
Key Wins: at Bama, Indiana
Losses: South Carolina, Miss St, Kentucky, LSU, Western Kentucky
Others? Bama and Miss State
If you are a convert or devout follower of Ken Pomeroy, then you know the ratings on KenPom are considered holy artifacts. Seven SEC teams are ranked in the Top 60 on KenPom, with the three best clustered together: #30 Kentucky, #33 Auburn, and #34 LSU.
Out of the three bubble teams we listed (Florida, Arkansas, and South Carolina), the Gamecocks have the weakest rating with a #74 ranking. Florida is somewhat high at #38, while Arkansas is not far behind at #44.
KenPom SEC RANKINGS
30 Kentucky
33 Auburn
34 LSU
38 Florida
44 Arkansas
46 Alabama
48 Mississippi St
57 Tennessee
74 South Carolina
Mississippi State (16-9) has the same record as both Florida and South Carolina. The Bulldogs went 7-5 in SEC conference play, yet KenPom thinks they're a Top-50 team with a #48 ranking. Keep an eye on this week's action when Mississippi State hosts South Carolina. If the Bulldogs win, it will spell doom for South Carolina.
Alabama (14-11) is barely a break-even team in the SEC regular season. Plus they're only 2-4 against ranked teams, but recorded impressive wins against #4 Florida and #25 LSU. As a result, Bama seems destined for a spot in the NIT.