The Seattle Seahawks (6-1) and the Tampa Bay Buccaneers (6-2) hold the best records in the NFC heading into Week 9. After a strong first half of the season, both Seattle and Tampa Bay would earn straight A's heading into the midterms.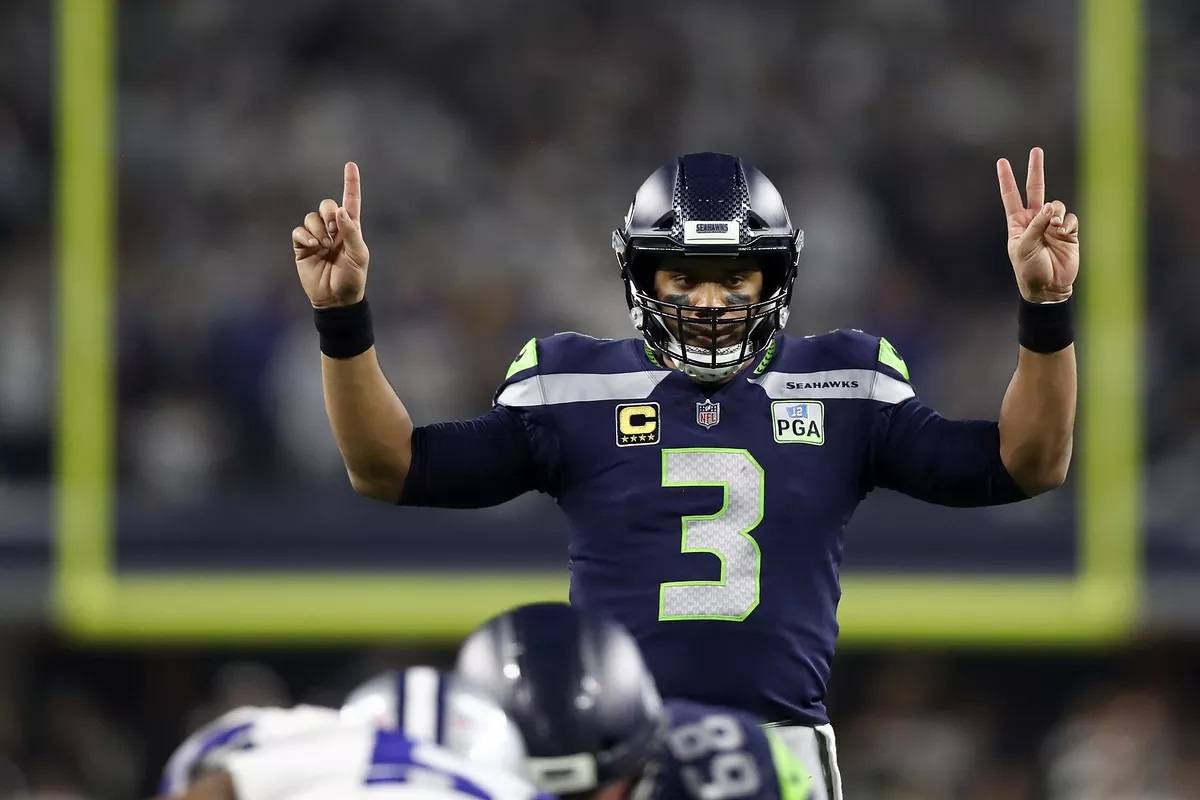 The addition of Tom Brady in Tampa Bay made them an overnight Super Bowl contender in the eyes of futures bettors. Once Brady actually donned the pewter uniform, they got a glimpse of the quarterback many people consider to be the GOAT. Old Man Brady and Old Man Bruce Arians found the fountain of youth in Tampa Bay. Heading into the midterms, Tampa Bay has the second-best record in the NFC, trailing only Seattle.
With Brady getting all the attention, Drew Brees and the Saints are flying under the radar. Everyone in Who Dat nation knows this could be the last legit shot that the Saints have to win a Super Bowl before Brees retires. They're in the lead pack, but by no means leading like the Seahawks.
Honor Roll: Seattle and Tampa Bay
Seattle Seahawks (6-1) … The Seattle Seahawks continue to suffer the curse of the injured running back, but Russell Wilson's MVP-like season has carried them. Wilson leads the top-scoring attack in the NFL, averaging 34.3 points per game. It looks like the NFC title will run through Seattle this year. GRADE: A+
Tampa Bay Bucs (6-2) … Aside from a Week 1 loss to the Saints, the Tampa Bay Bucs went 5-1 with their only other loss coming by a mere one point against the Chicago Bears. The Bucs are one of the teams to beat in the NFC due to their stellar defense, currently ranked #1 in terms of DVOA. GRADE: A
A Students
New Orleans Saints (5-2) … The Saints misfired against the Las Vegas Raiders in a game where the zebras crushed them with penalties. After a 1-2 start, the Saints won four straight to get back into playoff contention. It will be a sprint to the finish line in the NFC South between the Saints and the Bucs. GRADE: A
Arizona Cardinals (5-2) … The Arizona Cardinals are the sole reason the Seattle Seahawks aren't undefeated. After ugly losses to the Detroit Lions and Carolina Panthers, the Cards bounced back with two easy wins over the LOL Jets and Dak-less Dallas Cowboys. But they impressed everyone with a 37-34 shootout victory against Seattle in Week 8. GRADE: A
Green Bay Packers (5-2) … The Packers started the season 4-0, but went 1-2 since then, including a troubling loss to the Minnesota Vikings. A 10-win season seems more than reasonable, but they still have games on the schedule against the Chicago Bears (twice) and Tennessee Titans. GRADE: A-
Good, But Should Apply Harder
Chicago Bears (5-3) … Are the Bears really this good, or have they been getting extra tutoring on the side? After starting the season 5-1, Da Bears dropped two key games to the LA Rams and New Orleans Saints. GRADE: B
Los Angeles Rams (5-3) … The Rams are playing much better than last season, but they lost games they could have won against the Buffalo Bills, San Francisco Niners, and Miami Dolphins. On the plus side, the Rams have the #3-ranked defense that allows only 19 points per game. GRADE: B
The C Student
San Francisco 49ers (4-4) … The Niners are another example of the Super Bowl curse. Will they follow the LA Rams' lead from last season and bubble the postseason after securing a berth in the Super Bowl a year before? The Niners were already struggling with key injuries to top players like George Kittle and Jimmy G. Now, they have a COVID-19 outbreak to handle. GRADE: C
D for Disappointed
Philadelphia Eagles (3-4) … The Eagles are the best of a sorry sack of teams in the NFC East. They'll most likely win the division with a losing record. GRADE: D+
Carolina Panthers (3-5) … The team is in a rebuilding year and lost CMAC to an ankle injury, so it's difficult when you expect more from them. They're not a good team, but credit new head coach Matt Rhule for changing the culture. They will be graded much harder on their second-half performance. GRADE: D+
Detroit Lions (3-4) … The Lions from the Big D earned a D. And now there's word that QB Matthew Stafford will head to the COVID-19 reserve list. Yikes! Do you know who Detroit's backup QB is? GRADE: D
Summer School Bound
Washington (2-5) … The best story of the year thus far was seeing Alex Smith play a game and complete a pass after he fought back from a life-threatening leg injury to finally return to the gridiron. It almost overshadows the fact that Washington's head coach, Riverboat Ron Rivera, fought cancer during the start of the season and finished a round of chemo. GRADE D-
Minnesota Vikings (2-5) … The Vikings came into this season with high hopes, that quickly morphed into a pipe dream. Then again, the Vikes sprung to life this past week with an upset of the Green Bay Packers. Are the Vikes ready to turn it around, or were the Packers simply caught sleepwalking? GRADE: D-
Flunkies
Dallas Cowboys (2-6) … Things were bad in Dallas before Dak Prescott got hurt, but no one ever wants to talk about the real problems plaguing "America's" team. Feel bad for hardcore Dallas fans who actually downgraded from Jason Garrett to Mike McCarthy. GRADE: F
Atlanta Falcons (2-6) … The Falcons finally shed the team of Dan Quinn, and nearly won three games in a row, if it weren't for a disastrous 23-22 loss to the Detroit Lions. GRADE: F
New York Giants (1-7) … If the LOL jets weren't so bad, the NY Giants would be getting run out of Gotham as the worst football team in NYC. They lost Saquon Barley to a blown-out knee, but the rest of the team is a big fat fail whale. GRADE: F