Saturday bettors on college football Week 7 took a beating, as four of the top 10 teams in the AP Top 25 poll faced shocking upsets. No. 2 Georgia, No. 6 West Virginia, No. 7 Washington, and No. 8 Penn State all lost, with the Huskies and Nittany Lions losing to unranked teams.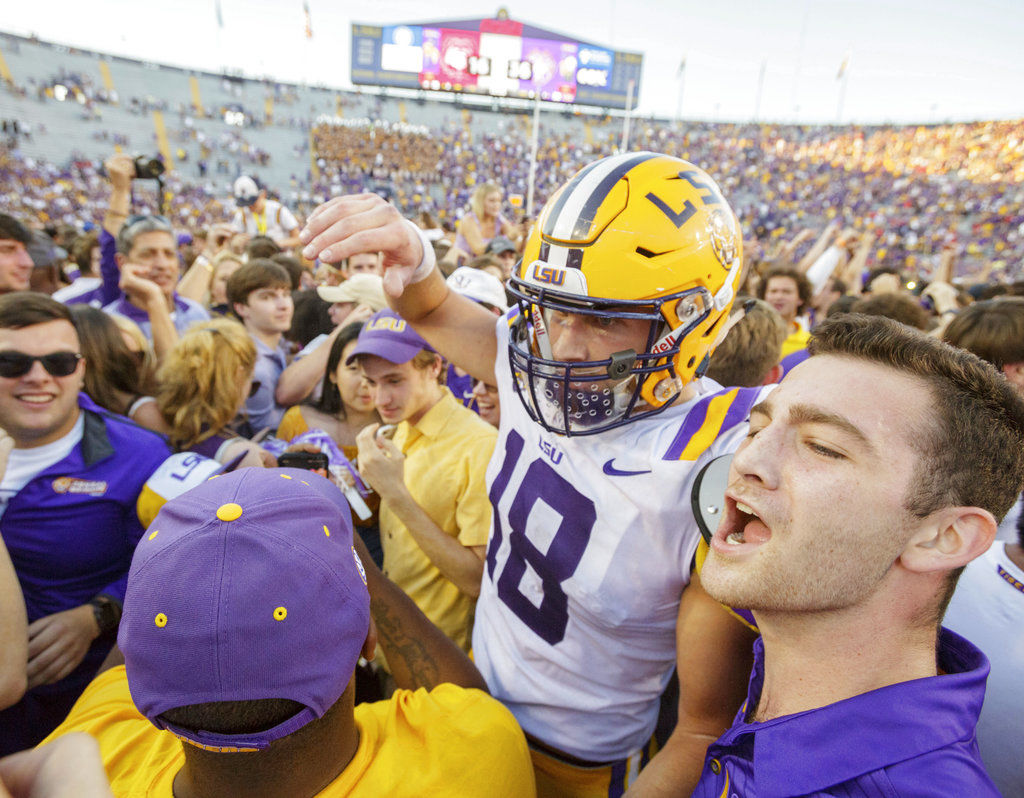 Georgia's defeat was the most damaging. The Bulldogs lost to a fellow SEC team, and might need some help to get back into the College Football Playoffs. The are tied with Florida at 4-1 in the SEC East Standings, 6-1 overall. Kentucky has played one less game, but is 4-1 in conference, and 5-1 overall.
"We haven't gotten out of this team what we need to get out of them," Georgia coach Kirby Smart told reporters after the loss.
Blown Spreads
If teams in the top 10 weren't suffering shocking defeats, they were failing to cover the spread. Of the other five teams in the top 10 playing, only No. 1 Alabama covered the spread, and did so by just one point.
No. 3 Ohio State had a line of 30 points against Minnesota and won by 16. No. 5 Notre Dame was a 21-point pick hosting Pittsburgh and won by five. No. 9 was a 14-point favorite hosting Baylor and won by six. No. 10 UCF was a 5.5-point selection on the road at Memphis and won by one.
Bright Spots in Poll
While the top 10 failed most bettors, the bottom half of the Top 25 poll had some redeeming games. No. 12 Michigan, who was 3-3 against the spread, gave 10 points to No. 15 Wisconsin, and won by 15. No. 13 LSU, who dropped eight places in the poll after its loss to Florida, came back as seven-point underdogs to down Georgia by 20.
"We were going for it as hard as we can," LSU Ed Orgeron said about the upset. "We were throwing out the kitchen sink today, man. Everything we had, we did."
Another team to win outright was No. 17 Oregon. They were 3.5-point underdogs, and defeated No. 7 Washington by three in overtime.
Three More Undefeated Teams Fall
In addition to Georgia and West Virginia losing, a third team fell from the ranks of the unbeaten. Colorado lost on the road to USC, 31-20. The Buffalos were getting seven points, but could not hold off the Trojans.
It doesn't get any easier for Colorado. They travel to Washington and face the Huskies, who are favored 16 points.
Bad Beat of the Week
The first half total in the Air Force-San Diego State game was 21.5 points. The under seemed like a lock. There were 18 seconds remaining in the first half and the score 9-7 in Air Force's favor.
The Falcons were readying to punt with 18 seconds left on its own 36-year line. Punter Charlie Scott bobbled the snap and the Aztecs were able to block the kick. SDSU's Trenton Thompson scooped it up and returned it for a touchdown, making the score 14-9 with eight seconds remaining, causing the under bettors to lose by a 1.5 points.