Seven college football bowl games are on the schedule for Saturday, with the Celebration Bowl (Atlanta), New Mexico Bowl (Albuquerque), Cure Bowl (Orlando), Camellia Bowl (Montgomery, Ala.), Boca Raton Bowl, Las Vegas Bowl, and New Orleans Bowl all kicking off. The Las Vegas Bowl, which is the second-to-last college football bowl game of the day, could be the most intriguing, with Washington facing Boise State.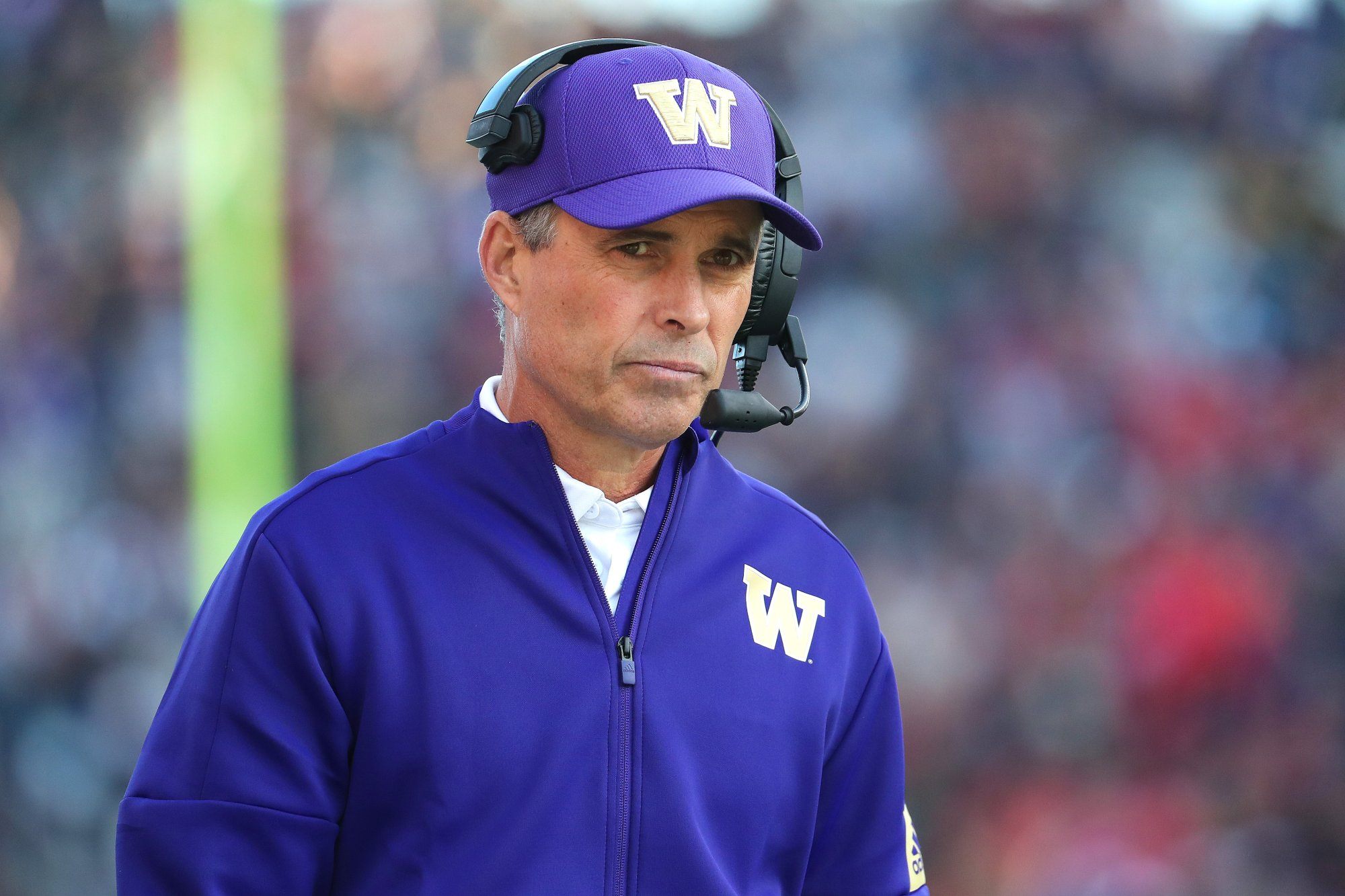 For Washington coach Chris Petersen, the Las Vegas Bowl will mark his last time on the sidelines for the Huskies, as he will be retiring after the game is done. Before he steps aside, however, he will be facing the team where he first rose to prominence in college football.
Petersen was the coach of Boise State from 2006-2013. He left the Broncos to become the head coach at Washington, but after six seasons, he says it's time to leave, telling reporters that he doesn't have the same passion for the job that he once did.
"It becomes a lot of frustration and anxiety and stress," Petersen said. "And some of the excitement and positivity and optimism can be pushed away, and that's never a way to lead your life."
The battle between Petersen's old school and his current one should be a classic. The other six games, however, all have decent matchups as well. Here's a look at today's bowl games.
A Battle Between Conference Champions
Celebration Bowl
Who: Alcorn State vs. North Carolina A&T
Where: Mercedes-Benz Stadium, Atlanta
When: Noon (EST)
Line: North Carolina A&T -2.5, over/under 51.5
This game marks the second consecutive meeting between these two conference champions in the Celebration Bowl. North Carolina A&T won last year, 24-22. The Aggies have been in this game four of the five years of its existence.
North Carolina A&T won the Mid-Eastern Atlantic Conference (MEAC), while the Braves won the Southwest Atlantic Conference (SWAC).
This game could come down to the Aggies' run game against Alcorn State's run defense. North Carolina A&T averaged 236 yards per game, and if they are able to run against the Braves, that could be the deciding factor.
San Diego State's Defense Key to Aztecs' Victory
New Mexico Bowl
Who: Central Michigan vs. San Diego State
Where: Dreamstyle Stadium, Albuquerque, NM
When: 2 p.m. (EST)
Line: San Diego State -3.5, over/under 41
San Diego's defense will be on full display in this matchup as the Aztecs look to stifle Central Michigan's potent offense. The Chippewas had seven games where they scored 40 or more points. San Diego State limited opponents to 17 points or less in all but two of its 12 games.
Something has to give. We are betting that it will be Central Michigan's offense, which will struggle against the Aztecs.
It's All About Offense in the Highlight Cure Bowl
Cure Bowl
Who: Liberty vs. Georgia Southern
Where: Exploria Stadium, Orlando
When: 2:30 p.m. (EST)
Line: Georgia Southern -4, over/under 58.5
Two vastly different offensive philosophies usually makes for an interesting game. Georgia Southern, who nearly upset Minnesota, runs the option and has a dual threat quarterback in Shai Werts. Liberty's QB, Stephen Calvert, is a pocket passer who has 3,393 passing yards and 26 touchdowns this season.
Liberty is making its first college football bowl game appearance, and could have some nerves. Georgia Southern is playing in its third bowl game, and has won the previous two.
SMU Rewarded for Strong Season
Boca Raton Bowl
Who: SMU vs. Florida Atlantic
Where: FAU Stadium, Boca Raton, FL
When: 3:30 p.m. (EST)
Line: SMU -3, over/under 68.5
Coach Lane Kiffin led Florida Atlantic to a 10-3 record, but he's gone now, taking the Ole' Miss job. The question now becomes, can interim coach Glenn Spencer hold off a talented SMU team that won 10 games this season, and whose only losses are to Memphis and Navy? We'll see.
The Owls are playing in their stadium, so they should enjoy a home-field advantage over SMU. The Mustangs, though, might be too much for Florida Atlantic. These teams like to score. Both averaged more than 35 points a game.
Arkansas State QB Hatcher Deadly Accurate
Camellia Bowl
Who: Arkansas State vs. Florida International
Where: Cramton Stadium, Montgomery, AL
When: 5:30 p.m. (EST)
Line: Arkansas State -2.5, over/under 60.5
Arkansas State comes in with the nation's 11th-ranked passer in completion percentage. Layne Hatcher completed 177 of 259 passes for a mark of 68.3 percent. Sun Belt Player of the Year, Omar Bayless, is his favorite target. The senior finished the regular season with 1,473 yards and 16 touchdowns.
Florida International is ranked sixth in passing yards allowed. They also have a signature win this year after they upset Miami. This game is definitely an upset alert.
Can Petersen Win Last Game with Washington?
Las Vegas Bowl
Who: Washington vs. Boise State
Where: Sam Boyd Stadium, Las Vegas
When: 7:30 p.m. (EST)
Line: Washington -3.5, over/under 49.5
Never mind the sentimentality of this game with Washington coach Chris Petersen coaching his last game against his former team, Boise State. The real storyline here is can Boise State upset a Huskies team that was ranked 13th in the preseason?
Another question is, will the Washington team that was supposed to be the top finisher in the Pac 12 show up, or will we get the Huskies team that lost to Cal and Colorado? Washington will be motivated to send Petersen out a winner, but the Broncos will be equally motivated to show they can beat a Power Five team.
Appalachian State Big Favorite in the Big Easy
New Orleans Bowl
Who: Appalachian State vs. University Alabama-Birmingham
Where: Superdome, New Orleans
When: 9 p.m. (EST)
Line: Appalachian State -16.5, over/under 47.5
Appalachian State finished the season 12-1, with its only defeat an upset loss to Georgia Southern. Running back Darrynton Evans led the offense with 1,323 rushing yards and 23 touchdowns.
There is a rumor that Evans might sit out the game and forego his senior season. Evans has been mum on whether he will return next season or not, but he is definitely suiting up for this game. That's bad news for UAB.