Backstretch employees at Santa Anita Park are asking to be heard.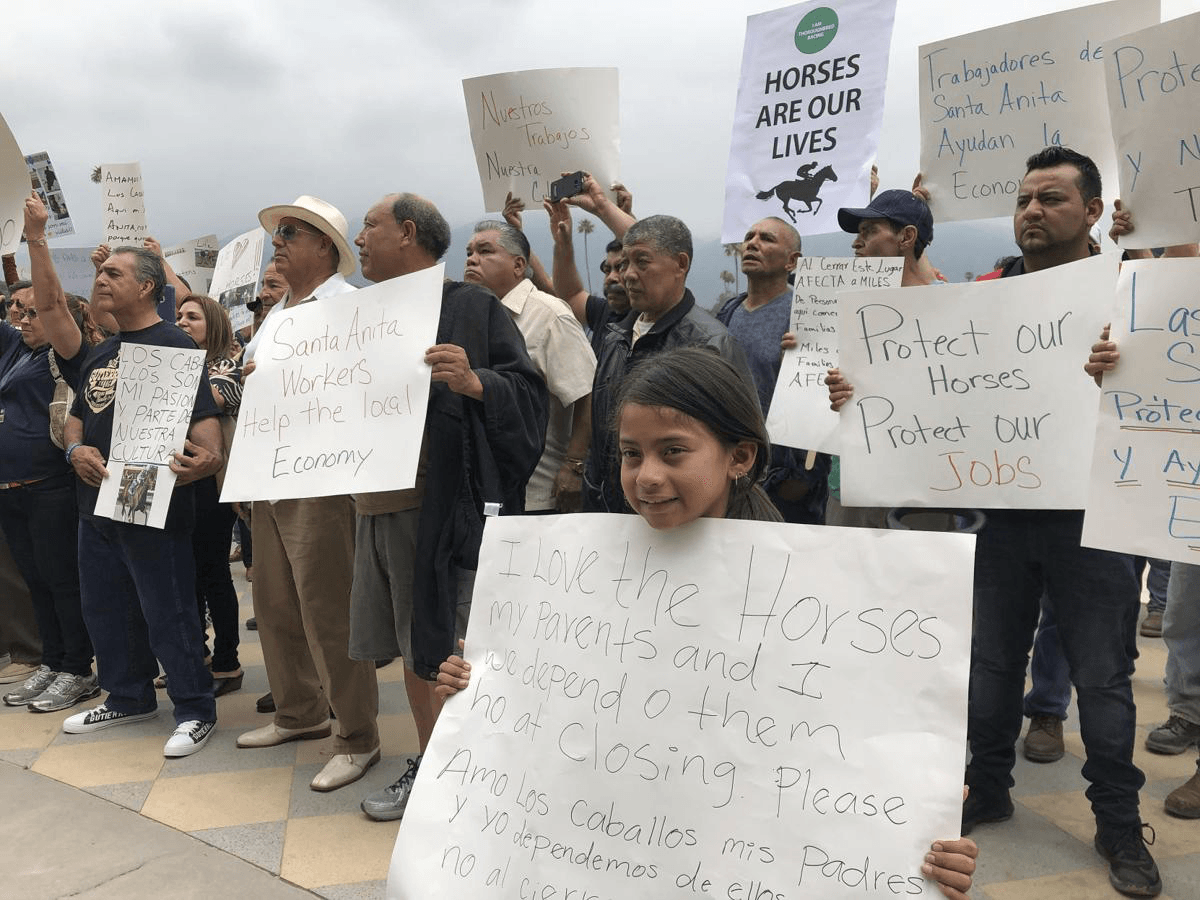 The beleaguered Thoroughbred racing plant is wrapping up a truncated winter/spring racing season on Sunday. Backstretch workers, largely Latinos, rallied Thursday. They're asking to be part of the conversation when animal activists and politicians call for a halt or suspension of the sport at the venerable track in suburban Los Angeles.
"We don't want welfare. We don't want unemployment. We just want to keep our jobs right here at Santa Anita, " says Oscar de la Torre, a local community activist. He's now helping provide grooms, horse walkers, exercise riders and other employees a voice in what is now a heated conversation in the region.
The Los Angeles County District Attorney is conducting an investigation of the equine deaths and US Senator Dianne Feinstein (D-Calif.) and state regulators are issuing various calls in recent months asking for racing to be halted at the track until the cause of the deaths can be pin pointed.
Twenty-nine horses have died since the current meet began Dec. 26.
Horse Racing Worth Billions to Economy
According to de la Torre, horse racing in California directly employs 77,000 people. The industry as a whole generates $13.3 billion in total economic impact, he says. An unusual concentration of equine fatalities in January and February at the track is fostering a series of safety reforms including increasing veterinary oversight. But, it's also fomenting an undercurrent of negative public opinion that threatens the sport and the jobs it creates, de la Torre believes.
Leandro Mora, lead assistant for top Southern California conditioner Doug O'Neill, told the workers at the track's "Clockers Corner" where trainers and owners gather to watch workout sessions at the track,
"We do not like to lose one, single animal," Mora said. "We love them all. Those are our kids. Everything will disappear if we lose all this." 
De la Torre believes that the general public and some politicians are ignoring the "human cost" to closing the historic racing venue. "It's most important to understand is there are consequences for extreme measures. To close a place down like this," he said. "it would have a tremendous negative impact on many of the workers and their families."
He notes that roughly 50,000 people are homeless within LA County, and says nothing should be done to add to that number. Stable workers are endorsing efforts to modernize the sport by making it safer, he pointed out.
"We want to modernize the horse racing industry," de la Torre said. "We all support that, because we all understand that by supporting and protecting our horses, we will protect our jobs and our livelihoods."
Commitment to Modernize Santa Anita
Track ownership, The Stronach Group, said in a statement:
"Backstretch workers comprise the backbone of the racing industry and have been a willing partner in implementing the reforms we have proposed at Santa Anita Park— and the California Horse Racing Board implemented — during the course of this meeting. Support from these backstretch workers is a testament to the commitment from within the industry to modernize our sport. We look forward to working with the hundreds of backstretch workers at Santa Anita Park as we continue to move the industry forward and educate Californians on how impactful horse racing is to the state."
About 500 workers attended the rally, according to local media reports. Track management and trainers also were present,
The southern California Thoroughbred circuit, with the end the Santa Anita meeting, moves to Los Alamitos in Orange Country for two weeks. Then, to Del Mar in northern San Diego County. The popular Del Mar meet extends through Labor Day.
Racing resumes at Santa Anita on Sept. 26. The track is expecting to host the 2019 Breeders' Cup World Thoroughbred Championships on Nov. 1 and 2. Breeders' Cup officials indicate the event is still set for Santa Anita at this time.