Less than two weeks before retirement, Bruce Bochy won his 2,000th game as a manager when the San Francisco Giants defeated the Boston Red Sox 11-3 at Fenway Park in Boston.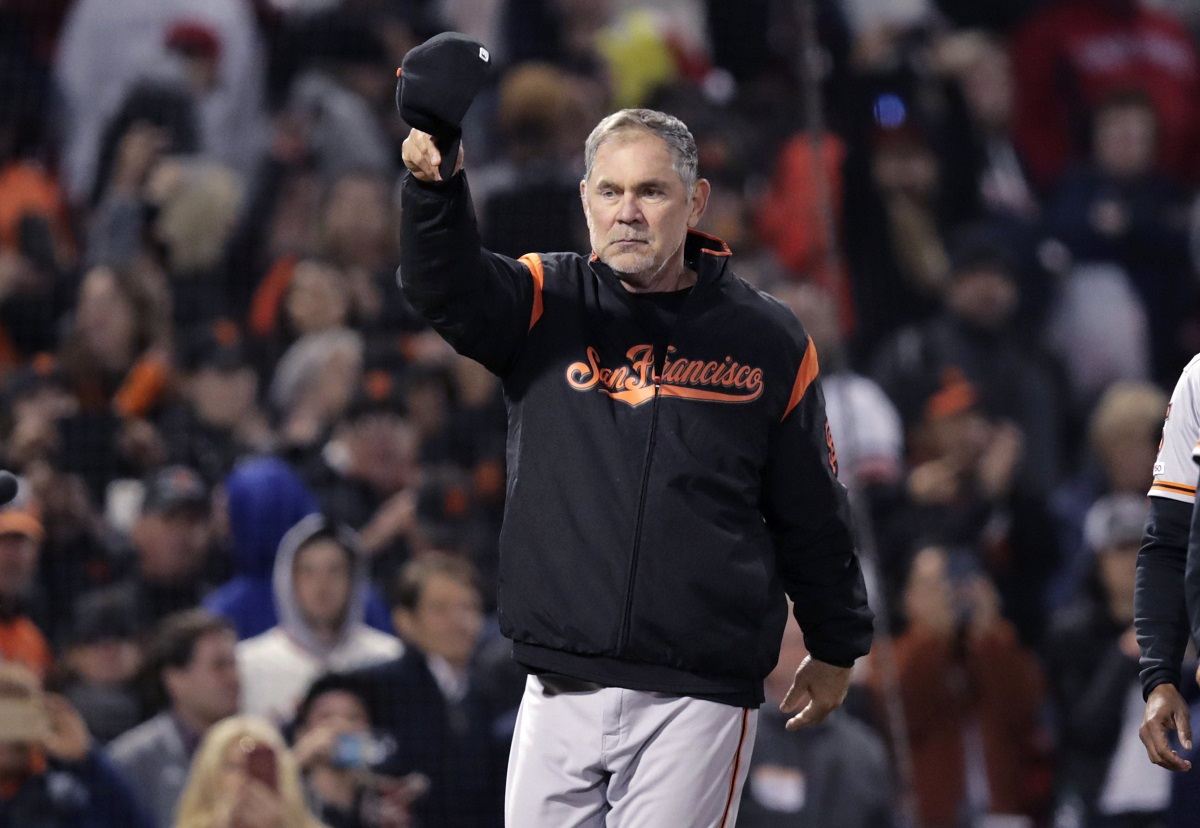 Bochy became the 11th manager to win at least 2,000 games. The other ten managers are all in the Hall of Fame. Only 64 managers in the history of baseball have won 1,000 games. Earlier this season, Bochy became only the 8th manager in history to manage 4,000 games.
Over his 25-year managerial career, Bochy managed for only two teams: Padres and Giants. His overall record is 2000-2022. Bochy won three World Series titles with the San Francisco Giants between 2010-14.
Bochy got his start managing the San Diego Padres. Despite coaching in relative obscurity and not much help from big-time free agents, Bochy still won 951 games with the Padres.
2,000 WIN CLUB
Connie Mack 3,731
John McGraw 2,763
Tony LaRussa 2,728
Bobby Cox 2,504
Joe Torre 2,326
Sparky Anderson 2,194
Bucky Harris 2,158
Joe McCarthy 2,125
Walter Alston 2,040
Leo Durocher 2,008
Bruce Bochy 2,000
Cleveland Indians manager Terry Francona has 1,663 victories, which is second-highest among current managers. After Bochy retires at the end of the season, Francona will became the wins leader among active managers.
Padre Bochy
Bochy is a former major league catcher who toiled for 11 seasons between 1978 and 1987. He spent the majority of his career as a backup behind Houston Astros star Alan Ashby. He also had a short stint with the New York Mets before ending his career with the San Diego Padres.
Most ex-catchers become managers by default. Bochy quickly pivoted to coaching when he hung up his spikes and chest protector. Padres GM Jack McKeon took a liking to Bochy and gave him his first coaching gig in Single A ball. Bochy worked his way up the chain, he finally gained a promotion to the Padres as a third base coach. When the Pirates fired Jim Riggleman in 1994, they hired internally and promoted Bochy to manager.
Bochy coached legendary hitter Tony Gwynn and the Padres for 12 seasons. In his second season as a manager, Bochy won Manager of the Year in 1996. Bochy guided the Padres to birth in the 1998 World Series, but they were swept by Joe Torre and the New York Yankees.
Three Rings in San Francisco
The San Francisco Giants tapped Bochy to become their new manager in 2007. He would go on to win three titles with the Giants between 2010-14.
Bochy, born in France in 1955, became the first European-born manager to win the World Series.
"I've been lucky," said Bruce Bochy. "I've been blessed to have been doing this this long. That's what it means."
"He's just a players' coach, which I think is the ultimate compliment," said Padres pitcher Jeff Samardzija. "He understands the sacrifices we make. Understands the grind we go through. He hasn't forgotten that."
It's only a matter of time before Bochy finds himself inducted into Cooperstown. Every other coach with at least 2,000 wins is currently in the Baseball Hall of Fame.
San Francisco sportswriter Ray Ratto summed up Bochy the best in his column on Deadspin.
"Bochy is, both anecdotally and mathematically, one of the finest managers ever in a sport that is moving inexorably toward a time when managers are reduced to civil servants," wrote Ray Ratto. "He is considered a confirmed master of bullpen management, and other than keeping his 25 clubhouses in working order in good times and bad, his ability to organize, handle, manipulate, and excel relief pitchers is what has separated him from his 153 contemporaries. He got to manage without interruption for a quarter-century, and the only other guy to do that was Connie Mack, who'd gone to the trouble of protecting his job security by purchasing the team he managed."