It is hard to believe Thursday night's San Francisco-Arizona game is the first chance for the 49ers to beat the Cardinals since Week 17 of the 2014 season. San Francisco, who is undefeated, is a heavy favorite to down their NFC West rivals. The game will feature No. 1 draft pick Kyler Murray, and No. 2 draft pick Nick Bosa.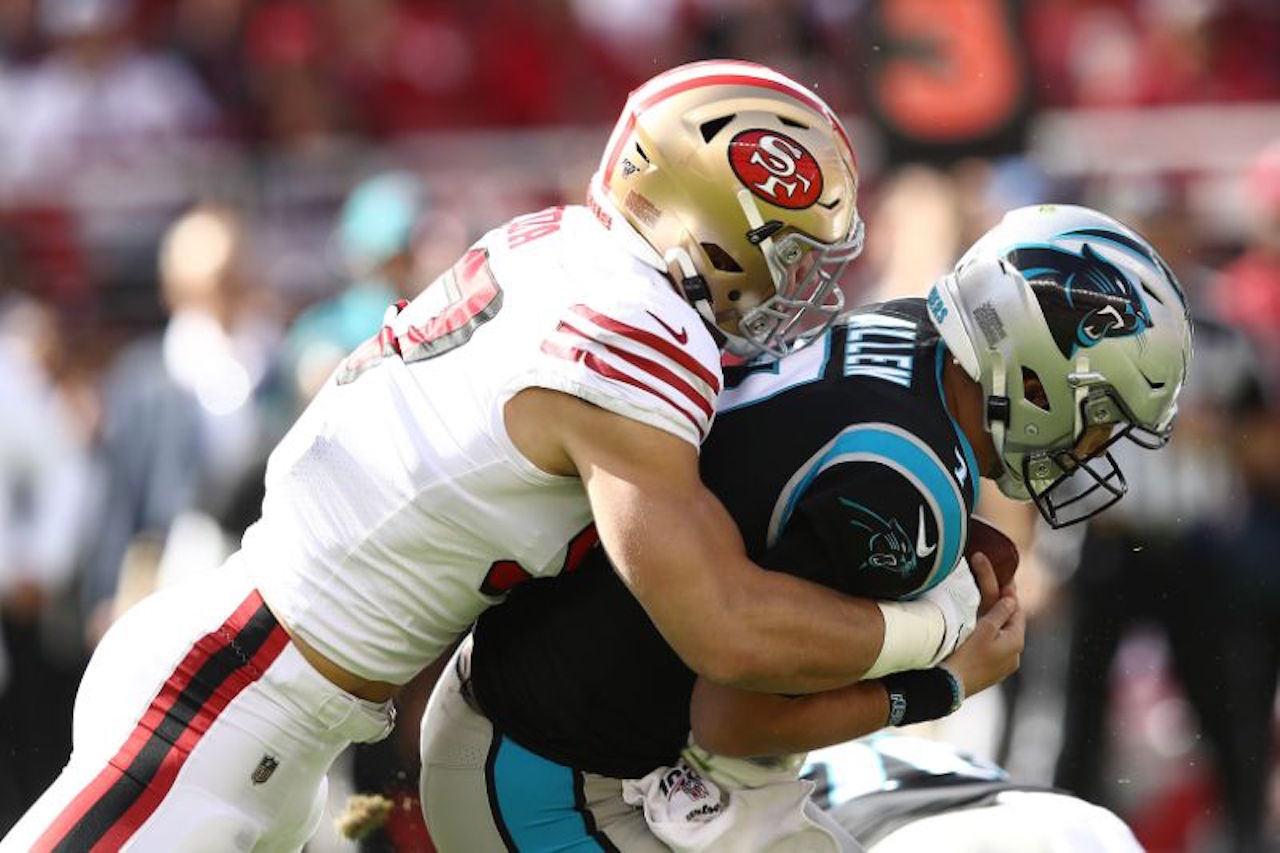 The line opened at seven points in the 49ers' favor, and was quickly bet up to 10. The game is at Arizona. The over/under has not changed at 43.
Oddsmakers don't seem to care that the San Francisco-Arizona game will be without several 49ers starters. Left tackle Joe Staley (leg), fullback Kyle Juszczyk (knee), right tackle Mike McGlinchey (knee) and cornerback Ahkello Witherspoon (foot), all are doubtful for Thursday's game. Coach Kyle Shanahan hinted that the four could return Nov. 11, after the bye week, against Seattle.
Battle of Top Draft Picks
San Francisco and Arizona were two of the worst teams last year, and had the first two picks in the NFL Draft. While Arizona took quarterback Kyler Murray with the first selection, the 49ers drafted defensive end Nick Bosa.
Bosa has been part of a 49ers defense that is No. 1 in average yards allowed per game at 224.4. There were rumors that Arizona coach might take Bosa with the first pick, but settled with Murray. Now Arizona coach Kliff Kingsbury has to find a way to stop the talented rookie. He told reporters it won't be easy.
"He is a tremendous football player," Kingsbury said. "High effort, high motor, great personality. You can see those guys are excited for him when he makes plays. He's having a heck of a year."
Bosa thought that he might be the No. 1 overall pick, but wasn't disappointed when it didn't happen. He told reporters on Tuesday that he is happy where he is now.
"They needed a quarterback, so they picked a quarterback," Bosa said. "I was definitely curious to see if they would pick me No. 1. I heard Kyler Murray was going to be the pick, but I didn't know (for sure). So I was just waiting anxiously."
Now he gets a chance to show the Cardinals what they are missing. Bosa said getting to Murray will be a key for the defense.
"He's still sackable because he likes to try to extend plays, but it's definitely going to be a different challenge because we have a short week," Bosa said. "We don't really get too many live reps, and they do a lot of things that we won't see other than against them."
Short Week for San Francisco, Arizona
Like most teams that play on Thursday, San Francisco and Arizona have short weeks to prepare for one another. The 49ers might have an advantage since they were at home on Sunday, while Arizona was in New Orleans.
"It's different when you play these Thursday games," Shanahan said. "Sunday ends so fast and Monday those guys are resting so we don't get to see them, but we put everything in yesterday and it's been kind of crazy all morning trying to get a bunch in. We're going to go out here and practice a little bit later and then tomorrow, we'll try to make tomorrow a Friday and Saturday combined. Sunday will be here fast."
Shanahan added the short week does take a toll on players.
"Physically is the obvious part. There's a reason people don't play football this close together all the time," Shanahan said. "It takes a while for the body to recover, so that's what the players are doing and working with our guys on. I think sleep is huge, but the mental part is huge also. If you just think about the physical part and we usually do this stuff over six days and you're doing it over two days. That'll catch up to you in the middle of the game if you don't find a way to sit and focus."