San Francisco 49ers running back, Tevin Coleman, left the NFC Championship in the second quarter with a dislocated shoulder injury. An MRI the next day revealed a minor tear in his labrum. Coleman practiced for the first time this week, and he's optimistic about playing in the Super Bowl on Sunday.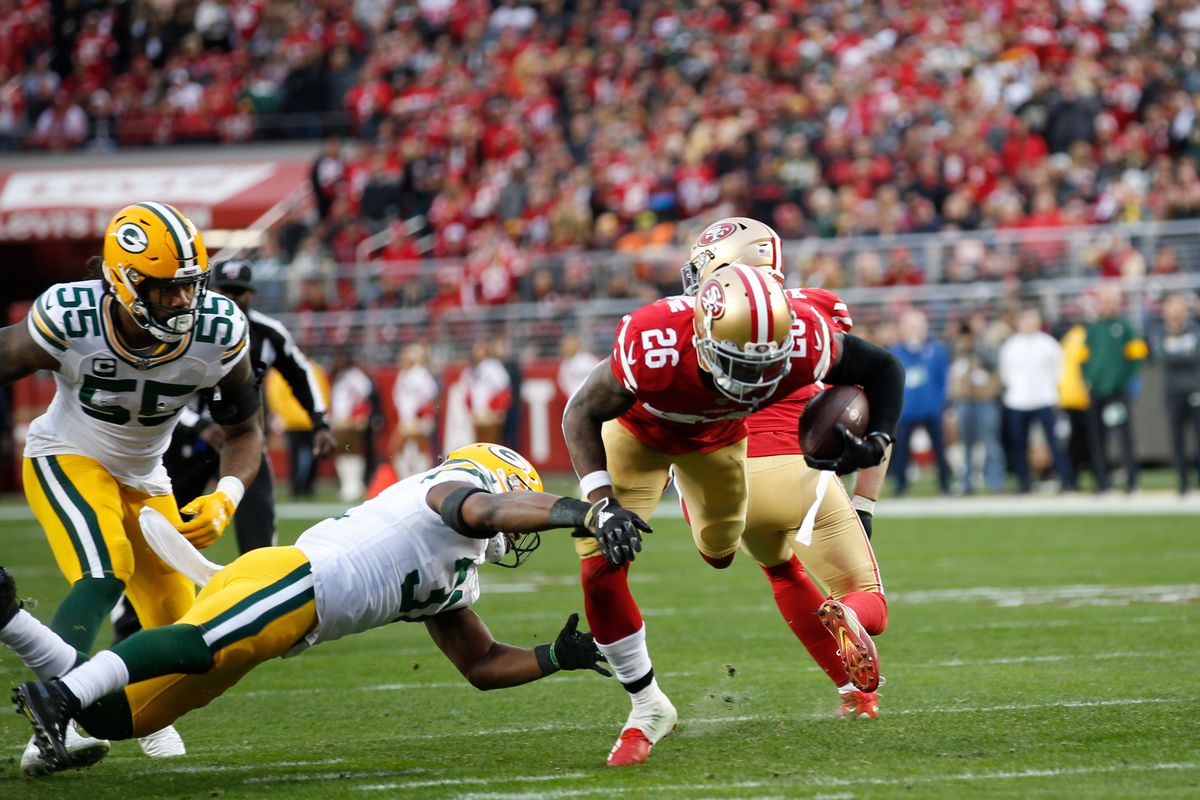 Coleman will suit up for the 2020 Super Bowl against the Kansas City Chiefs, but we won't know his effectiveness until his first carry. If he's ineffective or unable to play, the Niners will rely on their primary ground weapon – Raheem Mostert.
The Niners are blessed with three running backs: Matt Breida, Tevin Coleman, and Raheem Mostert. The trio combined for 1,939 rushing yards and 15 touchdowns. Mostert led the 49ers in rushing during the regular season with 772 yards and eight touchdowns. Coleman added 623 and six touchdowns.
Even without Coleman for the majority of the NFC Championship, Mostert destroyed the Green Bay Packers. Mostert finished with 220 rushing yards and four touchdowns during a dominant performance.
Coleman missed practice all last week while resting his shoulder. He participated in the Niners final practice on Wednesday before flying to Miami. Coleman's overall participation was limited on Wednesday.
"We'll see as the week goes how much the pain tolerance is for his shoulder," said Shanahan.
The injury report isn't very long for San Francisco. Linebacker Kwon Alexander (pectoral) and safety Jaquiski Tartt (ribs) were limited in practice, but expected to play on Sunday. Aside from Coleman, they don't have any major injuries and roll into the Super Bowl fairly healthy.
Workhorse Coleman
Coleman sprained his ankle in the first game of the season. He missed two games before returning with 97 yards and a touchdown against the Cleveland Browns. Coleman unleashed his best performance of the season against the Carolina Panthers with 105 yards on only 11 carries. He also scored three touchdowns.
During the regular season, Coleman rushed 137 times for 544 yards and six touchdowns while averaging 4.0 yards per carry. He also added one receiving score.
Kyle Shanahan fed the ball to Coleman during the NFC Divisional round against the Minnesota Vikings. The Niners' defense shutdown Dalvin Cook, holding him to 18 yards on nine carries. Meanwhile, the Niners' RB committee combined for 180 yards and two scores. Coleman led the way and rushed 22 times for 105 yards and two touchdowns.
He missed nearly three quarters of the NFC Championship game when he dislocated his shoulder in the second quarter. Mostert stepped up, and the rest is history.
In the meantime, Coleman rested his shoulder until he was ready for limited drills on Wednesday.
"Hoping to get my shoulder back right and just taking it one step at a time," Coleman told reporters.
Coleman indicated he will play, but it will be up to Shanahan to make the ultimate call. At best, he'll be a secondary option behind the red-hot Mostert.
Monstrous Mostert
When Coleman went down in Week 1, Mostert took advantage of the "next man up" mantra. In his first start against the Cincinnati Bengals, he ran for 83 yards and added 64 receiving yards and a touchdown. In an impressive win against Pittsburgh, Mostert rushed for 79 yards on 12 carries.
In a loss against Baltimore in early December, Mostert exploded for 146 yards and a touchdown on a blistering 7.7 yards per carry. Against New Orleans, he rushed 10 times for 69 yards and a touchdown. He also added a TD reception in the 48-46 victory over the Saints.
Mostert finished the regular season with 5.6 yards per carry. He accounted for 27.5 percent of the Niners rushing attempts, but racked up 33.5 percent of the team's total rushing yards.
In the playoffs, Mostert rushed for 58 yards on 12 carries in a win over the Minnesota Vikings in the NFC Divisional round even though Coleman got the bulk (22) of the carries.
When Coleman went down with an injury against Green Bay in the NFC Championship, Mostert was ready to roll. When the blowout was over, Mostert ran down the Packers' throats for 220 yards and four touchdowns.
Mostert has been a true journeyman, playing for seven different NFL teams. He has a huge chip on his shoulder and remains eager to prove all his detractors wrong with another monstrous performance in the Super Bowl. If Coleman is unable to play, or play effectively, the 49ers have an amped-up Mostert ready to inflict damage on the Kansas City Chiefs.