Sam Merrill hit a 3-point shot with 2.5 seconds remaining to secure a 59-56 victory for Utah State over #5 San Diego State (30-2) in the Mountain West Conference tournament in Las Vegas. Utah State punched their ticket to March Madness after winning three games in three days to win the Mountain West tournament championship.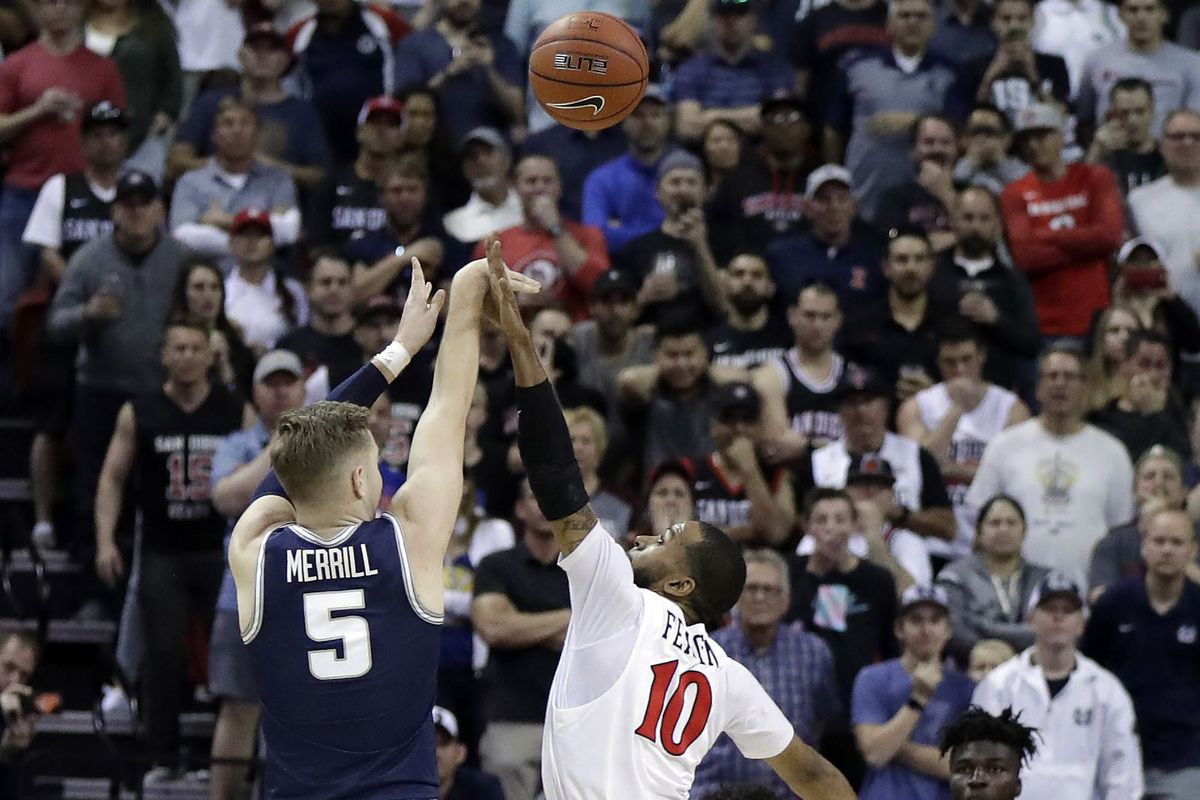 Merrill led all scorers with 27 points and he knocked down six, 3-pointers, including the game-winning shot. He won the tournament MVP averaging 27.6 ppg in Las Vegas.
Utah State was one of several bubble teams fighting for an at-large bid to March Madness. Now that Utah State clinched an automatic bid by winning the Mountain West tournament, the Aggies don't have to sweat on Selection Sunday.
"I didn't want to play in the NIT," Merrill said. "I had nightmares about that."
For the second season in a row, Utah State knocked off San Diego State to win the Mountain West tournament in Las Vegas. Merrill won the MVP last year as well. With a #8 seed in 2019 March Madness, Utah State lost in the opening round.
This marks the first back-to-back trip to March Madness for Utah State since 2010-11.
Courtside view of the Sam Merrill three-pointer to win the Mountain West Conference Tournament and the bid to the Big Dance. pic.twitter.com/beQJvQcdqf

— Steve Cofield (@stevecofield) March 8, 2020
Merrill Magic
Sam Merrill solidified his legend in Utah with his huge shot in Las Vegas. The 6-foot-5 senior shooting guard set records in high school in Bountiful, Utah. Despite scholarship offers to several top schools, he decided to remain in his home state and attend Utah State in Logan.
This season, Merrill led the Aggies with 19.7 points, 4.1 rebounds, and 3.9 assists per game. He averaged 20.4 ppg last season and could have gone pro, but returned to Logan, Utah, for his senior season.
Merrill stepped up when his team needed it the most in the conference tournament, knocking down the biggest shot in Utah State basketball history. Now that they're in the Big Dance, can Merrill put the Aggies on his back to make a legitimate run at the Final Four?
SAM MERRILL. ICE IN HIS VEINS. ❄️

Cc: @USUBasketball pic.twitter.com/zxjMk87UfS

— NCAA March Madness (@marchmadness) March 8, 2020
Beating SDSU
Utah State knew they couldn't squander an opportunity and a clear path to March Madness. They took center stage at Thomas and Mack Arena in Las Vegas on a mission to win the Mountain West tournament title and lock up a March Madness spot.
San Diego State jumped out to a 16-point lead in the first half. Utah State clawed back and cut the lead to eight at halftime. In the second half, it was all Merrill.
"Sam Merrill decided to take over the game, that's it," SDSU head coach Brian Dutcher said. "March is for players and he made plays today, made the timely shots."
Malachi Flynn led San Diego State in scoring with 16 points, but he had a rough shooting night with a 6-for-20 clip. He almost hit a half-court shot at the buzzer to send the game into overtime.
"It was a heavyweight fight, and we knew it was going to go 15 rounds," said Utah State coach Craig Smith. "Fortunately for us, we were the last man standing."
San Diego State came into the Mountain West championship game with only one loss. The Aztecs were also fighting for an overall #1 seed in March Madness.
San Diego State will now advance to March Madness with an at-large bid. SDSU recently slipped to #6 in the latest AP Top 25 poll.