Welcome to the exclusive Madden 99 Club, Michael Thomas. The ratings adjusters at EA Sports sent the New Orleans Saints wide receiver an early Christmas present this year when they upgraded Thomas to a 99 rating on their popular football video game, Madden NFL 20.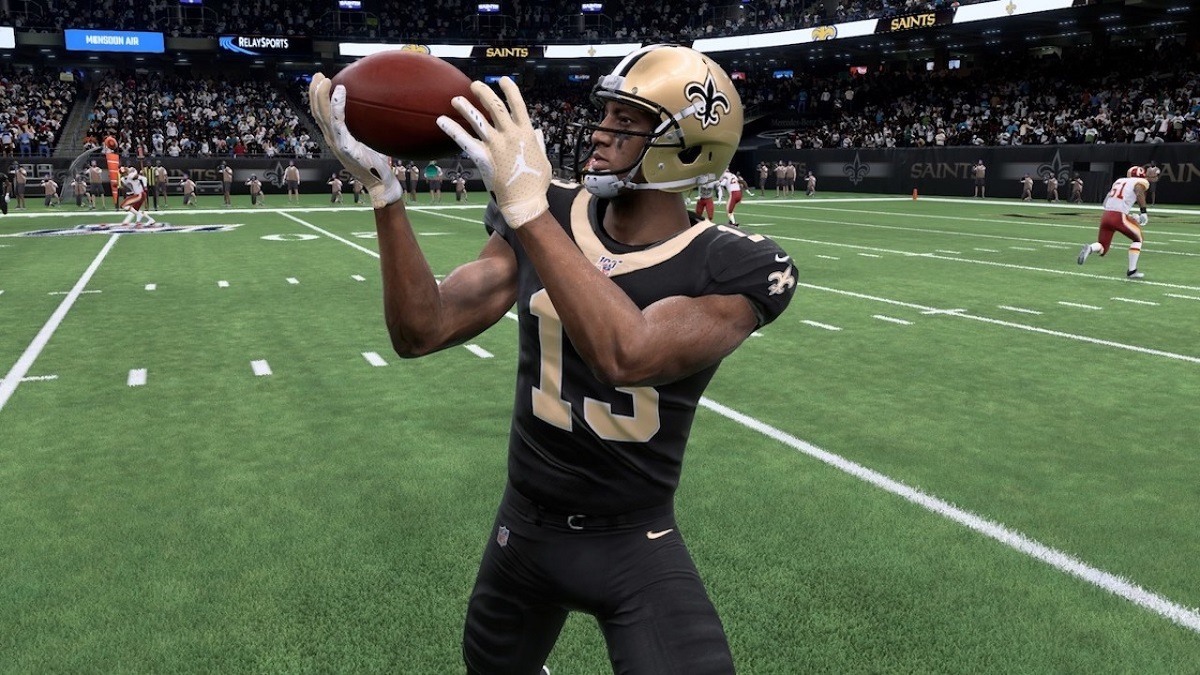 EA Sports bestowed Thomas, known as @CantGuardMike on Twitter, with the top rating in their video game after he broke Marvin Harrison's record for most receptions in a season (143). Thomas snapped the record with 12 catches during a Monday Night Football victory over the Tennessee Titans.
Ratings on Madden NFL 20 are adjusted on a week-to-week basis, depending on individual performances. As of Week 16, only five players in the NFL were listed with a Madden 99 rating: Aaron Donald, DeAndre Hopkins, Patrick Mahomes, Christian McCaffrey, and Thomas.
2019 Madden 99 Rating
Michael Thomas, WR
Christian McCaffrey, RB
Patrick Mahomes, QB
DeAndre Hopkins, WR
Aaron Donald, DE
Carolina Panthers running back, Christian McCaffrey, joined the Madden 99 Club in mid-season. McCaffrey became the youngest player in NFL history to receive a 99 rating. CMAC also became only the sixth running back in NFL history to join the Madden 99 Club.
Aaron Donald, an elite pass rusher with the LA Rams, is the lone defensive player with a 99 rating on Madden NFL 20 this season.
EA Sports adjusted Drew Brees to a 99 rating after he broke Peyton Manning's career touchdown mark two weeks earlier.
Can't Guard Michael Thomas
How good is Thomas? He broke Marvin Harrison's record in only 15 games. Almost half of those Saints games were played without starter, Drew Brees, who injured his thumb in Week 2.
Through 15 games, Thomas caught 145 passes for 1,688 yards and nine touchdowns. He averages 11.6 yards per catch. Over his four-year career, Thomas scored 32 touchdowns and caught 466 receptions for 5,475 yards.
The humble Thomas downplayed both the new receptions record and the exclusive Madden 99 rating.
"To be honest, it doesn't really mean nothing," Thomas added. "I don't take it for granted. But the fact that we still have more goals as a team – as far as not the individual stuff that comes along with it – I would be selfish to be like, 'Oh, I just caught all these passes and did all this.' Ultimately, I was catching the passes to win the game, to help my team be in the position we're in now."
Thomas led the NFL in receptions last season with 125. He recorded at least 100 receptions in each of his last three seasons.
"Can you call someone the G.O.A.T. after only a couple of seasons?" said Stanton Moore, New Orleans musician and life-long Saints fan. "Because Michael Thomas is the best of the best."
From LA to Columbus to NOLA
Thomas, born in Los Angeles, played his collegiate ball with Ohio State. He spent his freshman season buried on the depth chart, and sat out his sophomore season as a redshirt.
Thomas returned to the Buckeyes in 2014 with a monstrous season that included 54 catches and nine touchdowns, while leading Ohio State to a national championship. Thomas returned in 2015, catching 56 passes and scoring nine more touchdowns in only 13 games of action.
The Saints drafted Thomas in the middle of the second round in the 2016 NFL Draft with the #47 overall pick.
Thomas turned heads during his rookie campaign when he quickly became a reliable target for Drew Brees. The rookie lit up the Superdome with his speed, agility, and sticky hands. He caught 92 passes and scored nine touchdowns as a rookie.
Thomas earned a spot in the Pro Bowl every year he's been in the league. Last season, he was a First-Team All-Pro selection. He's expected to become another All-Pro selection this season, but he is more interested in earning a spot in the 2020 Super Bowl.
"I just want to keep catching passes and end up where we're gonna be," added Thomas. "That's ultimately what I'm here to do, and I feel like if I continue to do that I'll get more passes and I'll break more records."
✔️ Single Season Reception Record
✔️ 1,600+ Yards
✔️ #99Club

Congrats @Cantguardmike 🙌 pic.twitter.com/0SWWbMkf2P

— Madden NFL 20 (@EAMaddenNFL) December 23, 2019
According to William Hill, the New Orleans Saints are 11/2 odds to win the 2020 Super Bowl.