The Saint Mary's Gaels (26-7) are on the bubble, but one win away from punching their ticket to the 2020 March Madness tournament. Thanks to a game-winning buzzer-beater by Jordan Ford, Saint Mary's upset #14 BYU 51-50 in the West Coast Conference (WCC) semifinals to secure themselves a spot in the WCC championship game against #2 Gonzaga.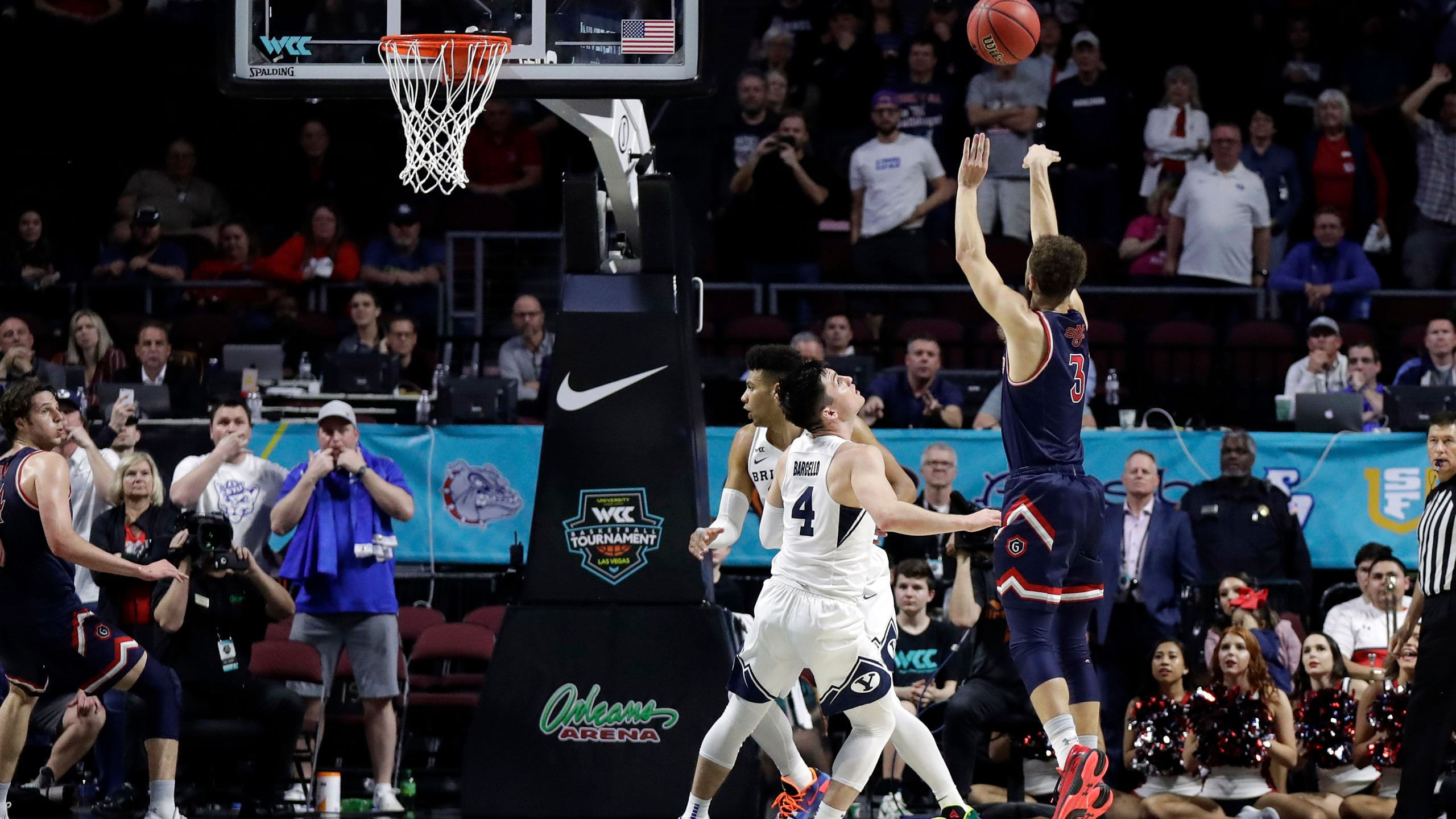 Saint Mary's, stuck on the March Madness bubble, needs a victory in the WCC championship game to secure themselves the WCC's automatic bid. If they lose, the Gaels will probably get snubbed by the fickle selection committee.
Last season, Saint Mary's faced a similar bubble situation. Saint Mary's met Gonzaga in the WCC championship and came out ahead to secure a spot in 2019 March Madness. Can they replicate last year's upset once again?
2020 WCC Championship
Saint Mary's Gaels (26-7) at #2 Gonzaga Bulldogs (30-2)
Tip-off: 6:00pm PT
Location: Orleans Arena, Las Vegas
Point Spread: Gonzaga -9
Over/Under: 143
Money Line: Saint Mary's +350 / Gonzaga -450
On Tuesday night, Gonzaga hosts Saint Mary's at the Orleans Arena in Las Vegas to determine the WCC championship. Saint Mary's entered their conference tournament as the #3 seed.
Pepperdine almost upset and eliminated Saint Mary's in the WCC quarterfinals. Jordan Ford dropped 42 points and led Saint Mary's to a double-overtime victory.
Ford, a 6-foot-1 senior guard, leads the WCC in scoring with 21.7 points per game. He hits 49.3% of his shots, including 41.2% of his 3-pointers.
Jordan Ford … Again
In the WCC semifinals, BYU and Saint Mary's were bogged down in a defensive battle. BYU opened up a 6-point lead at halftime, 26-20. Both teams struggled to shoot effectively. Ford went 2-for-6 in the first half with only 6 points.
Saint Mary's finally got their offense flowing in the second half, while their ferocious defense shut down BYU. At one point, BYU didn't score a point over a nine-minute stretch as Saint Mary's finally seized the lead after a 12-1 run.
Ford scored 12 of his 18 points in the second half, but his final shot is what everyone is talking about.
"We kind of cleared it out for me," said Ford. "In my head I was thinking, get to a jumper and get the guy reeling a bit. Stopped on a dime and shot it."
With 1.4 seconds remaining, Ford drilled a pull-up jump shot to put Saint Mary's ahead 51-50.
The winning basket thrust Saint Mary's into the WCC championship with a chance to avoid the bubble and punch their ticket to March Madness.
BYU's Yoeli Childs scored a game-high 23 points and 10 rebounds in the loss.
First ya read it, now ya see it! @jordan_ford_ hits a game winner, AGAIN, to advance @SaintMarysHoops to the #WCChoops tournament finals for the second year in a row! pic.twitter.com/e2MHR2NjOk

— WCC Basketball (@WCChoops) March 10, 2020
Gonzaga 2, Saint Mary's 0
Saint Mary's lost both meetings against Gonzaga this year. Will the Gaels finally beat the Bulldogs with a trip to March Madness on the line? Gonzaga will gain a #1 seed no matter the outcome of the WCC final, but Saint Mary's entire postseason hopes are on the line in their third meeting of the season.
In Game 1, Gonzaga blew out Saint Mary's 90-60. Gonzaga jumped out to a 25-point lead in the first half and never looked back. Drew Timme scored 20 points and Filip Petrusev contributed 18 points and 11 rebounds in the victory. Ford led Saint Mary's with 23 points in the loss, which marked the Gaels' worst loss on their home court since 2001.
In the rematch, Saint Mary's kept the game close, but Gonzaga still prevailed by 10 points. Petrusev scored 27 points and Corey Kispert added 20 points in the win. Ford scored 28 points in the loss on 12-for-21 shooting.
Last season, Gonzaga swept the regular-season series and outscored Saint Mary's by 62 points. However, Saint Mary's prevailed in the 2019 WCC Championship game and won by 13 points. Ford scored 17 points despite a poor shooting night on the perimeter.
This season, Gonzaga outgunned Saint Mary's once again and outscored the Gaels by 40 total points, including the 30-point shellacking.
Gonzaga defeated San Francisco 81-77 in the WCC Semifinals. Killian Tille scored 19 points and pulled down 10 rebounds for the Zags. San Francisco covered as a +13 underdog.
Saint Mary's heads into the WCC Finals as a +9 underdog. The over is 9-1 in Gonzaga's previous 10 games. The over is 9-3 in Saint Mary's previous 12 games.