Magnus Carlsen and Wesley So separated themselves from the field on Friday, setting up a two-man race for the title on the final day of the Saint Louis Rapid & Blitz online chess tournament.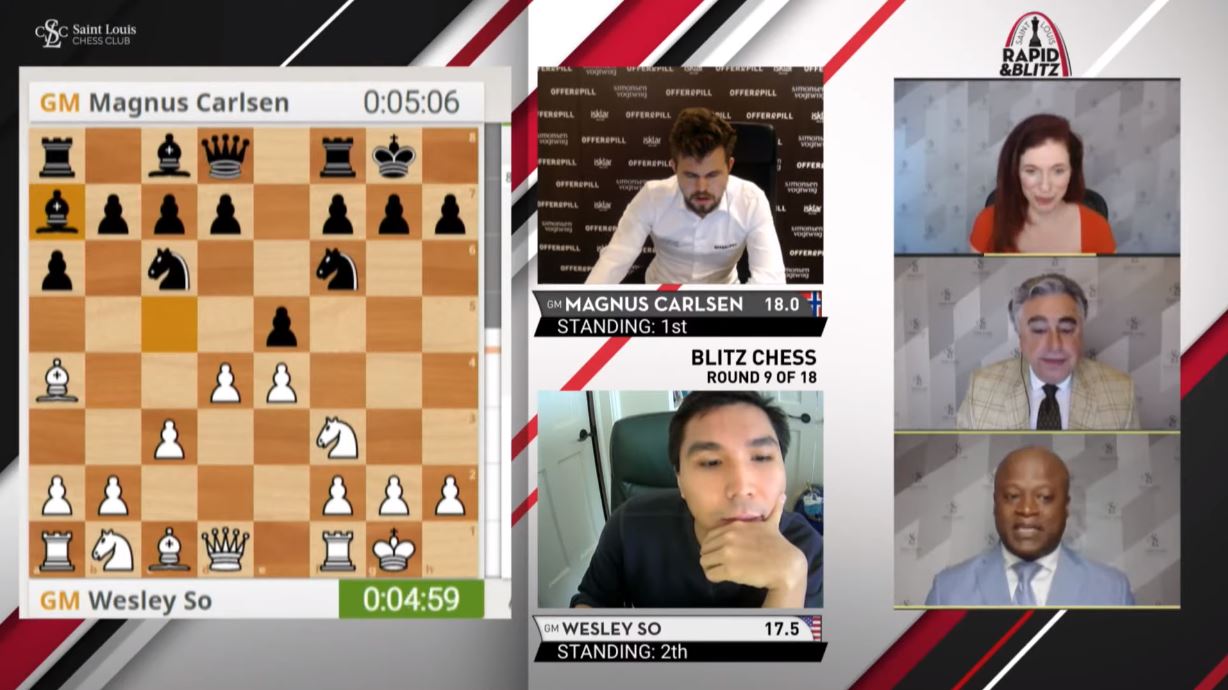 Carlsen leads the way with 18.5 points following a blistering 6.5/9 performance in Friday's blitz round-robin, while So is right behind him on 18 points.
Carlsen Survives Blitz Scares
With just nine blitz rounds – and a maximum of nine points – remaining on Saturday, there's little chance that anyone else can climb into contention. Ian Nepomniactchi sits in third place back on 15 points. Blitz specialist Hikaru Nakamura is on 14.5, but even a perfect 9/9 score likely won't be enough for him to catch both Carlsen and So.
Combined Blitz and Rapid standings. Looks like it's going to be a two horse race between Carlsen and So! #STLRapidBlitz pic.twitter.com/dQ2V9iMoQG

— Saint Louis Chess Club (@STLChessClub) September 18, 2020
Despite his score on Friday, Carlsen suffered through some difficult games. The world champion found himself in lost positions in back-to-back games late in the day, against youngster Alireza Firouzja and American grandmaster Leinier Dominguez. But Carlsen managed to come back to win both times as his opponents wilted under time pressure – not to mention the pressure of playing the best player in the world.
Magnus Carlsen's reaction after his round 7 swindle #STLRapidBlitz pic.twitter.com/76PPcNvs01

— Saint Louis Chess Club (@STLChessClub) September 18, 2020
While Carlsen experienced ups and downs throughout the day, So played steadily. After an opening loss to Jeffery Xiong, the American won two of his next three games. He then drew each of his last five contests, including his final two of the day against Nakamura and Carlsen. So appeared content to take a half-point against his two most difficult opponents, offering them both draws from positions where he seemed to have a slight advantage.
That set up plenty of drama for Saturday's final day of play at the Saint Louis Rapid & Blitz. So may have to go for more in his games to keep up with Carlsen, as the world champion figures to score well again over the last nine rounds.
Saturday: Critical Games in Early Rounds
Saturday's schedule has placed three key matchups early in the day. Carlsen plays Nakamura in the very first round, and scoring at least a half point would put the Norwegian off on the right foot. Unibet sees Nakamura as a slight +190 favorite with White in that game, with a draw listed at +130 and Carlsen fetching +230 odds to win with Black. Nakamura (+190) also comes in as a favorite over So (+300) in their second-round battle, even with Black.
---
Saint Louis Rapid & Blitz Odds (Overall Winner)
Magnus Carlsen: -500
Wesley So: +300
Ian Nepomniachtchi: +1400
Hikaru Nakamura: +1700
Alexander Grischuk: +5000
Levon Aronian: +10000
Pendyala Harikrishna: +25000
Jeffery Xiong: +50000
Leinier Dominguez Perez: +100000
Odds via Unibet
---
But Round 3 features the critical game of the day, as Carlsen takes White against So. Unibet sets Carlsen as a -112 favorite to grab a win, which could be enough for the world champion to distance himself from So (+550) for good.
Overall, Carlsen enters the final day as a strong -500 favorite to win the Saint Louis Rapid & Blitz, with So (+300) being the only player with a realistic chance of upsetting him. Nepomniachtchi (+1400) and Nakamura (+1700) likely have too much ground to make up, while the first of the field has little chance of climbing back into contention.