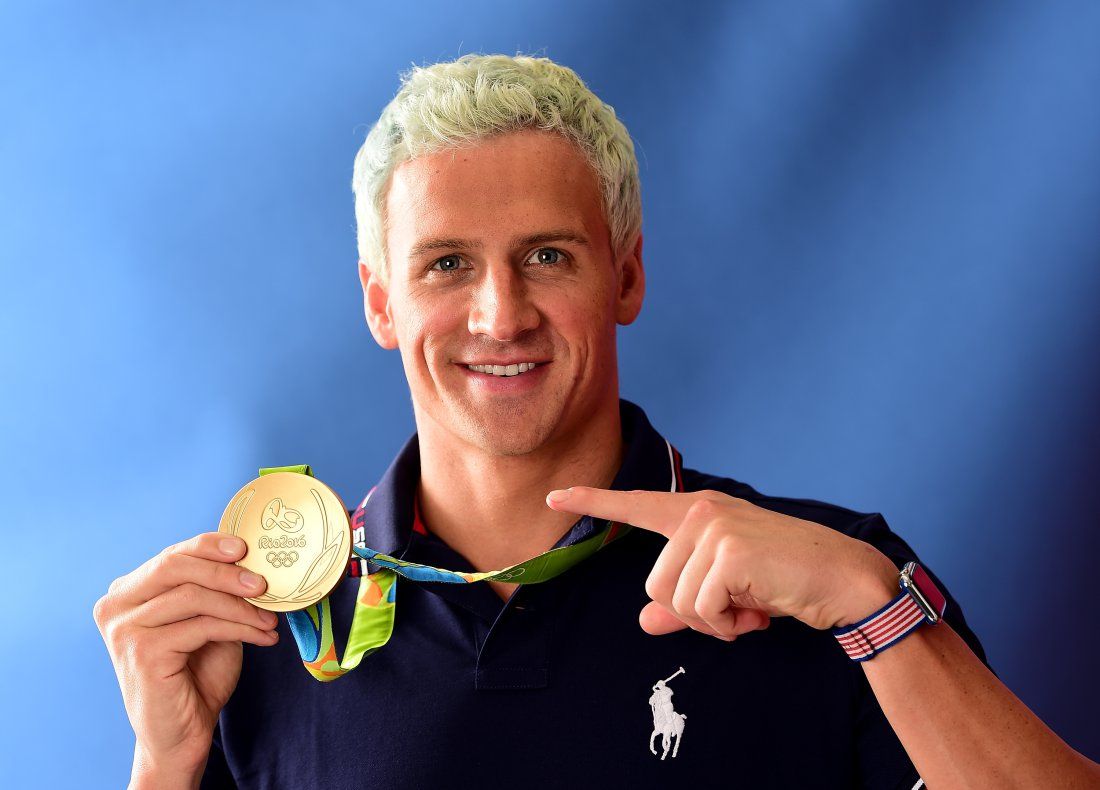 Ryan Lochte received his punishment from the United States Olympic Committee and USA Swimming today, and the two governing bodies of competitive swimming in the US didn't go tread lightly.
For making up a story about being robbed in the early morning hours on August 14 in Rio de Janeiro, Lochte is being banned from swimming for the next 10 months. He will also perform 20 hours of community service and forfeit the $3,500 per month allowance he receives from Team USA during the ban.
Gunnar Bentz, Jack Conger, and James Feigen, the other swimmers involved in the late-night scandal, received fourth-month suspensions and 10 hours of community service.
All four swimmers will also miss out on going to the White House later this year.
Lochte devised a tale claiming the men were robbed at gunpoint by criminals posing as police officers. It was later revealed that the US swimmers vandalized a gas station bathroom and paid money to a security guard to cover the costs.
"During an otherwise extraordinary Olympic Games, a small group of athletes had lapses in judgment and conduct that are unacceptable and not consistent with our expectations," USA Swimming Executive Director Chuck Wielgus said. "When Code of Conduct infractions occur, it's our responsibility to take action that reflects the seriousness of what happened."
Lochte will miss the 2017 National Championships and 2017 FINA World Championships.
Lochte begins appearing on "Dancing with the Stars" on September 12. Wynn Las Vegas has Lochte's odds of winning the competition reality series at 11 to one. US Olympic gymnast Laurie Hernandez is the favorite at five to one, and former Texas Governor Rick Perry (R) the underdog at 75 to one.
Tennis Match-Fixing Scandal
The sport of tennis is always causing plenty of controversy this week at the US Open in Queens, New York City. The annual Grand Slam event is making headlines not for the exceptional tennis being played, but the perception of match-fixing.
Vitalia Diatchenko and Timea Bacsinszky played in the first round of the US Open. Bacsinszky, the 15th seed, beat Diatchenko, seeded #192, in straight sets 6-1, 6-1.
Not an exactly surprising outcome considering Bacsinszky has amassed over $1 million in career earnings while Diatchenko is still seeking her first payday. But betting patterns were suspicious according to Bet365 and Russian online bookie Fonbet.
In-play betting allows bettors to take wagers on various elements of a tennis match including total sets, total aces, and even total games in a set.
The Tennis Integrity Unit (TIU) announced it's investigating the allegations.
"There is a well-defined process for betting organizations to report match alerts to the Tennis Integrity Unit," the TIU said in a statement. "That protocol should operate in a confidential fashion and involves the TIU using its expertise to assess every alert it receives, on its merits."
However, the TIU also explained that an investigation or the filing of a suspicious betting report does not prove any wrongdoings.
"There are many reasons other than corrupt activity that can explain unusual betting patterns. It is important to appreciate that an alert on its own is not evidence of match-fixing," the TIU declared.