Russell Westbrook from the Oklahoma City Thunder notched a triple-double in ten games in a row to set a new NBA record, passing Wilt Chamberlin's 1968 record of nine consecutive triple-doubles.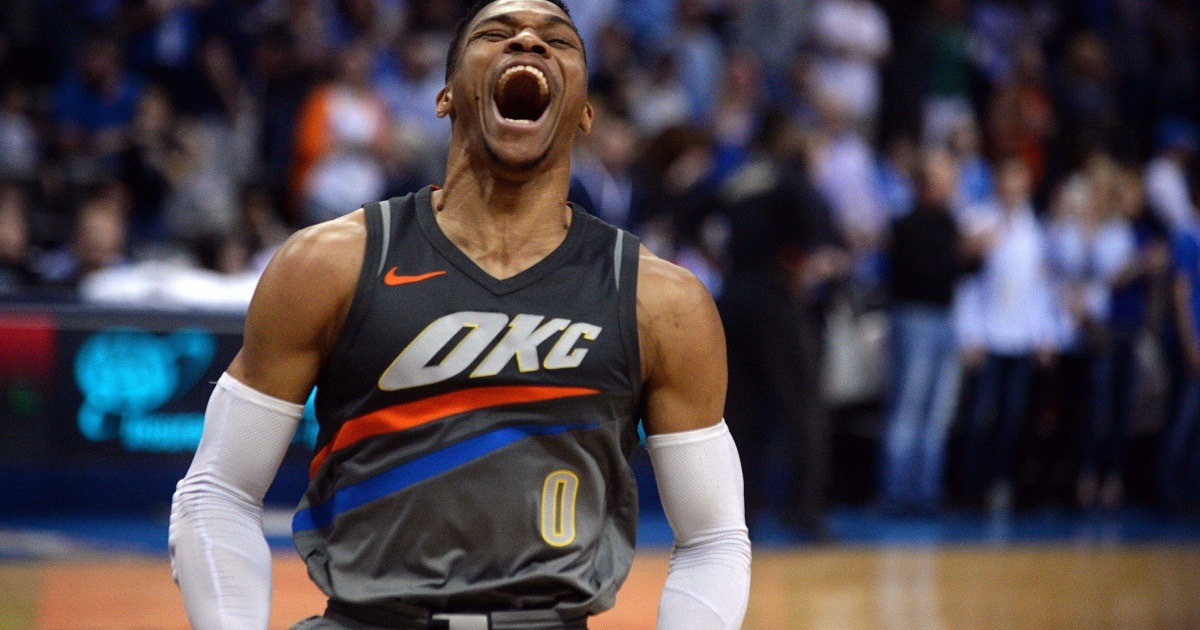 Westbrook scored 21 points and added 14 rebounds and 11 assists in a 120-111 victory over the Portland Trailblazers. The triple-double marked ten in a row. He now has 23 on the season and 127 triples doubles in his career.
Teammate Paul George also posted a triple double. George led all scorers with 47 points and added 12 rebounds and 10 assists.
"The most important thing for him is to win," said Thunder head coach Billy Donovan. "That's what he's about. He wants to win. I think a lot of the things he does that he gets attention for in terms of the triple-doubles are things that impact winning for our team."
"I just go play the game the right way," said Westbrook. "It's what I do. Go out and compete every night and leave it on the floor, and whatever happens, happens. I'm very, very blessed to be able to go out and play, and I don't take it for granted."
The Thunder (37-19) won 11 out of their previous 12 games to move into the #3 seed in the Western Conference. They're 3.5 games behind the first-place Golden State Warriors (40-15), but only one game behind the Denver Nuggets (38-18). The Trailblazers (33-23) hold down the #4 seed.
RWB 10
Another day, another triple-double for Westbrook.  It took 50 years, but someone finally broke a Wilt Chamberlin record. With James Harden's epic scoring streak garnering a slew of media attention these days, Westbrook's run at Chamberlin's record has been overlooked.
Westbrook began his triple-double steak against the Trailblazers in January and ten games later, he set a record that many sportswriters thought would never be broken. Along the way, he passed superstars Michael Jordan and Oscar Robertson, who posted seven-straight triple doubles.
RWB TRIPLE-DOUBLE STREAK:
2/11 vs. POR: 21 points, 14 rebounds, 11 assists
2/9 @ HOU: 21 points, 12 rebounds, 11 assists
2/7 vs. MEM: 15 points, 13 rebounds, 15 assists
2/5 vs. ORL: 16 points, 15 rebounds, 16 assists
2/3 @ BOS: 22 points, 12 rebounds, 16 assists
2/1 @ MIA: 22 points, 12 rebounds, 14 assists
1/29 @ ORL: 23 points, 14 rebounds, 14 assists
1/27 vs. MIL: 13 points, 11 rebounds, 13 assists
1/24 vs. NO: 23 points, 17 rebounds, 16 assists
1/22 vs. POR: 29 points, 10 rebounds, 14 assists
Westbrook is averaging a triple-double for his second straight season. This season, he is averaging 21.2 points, 11.2 assists, and 11.1 rebounds per game. Over his ten-year career, Westbrook averaged 23 points, 8.4 assists, and 7 rebounds per game.
George, Too
Westbrook and George are not the only tandem to post a triple-double this season. LeBron James and Lonzo Ball from the Lakers did it earlier this season. It's not a feat that happens often. George and Westbrook's duo triple double only occurred nine times in NBA history.
George locked up his third-career triple double against the Blazers. He's been on a tear recently with consecutive 45-point games. He dropped 47 on the Blazers and 45 against the Rockets. He's scored 43-plus in three of his last six games. He's scored fewer than 36 only once in that span.
"It's amazing to go out and compete, to see your teammate, your brother, do amazing things. And you can be right on the side of him doing something special as well," Westbrook said about George.
George leads the Thunder in scoring with 28.7 points per game. That's a significant boost from his 19.6 average throughout his career. He averaged 21.9 points per game last year in his first season with the Thunder. He's shooting 4.54 percent overall, including a career-best 41.3 percent from three-point range.
Earlier this season, Paul George torched the Brooklyn Nets for 47 points and outscored the entire team in a single quarter.