Bold and Bossy, an unraced 2-year-old filly, turned U.S. 41 North and Interstate 69 into an impromptu workout track after she broke out of Ellis Park and went for a joyride down the various highways and byways of northern Kentucky.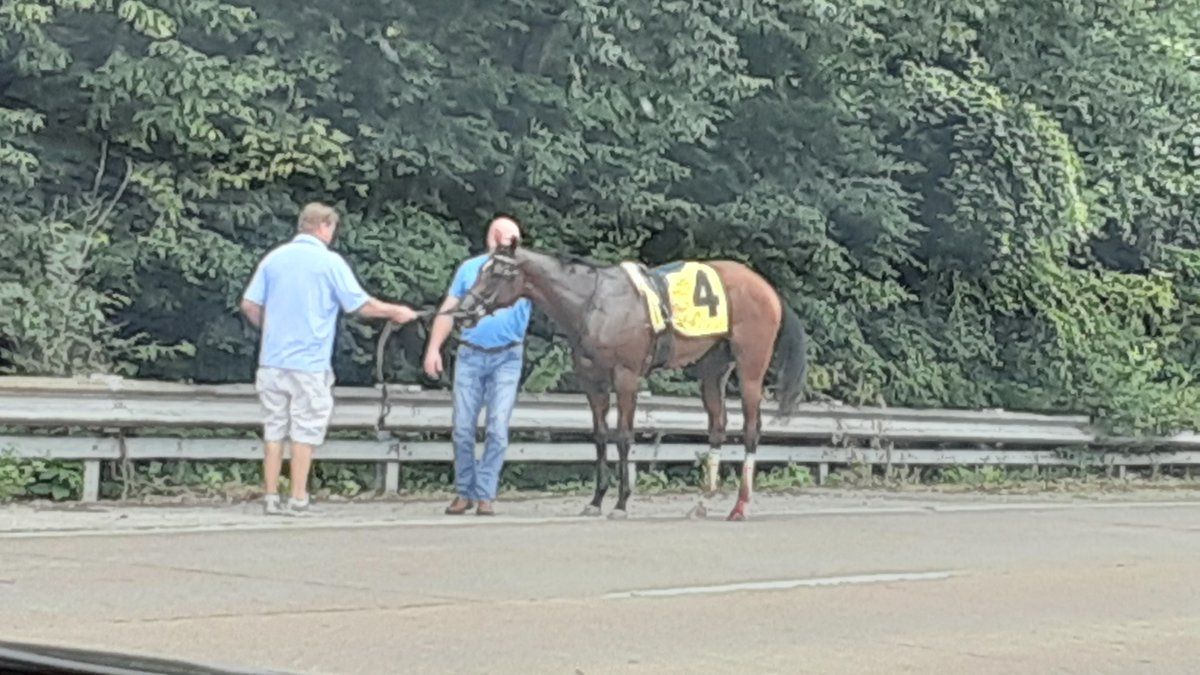 The filly bolted from Ellis Park during the post parade, shedding jockey Miguel Mena before heading on the highway. She ran off the track, cleared a nearby levee, then romped onto US 41 North. From there, Bold and Bossy merged onto Interstate 69, then Veterans Memorial Parkway.
Trainers Wes Hawley and Jack Hancock followed Bold and Bossy in their vehicles. Hancock told Ellis Park publicist Jennie Rees how they eventually apprehended the filly outside of the Evansville, Ind. Water Department.
"She went through the barn area, on the level behind the kitchen. We tried to catch her here (on the backside), missed her and then she headed down the level toward the highway," Hancock told Rees. "So we jumped into the vehicles and started chasing her then. She went out on the highway. She went on 41, and then she took an exit when up I-69 on the bypass, came down Veterans Memorial Parkway, headed back toward Waterworks Road. So we went down 69 to the quickest place we could turn around and headed in behind her. All the time, we're hoping she didn't get hit by a car. Along the way, she ended up on the other side of the highway from where we were. A gentleman and his wife caught her.
Blinkers on took a whole new meaning here
Matters were complicated because Bold and Bossy was wearing blinkers. Hancock said that made it more difficult to corral her because she couldn't see anything but what was in front of her.
Just in: Ellis Park officials tell Eyewitness News a race horse bucked its rider and escaped the track before the first race this afternoon. It traveled along US-41 before the owner managed to rescue it at the Evansville Water Department. pic.twitter.com/YWbaklhDaO

— Blake Sandlin (@BlakeSandlin) August 21, 2021
"I've been here all my life and I've never seen one to do a run like this, not that far and not that much highway. They usually don't go over the levee," Hancock said.
Bold and Bossy returned to Ellis Park in horse ambulance
Ellis Park racing secretary Dan Bork, who followed Hawley and Hancock, said Bold and Bossy probably ran a couple of miles before she was corralled. She returned to Ellis Park in the horse ambulance. Afterward, she was treated for cramps, superficial cuts, missing flesh on her front foot – caused when a hind hoof knocks it of – and dehydration.
"She's not lame. No (broken) bones or stitches needed," Bold and Bossy's owner/trainer Michael Ann Ewing told Rees. "Probably traumatized mentally, but she's going to be fine. We'll have our own vets check her out and monitor here, and after a few days to make sure everything iss good, I'll probably give her some time on the farm. But thank God she's fine."