The Washington Huskies looked bad for most of the Rose Bowl on Tuesday, and even their late comeback came up short, allowing the team to salvage some pride – but not a major bowl win for the program. But the 20 points the Huskies put up in the final quarter had major implications for bettors, as Washington did just enough to keep the Ohio State Buckeyes from covering the spread.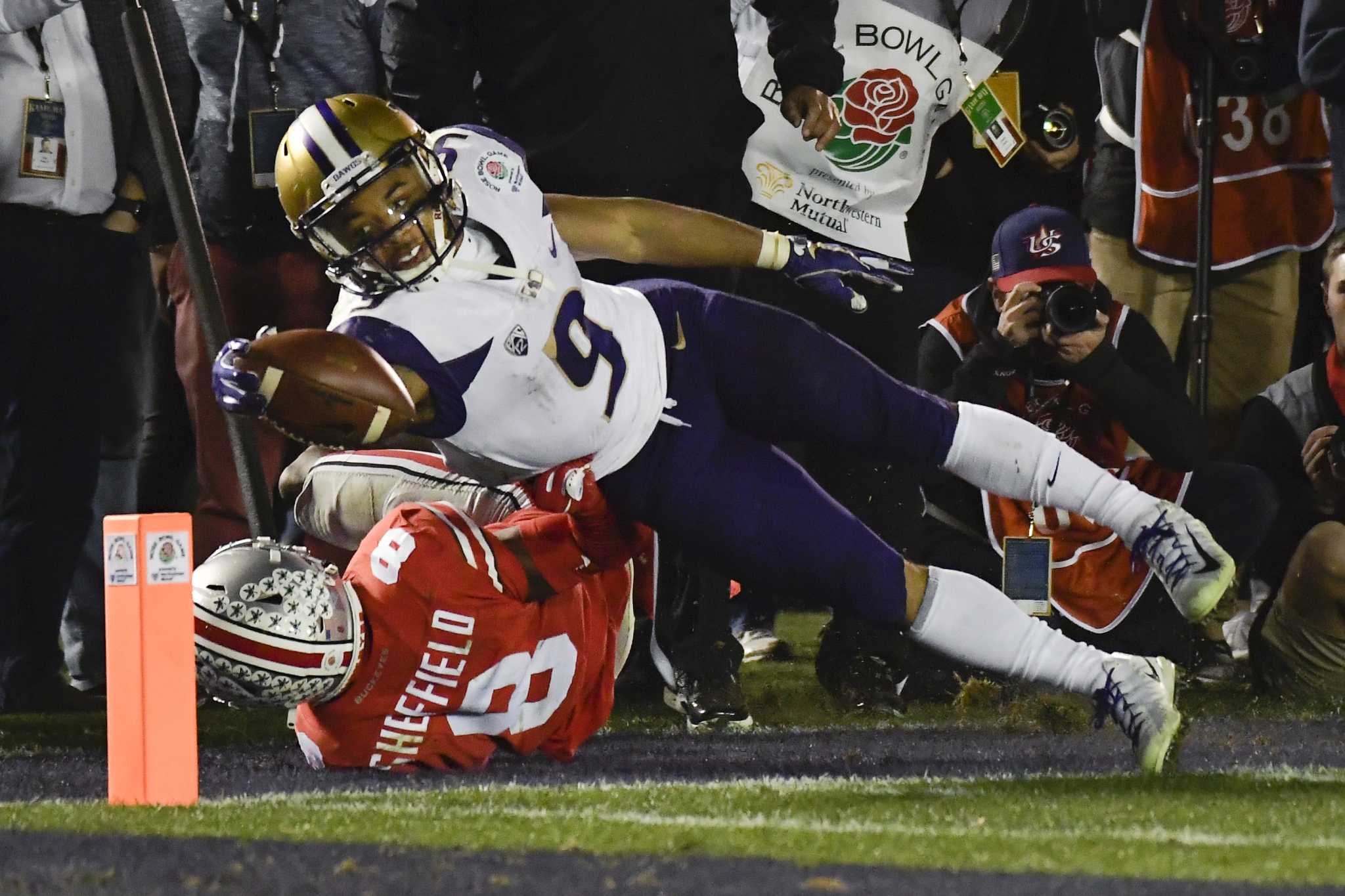 Ohio State closed as a 5.5-point favorite at most major sportsbooks on Tuesday, but could only hold on for a 28-23 win after leading 28-3 early in the fourth quarter.
Gaskin Provides Backdoor Cover for Huskies Bettors
Myles Gaskin scored three times for the Huskies in the fourth quarter, first on a pass from Drew Sample, then on two short touchdown runs. Gaskin finished the game with 121 yards on 24 carries to lead all Rose Bowl rushers.
The Washington comeback culminated in a late touchdown with less than a minute remaining to pull the Huskies within five. Washington went for two in an attempt to bring the margin down to a field goal, but were unsuccessful, leaving the Buckeyes' advantage at five points.
That would be welcome news for most Huskies backers: while there were times when late action brought the line down to 4.5 points at some books on Tuesday, almost all gamblers got in at +5.5 to +7, depending on exactly when they placed their wagers.
Unfortunately for Rose Bowl bettors, most of the action was on Ohio State. According to a report by the Action Network, most than 80 percent of bets were on the Buckeyes, though that number came down slightly as money came in on Washington on game day. That meant that for the majority of bettors, the furious comeback by the Huskies resulted in a bad beat rather than a miraculous backdoor cover.
Handicappers across the board reacted to the final score on Twitter, with some celebrating an unlikely win and others stunned to see an easy cover turn into a last minute loss.
BACK DOOR COVER BABY!!!!! #Huskies trailed 28-3, battled back to lose 28-23 but cover the spread! 🙌🙌🙌 HUGE win for contrarian bettors and the books. Only 23% took #Huskies plus the points (closed +5.5) 💰💰💰https://t.co/RbqgnKcBQE pic.twitter.com/5QbF9rPHZY

— Action Appelbaum (@Josh_Insights) January 2, 2019
Killing me with that back door cover Washington pic.twitter.com/Wf9lruwn4d

— Cam C (@theReal_CamC) January 2, 2019
Defensive Two-Point Conversion Nearly Flips the Script
Incredibly, Ohio State still nearly managed to cover on one of the most unlikely plays in football. In a moment reminiscent of another bad beat in a game between the New Orleans Saints and Carolina Panthers on Monday Night Football two weeks earlier, Washington quarterback Jake Browning was picked off on the two-point conversion following the last touchdown.
The Buckeyes had incentive to try and return the interception for a defensive two-point conversion: pushing the lead to seven points would give them a full touchdown cushion just in case the Huskies recovered an onside kick. But Ohio State safety Brendon White was tripped up around midfield with just one man left to beat, keeping the lead at five points.