Ronda Rousey will make her in-ring debut and several championships will be on the line as the WWE descends on the Mercedes-Benz Superdome in New Orleans Sunday for WrestleMania 34.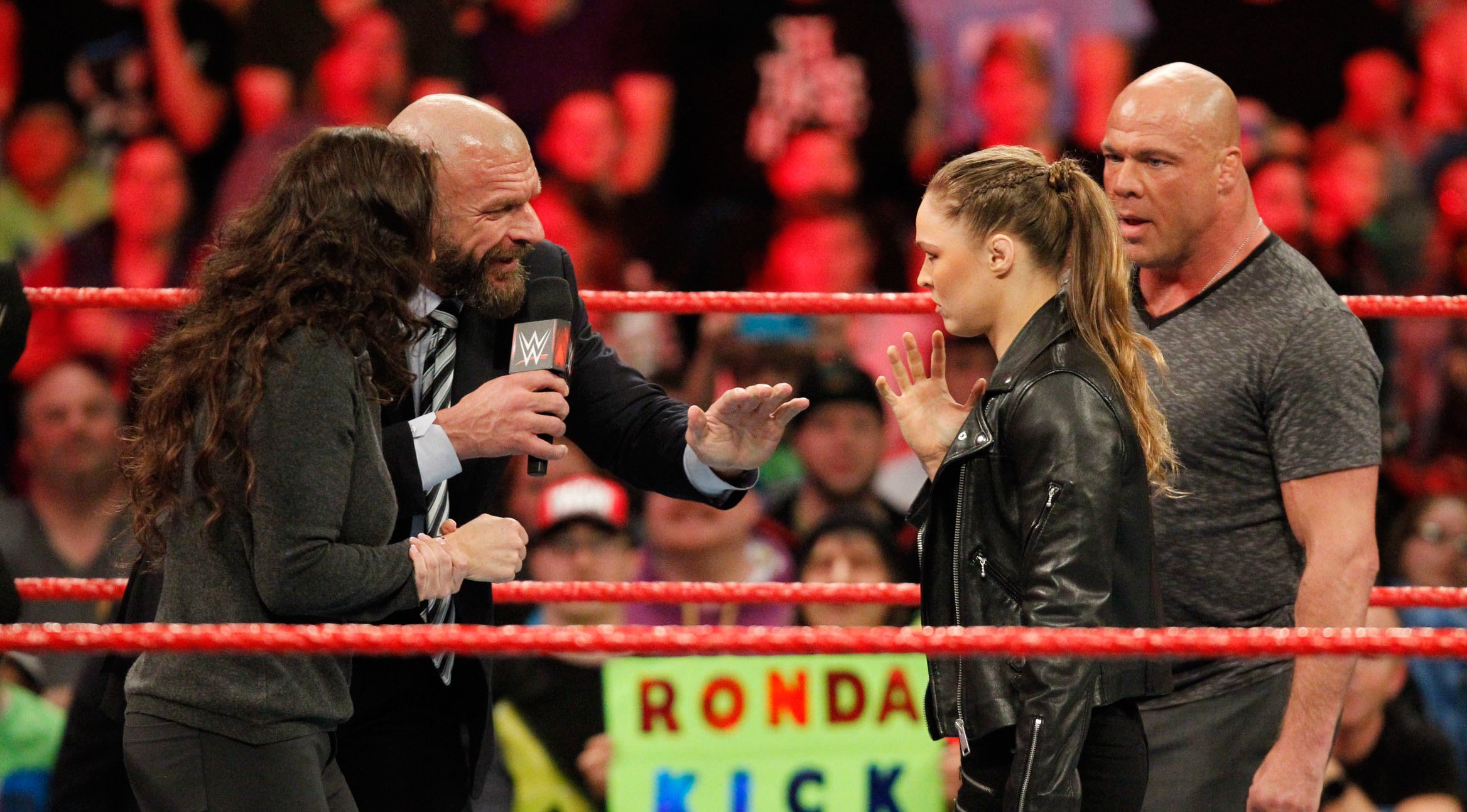 WWE's flagship event once again features virtually all of the biggest names in the company's wrestling stable. But the most hype will probably surround Rousey, the UFC legend who recently made her move over to the world of sports entertainment.
Rousey won't be in the ring alone for her first match. Instead, the former MMA champion will be paired up with Raw general manager Kurt Angle for a tag team match against Triple H and Stephanie McMahon, part of a feud between McMahon and Rousey that dates back to WrestleMania 31.
Will Rousey Get Big Push?
Betting odds on WWE events are more about storylines and pushes then actual wrestling skills, and it seems reasonable to think that the company would like to get Rousey off to a fast start to continue to build her into a legitimate threat, either for a women's championship or for more special events. That's likely why Paddy Power has the Rousey/Angle team as a massive 1/8 favorite, with McMahon/Triple H listed as the 7/2 underdog.
WrestleMania is rarely about one single match, though, and this year's card is no exception. There are championship matches throughout the night, many of which will earn almost as much attention from bettors as from wrestling fans.
One of the highlights will see WWE Championship holder AJ Styles take on Shinsuke Nakamura, who won the 2018 Royal Rumble. Nakamura was previously a superstar in Japanese wrestling circles, and the WWE has been working to push him into a headlining role this year. Bookmakers are betting on Nakamura (2/5) taking a champion this year, though the odds on Styles (7/4) suggest that it is far from a sure thing that the match will play out that way.
More WrestleMania 34 Betting
A similar push could explain why Roman Reigns (1/8) is considered a heavy favorite to wrestle away the WWE Universal Championship from current champion Brock Lesnar (7/2). The WWE has had trouble pushing Reigns as the top "face" (or hero) for the company, and they may be hoping that a win over the nearly unbeatable Lesnar would be enough to get fans behind him.
WrestleMania 34 is shaping up as a night where several titles could change hands. The SmackDown Women's Championship match sees champion Charlotte Flair taking on Asuka, who won the first ever Women's Royal Rumble.
Asuka (1/7) is on a long undefeated streak, meaning Flair (4/1) could just be the next victim of her push towards the top of the WWE hierarchy. Meanwhile Nia Jax (4/9, according to Sky Bet), who has spent much of her career as an unstoppable monster "heel" (or villain), is a relatively modest favorite over current champion Alexa Bliss (13/8) in the WWE Raw Women's Championship match.
Many smaller titles will also be on the line throughout the night, as well as a tag team match between Daniel Bryan and Shane McMahon taking on Kevin Owens and Sami Zayn. Even the pre-show will garner plenty of attention, as many wrestlers who are not on the card will take part in either the Andre the Giant Memorial Battle Royal (for men's wrestlers) or the WrestleMania Women's Battle Royal.