Cristiano Ronaldo reached another career milestone on Monday, scoring his 700th career goal in official matches for club and country by scoring for Portugal against Ukraine in a Euro 2020 qualifier.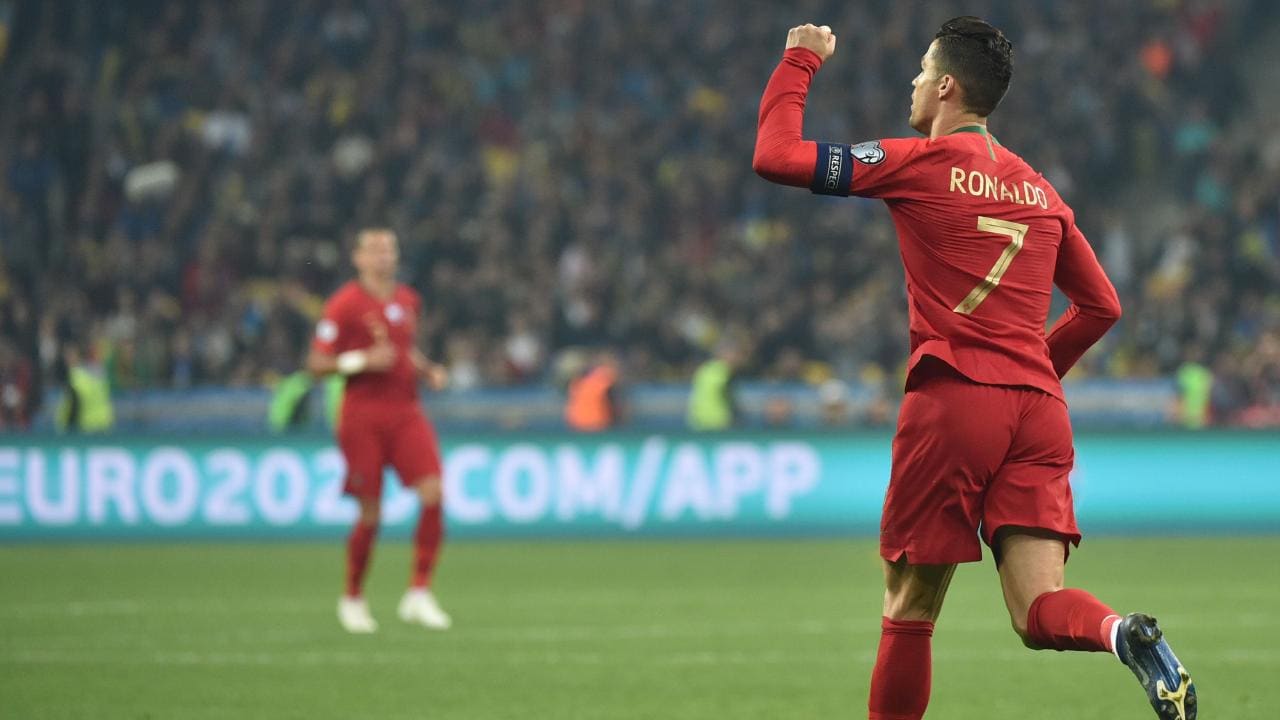 The goal came as the result of a successful penalty kick, and was Portugal's only score in a 2-1 loss.
Ronaldo Joins Shortlist of Soccer Legends
Ronaldo is only the sixth player to score 700 times in their career, counting only official matches for senior club and national teams. Others to achieve that accomplishment include Hungarian legend Ferenc Puskas, Josef Bican of the Czech Republic, Germany's Gerd Muller, and Brazilians Pele and Romario.
The vast majority of Ronaldo's goals came during his time with Real Madrid, where he found the back of the Net 450 times. He also scored 118 times while at Manchester United. In addition, he has netted 95 goals for his country of Portugal in international play. Since joining Juventus before last season, Ronaldo has scored 32 times for the Italian side. At the very start of his career, Ronaldo also scored five times for Portuguese club Sporting.
"Records come naturally, I don't look for them, records are looking for me," Ronaldo told reporters after the match. "It's a beautiful moment in my career, but it turns out to be bitter because we didn't win. But in my opinion, we have to be proud because we played an excellent game."
Ronaldo has been one of the most prolific goal scorers of all time, and there could be more records in store for the 34-year-old. He now has 95 goals for Portugal, which is the second-most all time for any national team player, trailing only the 109 times that Ali Daei scored for Iran during his career.
Messi Likely Next to Hit 700
There was some confusion over the timing of Ronaldo's achievement, due in large part to the complications of determining what counts as official statistics in a sport played both in numerous leagues at various levels worldwide, as well as in international competition.
Some media outlets celebrated the 700th goal on Friday, when Ronaldo tallied a score in a 3-0 Portugal win over Luxembourg. Most statisticians don't credit him with a goal for Real Madrid from a 2011 match in which teammate and fellow Portugal international player, Pepe, claimed that Ronaldo had scored in order to help him win a La Liga goal scoring race with Lionel Messi that season. That goal is typically attributed to Pepe instead.
Speaking of Messi, he's likely the next player with a realistic shot at breaking the 700-goal barrier. The Argentinian legend has 672 goals, and is still going strong for Barcelona at age 32.
Ronaldo's 700th tally might not have been his most exciting ever, as it came off a penalty kick in a loss. But thankfully, there are now videos on YouTube that show a compilation of all 700 of his career scores, including this one:
Portugal is currently in second place in Group B of the UEFA Euro 2020 qualifying process. Ukraine has already clinched advancement through to the tournament, while Portugal is one point ahead of Serbia for the second automatic qualifying spot, and is assured of at least a playoff game to get into the tournament.