Cristiano Ronaldo netted twice as Manchester United won a five-goal thriller at Old Trafford to climb to seventh place in the Premier League, three points behind the Champions League zone. Ronaldo reached 801 career goals on Thursday evening and was accompanied in his goal celebrations by his colleagues.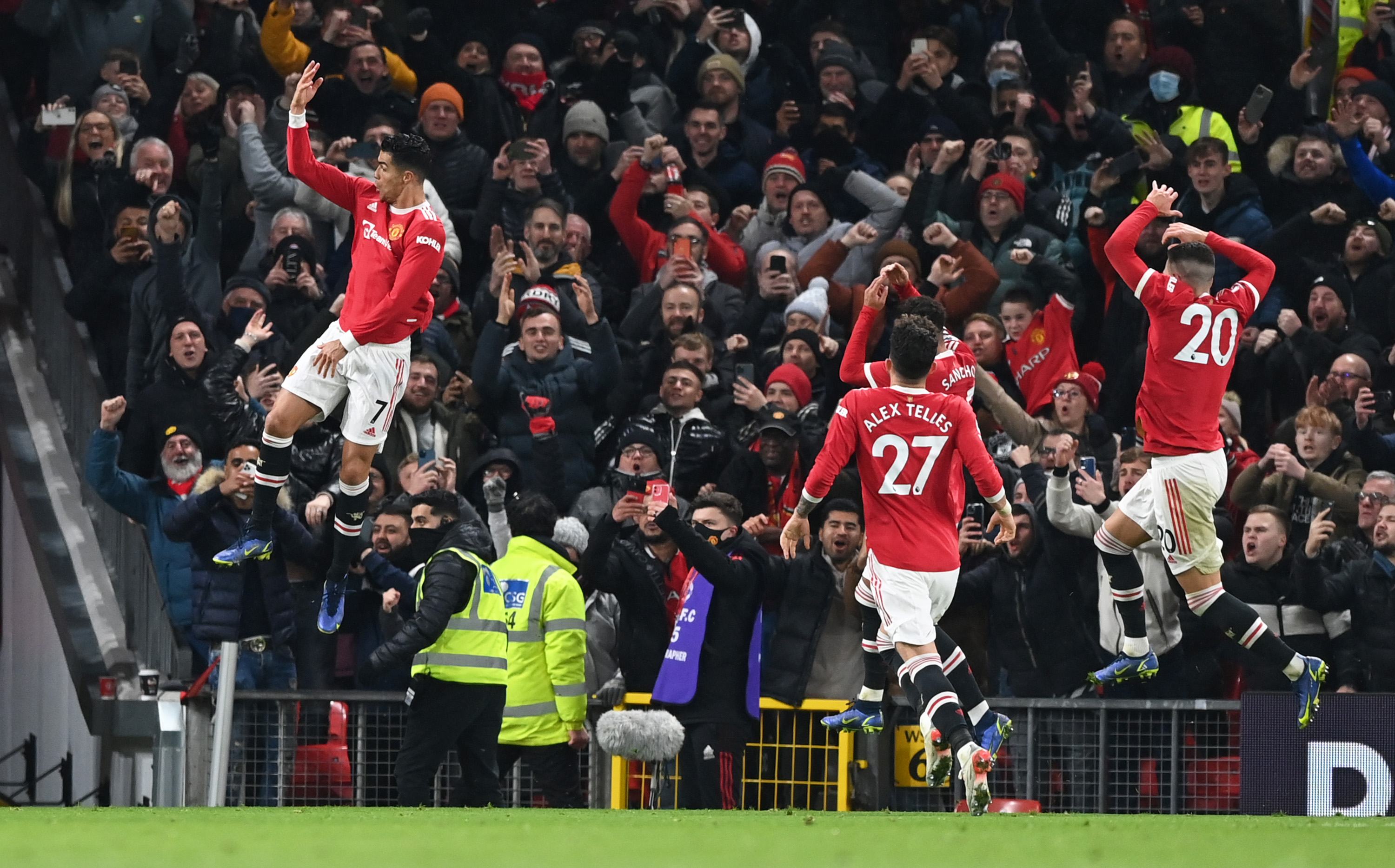 Ernie Smith Rowe opened the scoring after 13 minutes before Bruno Fernandes made it 1-1 with one minute to go in the first half. Ronaldo put United 2-1 up in the 52nd minute following a great assist from Marcus Rashford, but the home joy lasted for just a few seconds, as Martin Odegaard punched back immediately.
The show didn't finish without Ronaldo having a final say. The Portuguese striker scored from the spot in the 70th minute to put the Red Devils ahead and offer them a vital win.
Ronaldo left the pitch in the dying moments of the game to avoid risking any last-minute injuries.
CR801
Ronaldo scored goals 800 and 801 against Arsenal. He celebrated his second goal of the evening with his colleagues, who joined in his famous "Siu" jump.
This angle of Manchester United celebrating Ronaldo's goal 🔥

(via @fredcaldeira)pic.twitter.com/KSlIlxiomL

— ESPN FC (@ESPNFC) December 2, 2021
Ronaldo reached his landmark in 1,096 official games while wearing the jerseys of Sporting, Manchester United, Real Madrid, Juventus, and Portugal national team. Five hundred ten of his goals were scored with his right foot, 149 with his left, and 140 were headers. On two occasions, Ronaldo used other parts of his body to put the ball over the line.
801 GOALS AND COUNTING FOR CRISTIANO RONALDO.🐐 pic.twitter.com/YqYoBOQmoQ

— CBS Sports Golazo ⚽️ (@CBSSportsGolazo) December 2, 2021
Ronaldo is the first player in the history of football to surpass 800 goals for club and country.
This season alone, he scored 12 times in just 16 appearances for Manchester United. Six goals came in the Premier League, with the other six in the Champions League. Ronaldo has a total of 130 goals in the Manchester United shirt. He scored 450 as a Real Madrid player, 101 at Juventus, and five at Sporting. He added another 115 on the international scene for Portugal.
Ronaldo took to Twitter to address the Man. United nation following the beating of Arsenal.
"Our minds are already set on the next game, there's no time to celebrate," Ronaldo wrote. "Today's win was very important to get back on track, but there's still a long road to go until we reach our destination … Congrats to all my teammates, great spirit tonight," he added.
Carrick quit, Rangnick will make his debut against Palace
Unbeaten in his three games as a caretaker, Michael Carrick announced that he will not be part of Ralf Rangnick's coaching staff. The club wanted him to stay as a first-team coach, the same role he had under Ole Gunnar Solskjaer.
"It's a tough decision, but it's the right one," Carrick explained. "After I quit football, I promised my family some time with them. But that never happened, as I moved into coaching. I'll still be around as a supporter, my son is crazy to go into the away end for United's game on the road," the 40-year-old added.
💬 Michael Carrick spoke to #MUTV after our 3-2 win and explains why he's decided to bid farewell to United…#MUFC | #MUNARS

— Manchester United (@ManUtd) December 3, 2021
With Carrick in charge, United won against Villarreal to reach the Round of 16 in the Champions League and held Premier League leaders Chelsea at Stamford Bridge before beating Arsenal. German manager Ralf Rangnick (63) has been given a work permit by the British authorities and he will take control starting Friday. Rangnick, who signed a contract as interim boss until the end of June, will make his debut on Sunday when United hosts Crystal Palace.
The Red Devils are at -200 to win, with a draw at +200, and a Palace shock-triumph at +550. Ronaldo is at -143 to find the net at any time during the clash. Another brace from Ronaldo stands at +400, with a hat-trick at +1,300.