Juventus beat Atalanta 2-1 in the Italian Cup final to win their only trophy this season. The win could mark the end of an era, as Juve's next campaign could be playing without superstar forward Cristiano Ronaldo (36) as the Italian powerhouse faces a fundamental reconstruction following a dismal year.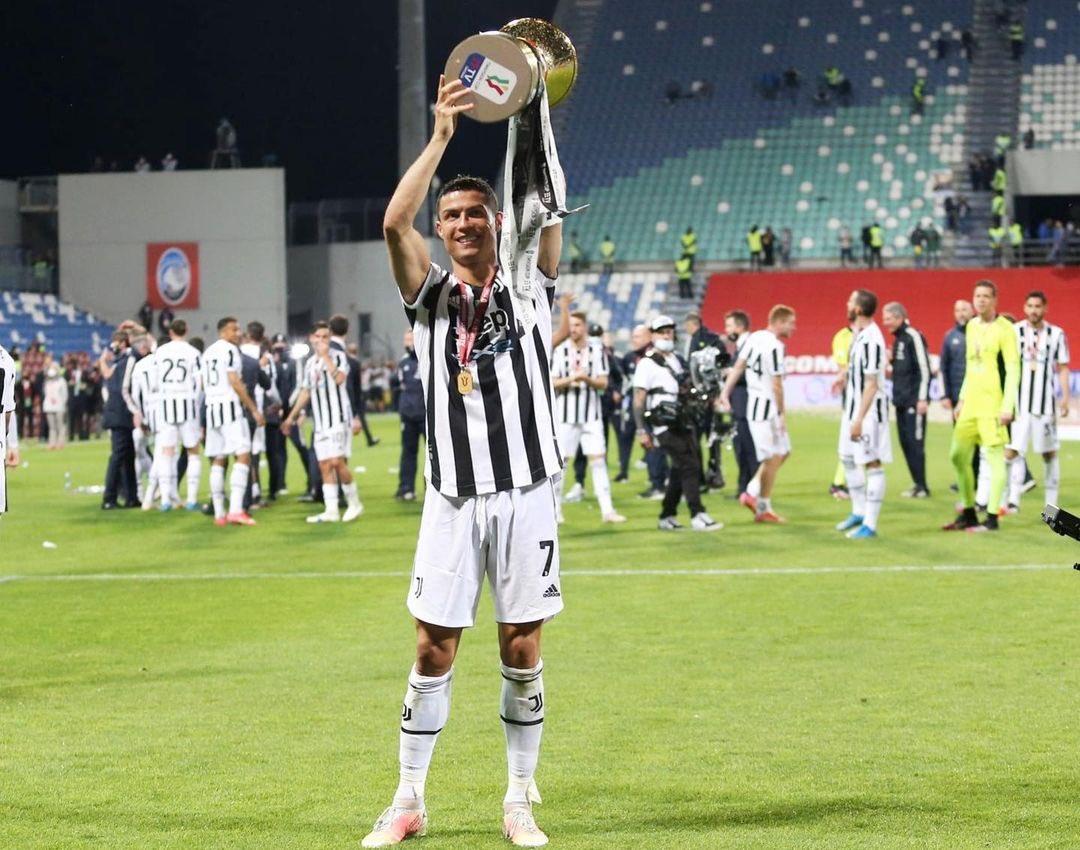 Winning the Italian Cup completed a fantastic record for Ronaldo. He's now the only player in the world to have ever won all domestic trophies in three of the most important footballing nations: England, Spain, and Italy. In addition, this weekend will see him become the first player ever to finish as the highest goalscorer in the Premier League, La Liga, and Serie A during his career. Ronaldo scored 29 times and is six goals ahead of Inter's Romelu Lukaku.
Intanto negli spogliatoi… #ITAL14NCUP pic.twitter.com/fJMKSlolXK

— JuventusFC (@juventusfc) May 19, 2021
Even though he's still setting amazing records, Ronaldo has been heavily criticized over the past six months. The attacker got slammed by the media and fans after Juve's early exit in the Champions League. He's being held responsible for not doing enough to avoid Juve's below-par performances on home soil. Before the last game of the season, Juventus find themselves in the fifth position, outside the Champions League spots.
Juve needs to beat Bologna away, and hope that AC Milan or Napoli slip in their respective encounters against Atalanta and Verona. Juventus, Serie A's champions in the past nine seasons, conceded early defeat in the title race, as Inter proved too hard to handle this year. The team from Milano put their name on the trophy since the start of May.
The Ronaldo dilemma
Ronaldo was signed by Juventus in 2018 following a $120 million transfer from Real Madrid. He's been the Italian giant's primary goal scorer since his arrival, but his critics attack him for not being able to push the team to the next level.
With Juve facing a Champions League ban as punishment for their involvement in the Super League project, even if they qualify on the pitch, Ronaldo is weighing his options.
Juventus has said on multiple occasions that he's staying with the team, but realities shift quickly in football nowadays. Recently, Ronaldo's mother, Dolores Aveiro, told happy Sporting Lisbon fans celebrating their first title since 2002 that her son is coming back to Portugal. "He'll play at the Alvalade [Sporting's stadium] next season," Dolores shouted from her balcony in Funchal, on the Portuguese island of Madeira, when she was asked about Ronaldo playing for his boyhood team.
A detail spotted this week by the Italian media might serve as a hint on Ronaldo's plans for his immediate future. He was seen in the middle of the night moving his luxury cars into big trucks that would deliver them to Portugal.
ECCO IL VIDEO ESCLUSIVO: #Ronaldo assiste mentre le sue 7 macchine vengono caricate da una famosa ditta di traslochi portoghesi. Nel cuore della notte: come nel cuore della notte arrivarono 3 anni fa a Torino, precedendolo. pic.twitter.com/j3qeitNtPV

— Persemprecalcio (@persemprecalcio) May 17, 2021
There was no official statement regarding the scenes caught on camera. Juventus insisted "all the players are fully focused on the final games of the season."
Where next?
The bookies reacted, though. A move to Sporting for Ronaldo is now at +500, the same as a transfer back to Manchester United. Ronaldo spent six years at Old Trafford before his move to Real Madrid in 2009. He's never been reluctant to show his attachment to United. The English club is also on the lookout for top attacking reinforcements, so the stars are aligned.
Sporting has gained momentum over the past week, but could Ronaldo think about joining Neymar in Paris? Ronaldo to PSG is at +800, while a surprise return to Real Madrid stands at +1600.
Real boss Florentino Perez recently said he "loves Ronaldo," but an attempt to sign him is out of the question. Heading to the MLS is at +2800. A shocking piece of business finished with Ronaldo going to Juve's arch-rivals Inter is at +2500. It's all to bet for regarding Ronaldo this summer.