Roger Federer became only the second man in history to win 100 singles titles in his tennis career on Saturday, defeating Stefanos Tsitsipas 6-4, 6-4 to win the Dubai Championships.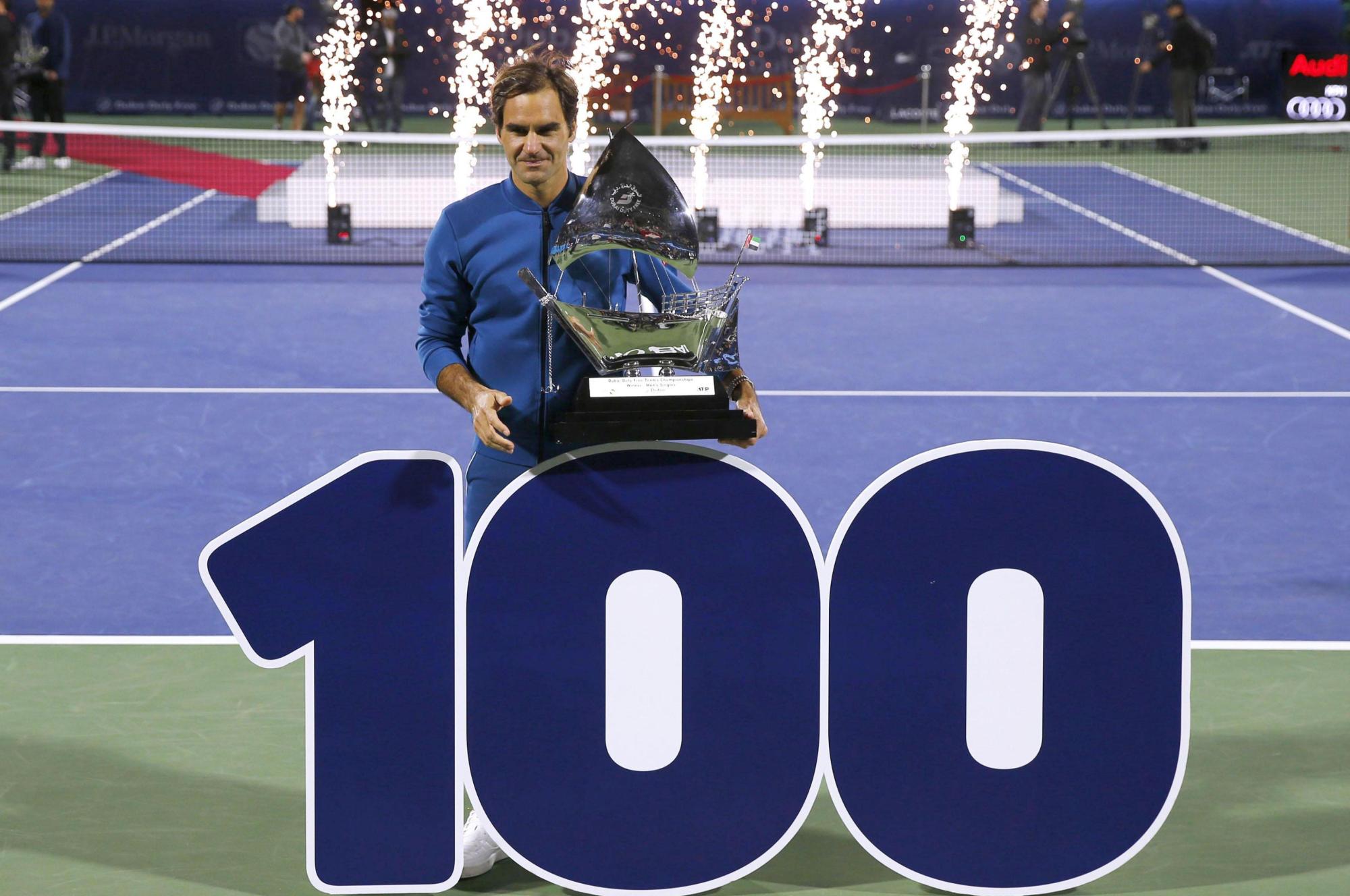 Federer joins Jimmy Connors as the only men to hit the century mark, with the American holding the all-time record with 109 tour titles.
Federer Reflects on Century
The 37-year-old Swiss legend hadn't won a title since October, when he won his hometown tournament in Basel. He had already lost to the 20-year-old Tsitsipas once this season, as the Greek youngster knocked Federer out of the Australian Open in the fourth round in January.
For Federer, the historic occasion gave him the chance to reflect on his unforgettable career.
"It's great to win my eighth here in Dubai and in combination with my 100th singles title," Federer said after the win. "It's been a long, wonderful journey and it all started as a junior world champion. It's been great. I wouldn't do it any differently. I've loved every minute."
Federer has won at least one title in every season since 2001 with the exception of 2016, when he missed the year due to a knee injury.
The tennis world reacted immediately to the achievement, with Jimmy Connors welcoming Federer to the "Triple Digit" club.
Welcome to the " Triple Digit" tournament victory club @rogerfederer — I've been a bit lonely- glad to have the company !!!

— Jimmy Connors (@JimmyConnors) March 2, 2019
Federer hasn't given any indication that retirement is on his mind. But given his age, it's likely that he knows that his career will be coming to an end sometime in the next few years, and his post-match comments reflected on the changing of the guard that might finally be happening in the tennis world.
"It's a privilege [to play against potential champions like Tsitsipas] because I'll be watching them on TV," Federer said. "I'm sure Stefanos will have a wonderful career. Tennis is in good hands regardless of it I'm there or not."
Fans Hope for One More Grand Slam
Despite his advanced age – at least by tennis standards – Federer has continued to remain among the top-ranked players in the world. He managed to grab the top ranking in the world three times during the 2018 season, and currently sits in fourth place on the ATP rankings list. Novak Djokovic is first, followed by Rafael Nadal and German 21-year-old Alexander Zverev.
One of the lingering questions on the minds of many fans is whether or not Federer could have one more Grand Slam title left in him. While nobody would put it past the 20-time Grand Slam winner, skepticism is natural given his age and the grueling task of winning a two-week tournament against the world's best players.
If Roger is going to win another major, his best chance is probably on the grass courts of Wimbledon, where he has already won eight career titles. William Hill currently has Djokovic (6/4) as the favorite to win Wimbledon this season, but Federer is second choice at 7/2, ahead of Nadal (13/2) and Zverev (12/1).