Roger Federer survived a five-set battle against Marin Cilic to claim his sixth Australian Open title and his 20th overall Grand Slam championship.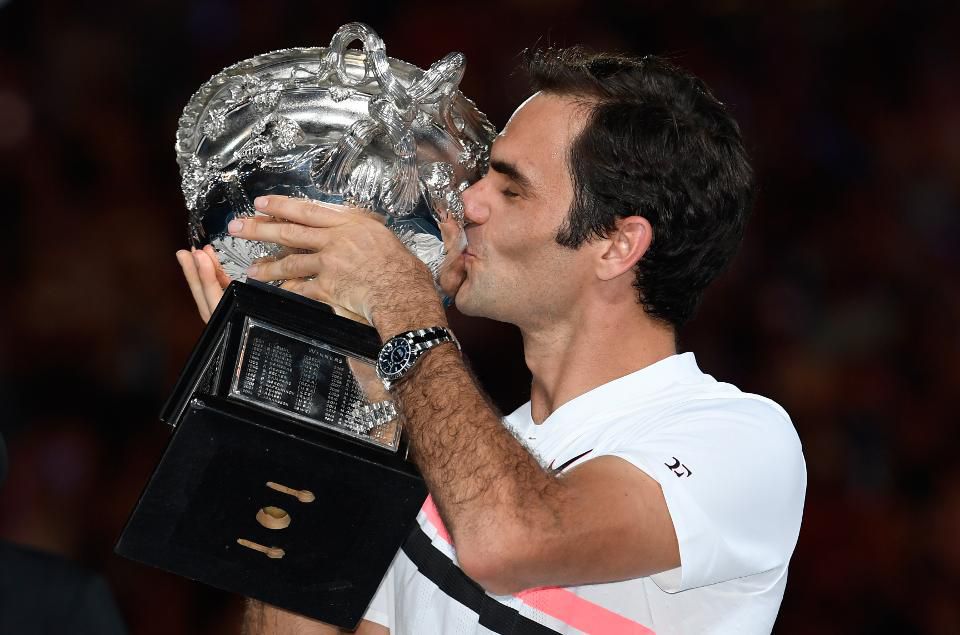 The finalists battled throughout a back-and-forth affair, with the Swiss legend eventually coming out on top 6-2, 6-7 (7-5), 6-3, 3-6, 6-1. Federer looked to be just about done after dropping the fourth set and facing two break points to start the fifth. But he rallied to dominate the final set and take home his historic victory. Federer entered the match as a heavy favorite, and he is now 9-1 in his career against Cilic.
Federer Continues to Make History
The win comes at the age of 36 years and 173 days, making Federer the second-oldest man to win a Grand Slam title in the Open era of tennis. The only man to do so at a later age was Ken Rosewall, who won the 1972 Australian Open at age 37.
The victory also helps him put even more distance between him and Rafael Nadal in the race to finish their careers with the most Grand Slam victories in the history of men's tennis. Nadal has 16 championships to his credit, giving Federer a four-title lead as both head into the twilight of their respective careers. Nadal was forced out of the Australian Open with an injury during his quarterfinal match against Cilic.
After the final, an emotional Federer reflected on reaching yet another milestone in his incredible career.
"I'm so happy. It's unbelievable," he said on the court after the match while fighting back tears. "Winning is an absolute dream come true – the fairy tale continues for us, for me, after the great year I had last year, it's incredible."
Federer Favored to Win Again This Year
Now the question on everyone's mind is clear: how much longer can Federer keep this up, and how many more Grand Slam titles can he win?
His first chance might come at the French Open, which begins on May 21. Last year, Federer skipped the clay court season to rest and give himself a better chance at victory in tournaments more suited to him. It's unclear if that's the plan again this season, but bookmakers give Federer little chance of winning at Roland-Garros in any case. William Hill lists him as their fifth choice to win the French at 14/1 odds, far behind Nadal at 4/5.
Federer is given a much better chance of winning Wimbledon in July. He already has eight Wimbledon championships, and is a 9/4 favorite to win another grass court title after dominating the tournament last year. Andy Murray (4/1) is considered the second choice, followed by Novak Djokovic (5/1).
The final chance for Federer to pick up another Grand Slam this year will come at the US Open, which begins August 27. While he has been both popular and successful in New York, it's Djokovic who has been made the early 3/1 favorite. Federer follows at 4/1, with Nadal (9/2), Murray (7/1), and Alexander Zverev (9/1) also among those given a shot at winning the year's final Grand Slam.