The Houston Rockets are just one win away from the NBA Finals after sixth man Eric Gordon came off the bench big in Game 5 of the Western Conference finals Thursday to help his team gut out a 98-94 win over the Golden State Warriors.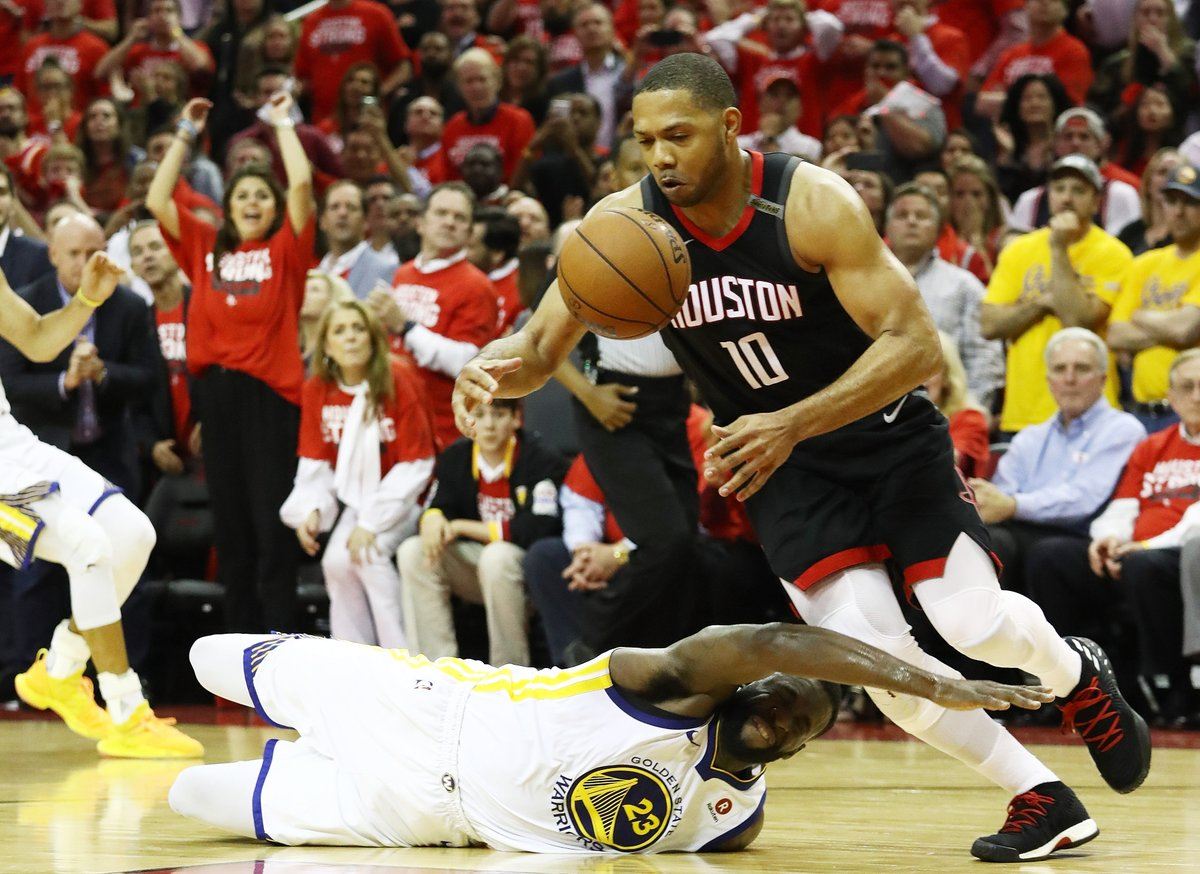 The Rockets now have a shot at clinching at home, as the series will shift back to Houston for Game 6 on Saturday night.
Gordon Rises to Occasion
Houston used just seven players in Thursday night's game, despite the fact that their biggest stars turned in subpar performances. James Harden scored 19 points but was 0-11 from 3-point range, while Chris Paul scored 20 points on 6-19 shooting.
Instead, picking up the slack was Eric Gordon, who came off the bench to score a team-high 24 points. Gordon also made the biggest defensive play of the night, coming up with a steal on Golden State's final possession and sealing the game with two free throws.
According to Gordon, who won the NBA's Sixth Man award last year and is a finalist this year, he's been ready to take on whatever role the team needs, and that includes being ready to score when the opportunity comes.
"It's more about chemistry and looking for me," Gordon told reporters following the win. "I've got to be prepared to knock down the shot."
The Warriors once again got bit numbers out of their star players, with Kevin Durant leading all scorers with 29 points. Klay Thompson added 23, and Stephen Curry scored 22. In fact, head coach Steve Kerr seemed to think that his team did just about everything right – except for winning the game.
"I feel great about where we are right now," Kerr said after the game. "Just too many turnovers, too many reaches. If we settle down a little bit we're going to be in really good shape."
Will CP3 Play on Saturday?
Houston may be forced into getting more minutes out of their bench going forward. Chris Paul left Game 5 in the final minute with a right hamstring injury, and it is not yet clear if he'll be able to play in Game 6. If Paul is limited or ruled out, that'll mean more minutes for Gordon and Gerald Green, among others.
"He'll be evaluated tomorrow, but obviously you saw him limp off, and he's a tough guy," Houston coach Mike D'Antoni said of Paul. "If he's there, good for him. If he isn't, we have enough guys. It's time for somebody else to step up."
UPDATE: The Rockets announced on Friday morning that Paul is out for Game 6 with a hamstring strain.
The Warriors now find themselves in an unfamiliar position. Last year, the team only lost one postseason game, and that came in the NBA Finals. Now, with their backs against the wall, they'll have to come from behind to win a series for the first time since Durant joined the roster.
Despite everything that has happened, though, Golden State is still considered the favorite to advance – though just barely. Ladbrokes has the Warriors at 10/13 to move on to the finals, while the Rockets (11/10) are still a slight underdog. And while that may seem strange considering what we've seen in the series so far, the Warriors are still exhibiting the confidence you would expect from a defending champion.
"Just the talent we have on this team and the resiliency, you know we can get the job done," Curry said after the loss. "We know we haven't been in this position before, so it's a chapter we need to figure out and finish the story."