A handful of sports leagues are still playing games, and eventually, many more competitions will join them as the world regains some sense of normalcy in the future. But even when athletes retake the field, they'll likely do so without supporters in the stands, which has led some teams to turn to creative solutions like robot fans to provide a little more atmosphere at their games.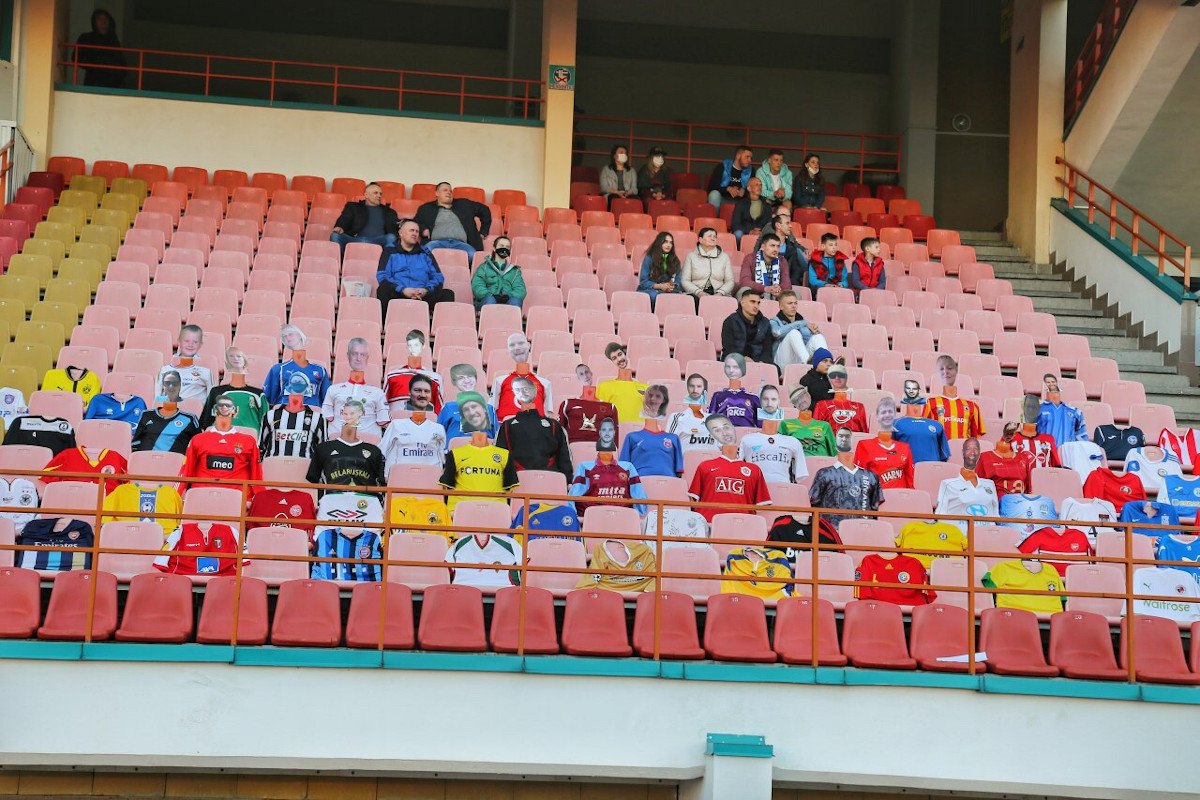 Around the globe, teams are dealing with (or planning for) a lack of crowd support in a number of different ways, including the use of robots and mannequins to fill otherwise empty seats.
Dynamo Brest Sells Virtual Tickets
The Belarusian Premier League is the most prestigious soccer league still in operation at the moment, playing on in large part because of their president's dismissive attitude toward COVID-19. But even in Belarus, fans are largely staying away from stadiums at this point, a situation that led to at least one club to find a unique way to put bodies in the stands.
Dynamo Brest asked fans from around the world to buy virtual tickets to its Wednesday match against Shakhtyor Soligorsk. Each fan who purchased a seat also earned representation in the arena thanks to a mannequin featuring their photo. Many of the dummies were also wearing jerseys from teams around the world. Dynamo Brest pledged to donate the money raised toward fighting the COVID-19 pandemic.
Our fans from all over the world seem to be happy! Thanks for your support, guys! 😉⚪️🔵 pic.twitter.com/wX4dCLDtUH

— FC Dynamo Brest (@dynamobrest) April 8, 2020
Dynamo Brest rewarded their faux fans with a 2-0 victory to take the lead after the first leg of their cup semifinal clash with Shakhtyor.
Chinese Baseball Team Employs Robot Fans
While Asian baseball leagues haven't started playing yet, there is hope that they may be able to salvage their seasons in 2020. In Taiwan, the Chinese Professional Baseball League plans to start its season on April 11. However, each stadium is limited to having no more than 200 people, which will make it impossible to host even a small crowd after accounting for players, coaches, media members, and other essential staff.
With the 2020 #CPBL season starting on April 11 behind closed doors. The Rakuten Monkeys announced that they will have robot mannequins in the stands dressed up as fans. 🤖 pic.twitter.com/miT6JkFoM0

— CPBL STATS (@GOCPBL) April 7, 2020
That situation won't stop the Rakuten Monkeys from getting some fan support, however. The team will play its games in front of some robot fans dressed as supporters of the team. The robots are even wearing masks to help promote safety during the coronavirus pandemic.
"Since we are not allowed to have any fans in attendance, we might as well have some fun with it," Monkeys general manager Justin Liu told the CPBL website. "We went with 500 robot mannequins to comply with the current CDC guideline."
These aren't the first times that teams have employed mannequins to take the place of living, breathing fans. Two weeks ago, the Gold Coast Titans of Australia's National Rugby League placed inflatable fans with fully moving limbs in the stands to simulate a crowd atmosphere. The NRL has since suspended play, though the league currently plans to restart in late May.