Former New England Patriots tight end Rob Gronkowski has signed a contract with World Wrestling Entertainment, according to sources cited by TheWrap.com.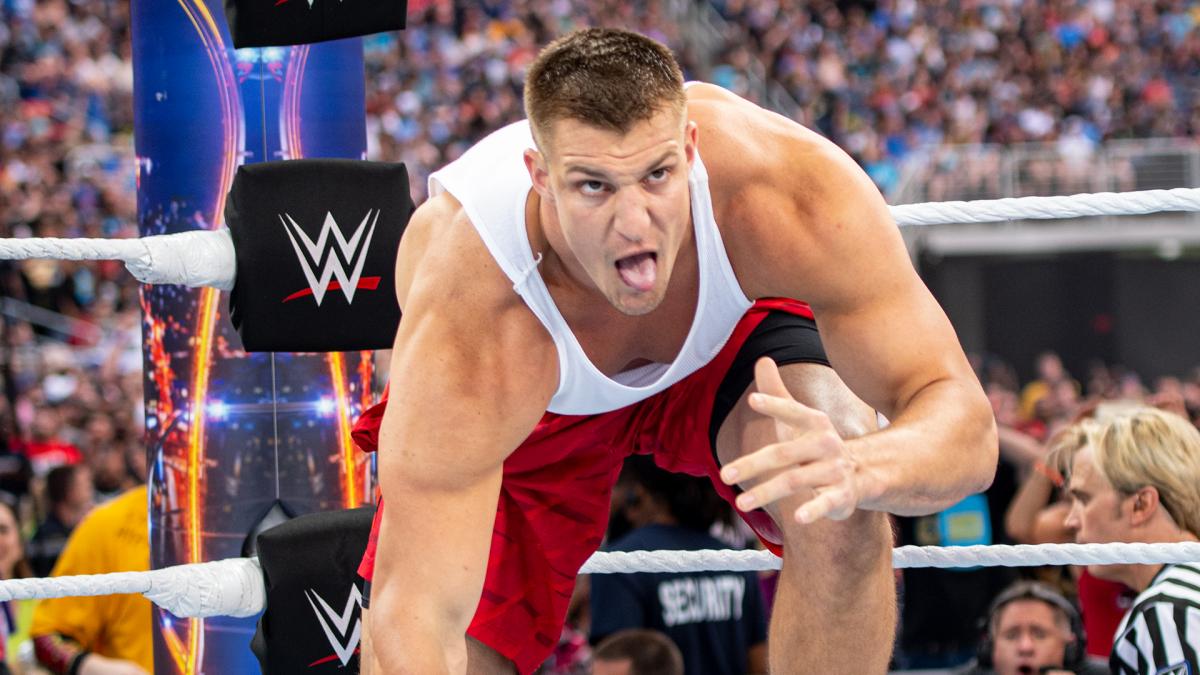 Gronkowski had been rumored to be in talks with WWE, with even the wrestling promotion itself floating the idea that his signing was imminent.
Gronkowski Dreams of One Big Match
The 30-year-old Gronkowski has participated in WWE shows before. In 2017, he jumped out of the crowd during the Andre the Giant Memorial Battle Royal to help wrestler Mojo Rawley – also a friend of Gronkowski's – win the 35-man event.
Since then, Gronkowski has talked about his interest in wrestling, though he's said he couldn't see it as a long-term career move.
"I don't feel like I would be a full-time wrestler, but there is one thing I'm down for – and that's to do one crazy match," Gronkowski told reporters at a promotional event in August. "Practice it for a little bit, go out there – like in a Royal Rumble – go out there, I got my friend in WWE, practice it and do a full-on WWE match … I've always dreamed about doing that, just one time, going in there and going full-out. That may be a possibility, one time, down the road."
It seems the time for Gronk's run in WWE has come. According to The Wrap, Gronkowski will debut on the March 20 episode of SmackDown. That provides brand synergy, as Gronkowski works for Fox Sports as an NFL analyst, and SmackDown airs on FOX.
The report stated that Gronkowski would also appear at WrestleMania 36 in Tampa, Florida on April 5. According to The Wrap, those appearances would be part of a buildup to a future match.
WrestleMania Under Threat from Coronavirus
All of this presumes that WWE actually holds WrestleMania as scheduled. The coronavirus pandemic has caused numerous cancellations and postponements in recent days, while other sporting events have proceeded without fans in attendance. Local officials planned to meet on Thursday to discuss the status of upcoming major events in the city.
WWE has already decided to move its Friday episode of SmackDown from Detroit to the company's Performance Center in Orlando.
Gronkowski played nine seasons in the NFL, all with the New England Patriots. After the New England Patriots drafted him in the second round of the 2010 NFL Draft, Gronkowski would go on to score 79 touchdowns in just 115 games. He reached five Pro Bowls and won three Super Bowl championships with New England.
Gronkowski retired from the NFL in March 2019 at the relatively young age of 29. The tight end cited the mounting toll of injuries and his long-term health as reasons for leaving the game, but kept the door open for a comeback.
"When that time comes down in the future, if I have the desire to play football again, if I feel passionate about football again, if I feel like I need to be out there on the field, I will go back to football," Gronkowski said in August.