Instead of going to college for one year as a "one-and-done" player, RJ Hampton signed a contract to play professional ball for the New Zealand Breakers in the Australian National Basketball League (NBL). Hampton skips college and will play a season overseas while waiting to enter the 2020 NBA Draft.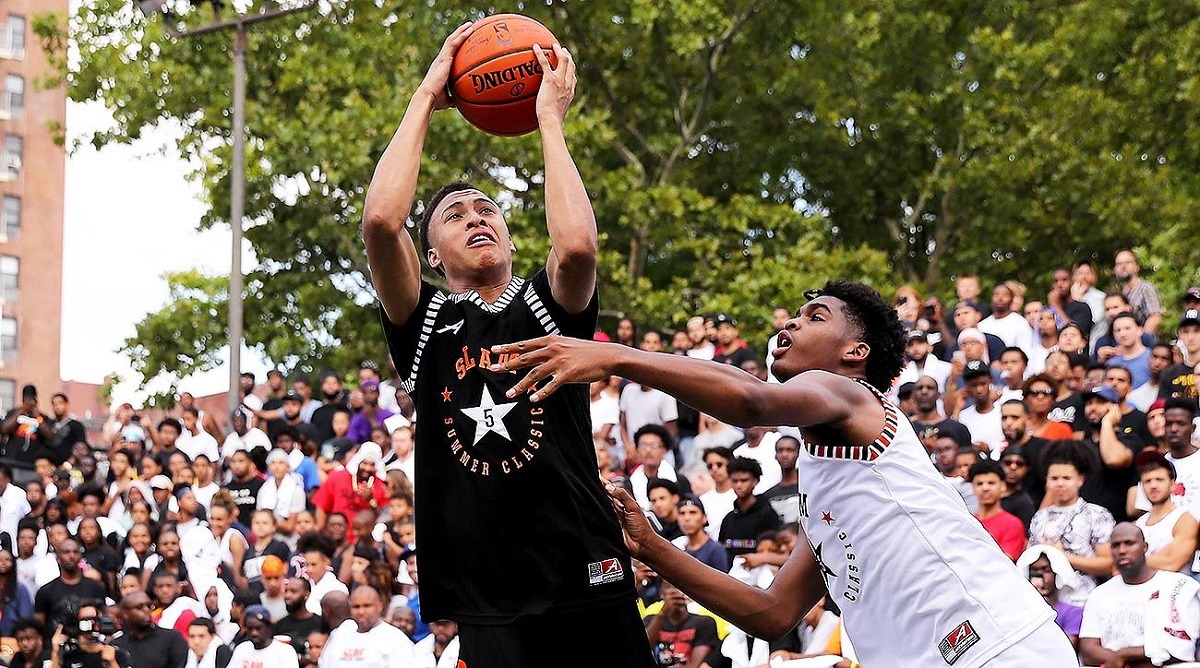 Hampton, 6-foot-5 guard, out of Dallas, Texas had offers to join several top programs such as Duke and North Carolina. However, he narrowed down his collegiate choices to three schools: Kansas, Memphis and Texas Tech. In the end, none of them won out.
Hampton will become the first high school recruit to play pro ball overseas that did not have NCAA eligibility issues or troubles with the law.
ESPN ranked Hampton #5 overall out of their Top 100 high school prospects.
"My number one goal is to play in the NBA," said RJ Hampton. "I wanted to be an NBA player before I ever wanted to be a college player. This is about getting ready for the next level faster and more efficiently."
Hampton's father, Rod Hampton, player college basketball at SMU. Although the elder Hampton never made it to the NBA, he played for the CBA and overseas in Europe.
"Both of my parents went to college. My mom got her master's degree. Education is a big thing in our family, but this is about focusing 100 percent on basketball. You can always go back to college, but there's only a short window as an athlete where you can play professional basketball."
The Breakers and Next Stars
The New Zealand Breakers won four Aussie League titles in the last decade. The team is partially owned by former NBA star Shawn Marion and former Florida Gators sharpshooter Matt Walsh.
"Signing a player of RJ's caliber is a monumental undertaking that we don't take lightly at the Breakers," said Matt Walsh. "His family has entrusted us with their son spending one of the most important years in his development in New Zealand, and we are going to do everything we can as an organization to ensure that he reaches his goal of being a high draft pick and prepare him as best as we can to come in ready to make an impact in the NBA."
Walsh heavily recruited Hampton to join the Breakers. The NBL has a specific rule that allows only three imported players per team. However, under the NBL's Next Stars program, anyone signed would not count against the quota because they were allowed to offer contracts to high school players seeking to play a season overseas before heading to the NBA.
Hampton said that Luka Doncic from the Dallas Mavericks was one of his favorite players. Doncic benefited from playing against grown men as a teenager playing pro ball in Europe. Hampton hopes a similar situation will happen for him. Playing against pros in Australia and New Zealand will help prepare him for the NBA.
NBA players Brandon Jennings (Milwaukee Bucks) and Emanuel Mudiay (point guard on the NY Knicks) successfully went overseas to play a season before entering the NBA draft. However, they had eligibility and academic reasons preventing them for going the NCAA route.
Meanwhile, the NBA is considering abolishing their age requirement (currently 19-years old) and killing the one-and-done rule.
Most recently, one of the top high school pitching prospects decided to skip the MLB. Carter Stewart signed a contract to play pro ball in Japan with the Fukuoka SoftBank Hawks.