Federal authorities arrested Cincinnati mayoral frontrunner PG Sittenfeld last Thursday for allegedly accepting $40,000 in bribes in exchange for bringing an exclusive sports betting deal to his hometown, court documents say.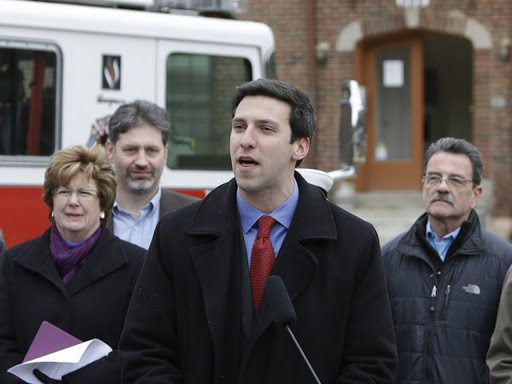 If convicted, prosecutors say Sittenfeld, 36, faces up to 20 years in prison.
FBI Tapped Former Bengals Safety in Sting
Ohio's Southern District US Attorney David DeVillers revealed details about the charges last Friday.
DeVillers said the FBI approached former NFL safety Chinedum Ndukwe, who is leading an effort to redevelop a parcel in downtown Cincinnati, for assistance.
The former safety helped arrange a meeting between the councilman and undercover FBI agents posing as real estate developers. During the meeting, Sittenfeld requested money in exchange for his support and showed the one agent recent voting data to display his efficacy, DeVillers said.
"I can move more votes than any other single person," Sittenfeld said, according to the indictment.
Court documents show Sittenfeld suggested the agents make separate $1,100 payments to limited liability corporations for a total of $20,000.
"Mr. Sittenfeld indicated he could use zoning codes in Cincinnati to create a controlled environment so 'Project One' could have sports gambling to the exclusion of others," DeVillers said. "What we're alleging here is that he defrauded the city of Cincinnati of honest services, and was no longer really working for the citizens of Cincinnati."
Sittenfeld also allegedly told agents they could write four additional checks for $5,000 each to a political action committee (PAC) he controlled.
"No one's like snooping around in who's giving that there," Sittenfeld said according to court documents. "Frankly, a lot of people don't even know I have it."
In a statement Friday, Sittenfeld denied the allegations.
"I stand strongly on my record of public service, including providing help that's in the public interest to anyone, whether they have ever made a political contribution to me or not," he said.
A Trio of Allegedly Corrupt Councilmembers in Queen City
Sittenfeld's arrest marks the third time this year a Cincinnati city councilmember has faced indictment on corruption charges. Sittenfeld's arrest came nine days after city councilman Jeffrey Pastor, 36, appeared before a federal judge on charges he sought and took $55,000 in bribes over a six-month span that ended in February 2019.
In June, former city councilwoman Tamaya Dennard, 40, pleaded guilty in federal court to honest services wire fraud. In 2019, the councilwoman admitted to engaging in bribery and extortion in an attempt to exchange votes for money. Dennard faces 20 years in prison if convicted.
Legalized Gambling Stalls in Ohio Senate
A pair of gambling legislation bills are currently under consideration by the Ohio General Assembly, but may be stuck.
The state Senate discussed one of the bills during its last session, but did not take action. The other bill passed the state House earlier this year, but is stalled in the state Senate.
In the meantime, three of four of the bills' sponsors won't return in January. State Rep. Dave Greenspan (R-Westlake), the House bill's primary sponsor, and state Sen. Sean O'Brien (D-Bazetta) lost their re-election campaigns. State Sen. John Eklund (R-Munson Township) has termed out.
The final Ohio House session of 2020 is scheduled to open on Dec. 9.