Rick Byrd recently won his 700th game as head coach of the Belmont Bruins, who are trying to secure a spot in March Madness by winning the Ohio Valley Conference tournament this weekend.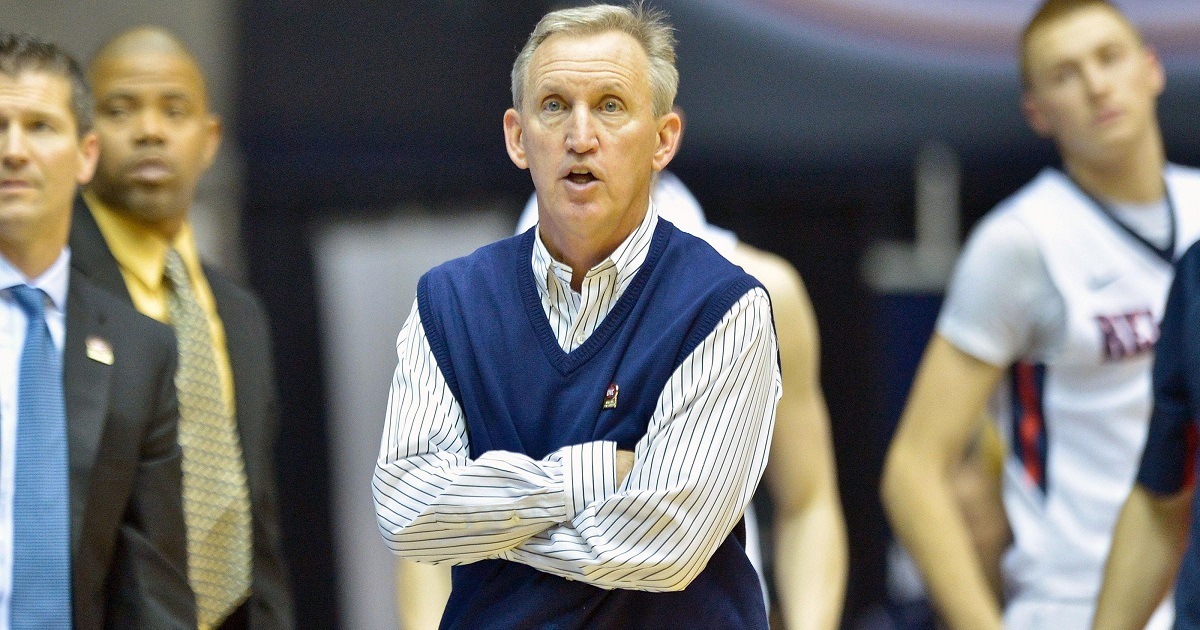 Belmont, located in Nashville, Tennessee, spent many years as a powerhouse in the Atlantic Sun Conference. The Bruins migrated to the Ohio Valley Conference in 2012. They are competing with Ja Morant and Murray State for an automatic bid to the tournament. Neither team is guaranteed a spot if they do not win the OVC tournament.
Big Bear
Dylan Windler, a 6-foot-8 senior guard, leads Belmont with 21.1 points and 10.8 rebounds per game. He has 15 double-doubles. He hit 54.7 percent of his overall shots, while shooting 43.2 percent from three-point land.
Over his last 11 games, Windler averages 26 points. Most recently, Windler lit up UT Martin for 32 points on 7-for-10 from beyond the arc. He dropped 41 on Morehead State in the beginning of February. Windler drilled 8 treys in that game and added 12 rebounds.
Senior guard, Kevin McClain, is second in scoring with 16.2 points per game. He hits 37.2 percent of his treys, but has been a little shaky from downtown as of late.
Big Byrd 700
Rick Byrd, son of legendary Knoxville sportswriter Ben Byrd, played JV at Tennessee in the early 1970s. He pivoted to coaching and coached at Belmont for 33 years. Byrd took the job in 1986 and has been in Nashville ever since.
Byrd recently picked up his 700th career win. He has a 700-345 record at Belmont and won 77 percent of conference games. You might most know Byrd for his choice in sweater vests, instead of a jacket and tie.
Byrd saw Belmont rise through the ranks. They were NAIA school for his first ten years as coach. He took Belmont to the NAIA semifinals a couple of times. Belmont transitioned into Division I, but they were an independent for five seasons to close out the 1990s.
In 2001, Belmont joined the Atlantic Sun conference. They represented the ASUN five times with March Madness bids.
In 2012, Belmont switched to the Ohio Valley Conference. The Bruins advanced to the NCAA tournament twice but had not been back since 2015.
OVC Tournament
Belmont tied for best record in the Ohio Valley with Murray State, yet held the tiebreaker because they defeated Murray State 79-66 the only time they met this season.
Belmont is the favorite to represent the OVC in March Madness this season. If you do not get to see probably-lottery pick Ja Morant from Murray State, then you can blame the Belmont Bruins. Both teams were awarded double-byes into the semifinals for the OVC tournament.
Meanwhile, in the Atlantic Sun conference, both Liberty and Lipscomb are vying for the ASUN title in the upcoming conference tournament. Down in the SEC, Kentucky and Tennessee are fighting for the #1 seed in the South. Action is heating up out west with a potential rematch between Utah State and Nevada in the Mountain West tournament in Las Vegas. Last year's Cinderella, Loyola-Chicago, is hoping that the Ramblers and Sister Jean can replicate more magic in this year's March Madness.