Baseball fans or minor league ballpark architecture enthusiasts now have the opportunity to rent their very own stadium on Airbnb. Pensacola Blue Wahoos Stadium in Pensacola, Florida, is available for $1,500 per night on Airbnb (plus cleaning fees) for you and nine other guests.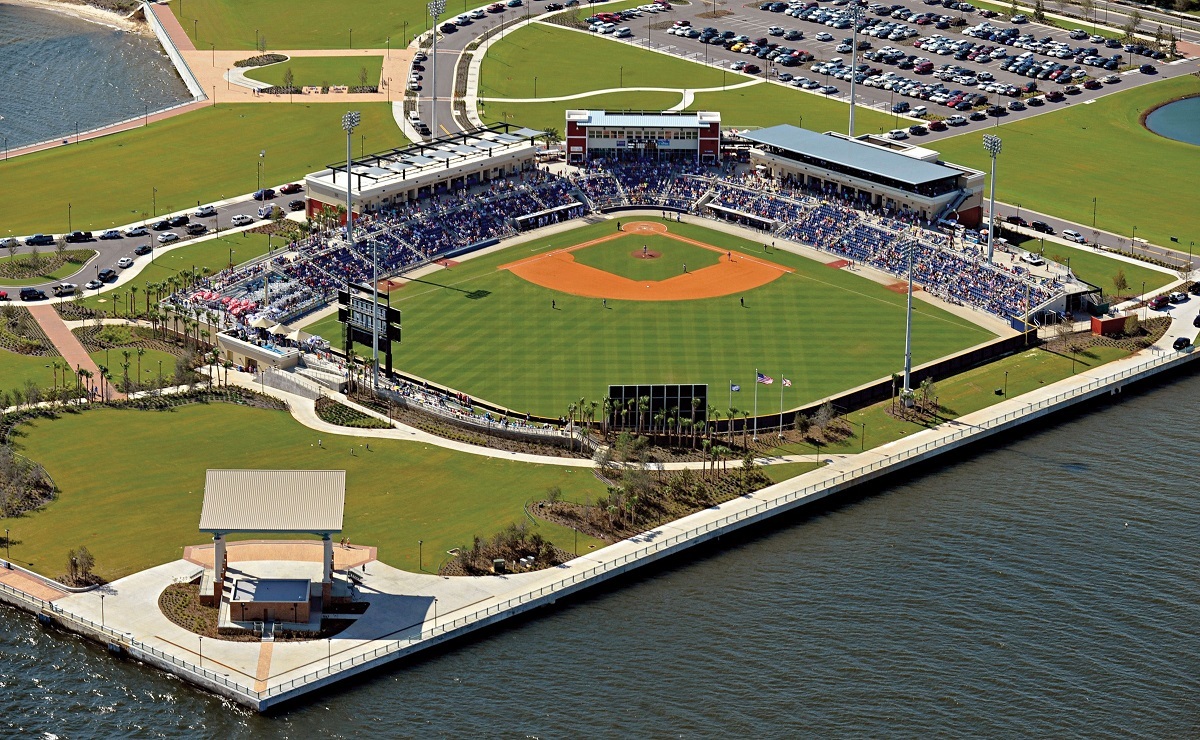 Pensacola Blue Wahoos Stadium is located in the Sanders Beach neighborhood of Pensacola and is the official home of the Blue Wahoos, a Minnesota Twins affiliate in AA, which plays in the Southern League. The Southern is the modern version of the old Alabama-Florida League. The league also includes the Durham Bulls, which is best known as the team where Michael Jordan and Crash Davis played ball.
Pensacola Blue Wahoos Stadium opened in 2012 and won multiple awards as the Southern League Ballpark of the Year. It's also won the "Best View in Double-A" ballparks due to its scenic view of the Gulf of Mexico.
Netflix and chill at my place?

Ballpark AirBnB: https://t.co/EQ0V4LLC7R pic.twitter.com/kJkLW35Lsz

— Pensacola Blue Wahoos (@BlueWahoosBBall) May 24, 2020
Ballpark for Rent
You can find the listing for Pensacola Blue Wahoo Stadium on Airbnb. The venue is available for 10 guests and has one bedroom with 10 beds. Obviously, ballplayers aren't included, but use your own imagination.
The Airbnb listing emphasizes the "ultimate baseball experience," which you can get for just $1,500 a night. With 10 people, that's only $150 per head (plus cleaning fees).
"For the first time ever, a professional baseball stadium is available for rent on AirBnB, giving fans the most intimate, behind-the-scenes ballpark experience in history," details the listing. "Whether you'd like to host an unforgettable overnight trip with your youth league team, throw an unbeatable birthday bash, stage a corporate retreat that will make you an office hero, or spend your bachelor party living your sports dream, Blue Wahoos Stadium is the ultimate rental."
Renters have access to a renovated clubhouse, batting cages, and the field itself. The clubhouse has a couple of big-screen TVs and a ping pong table.
The indoor batting cage seems to be the huge draw, however. Both helmets, bats, and balls will be provided.
Minor Leagues Take Huge Loss
With minor league baseball most likely shut down until next spring, teams are scrambling for ways to generate income during the coronavirus pandemic.
Minor league clubs rely on ticket sales, concessions, and local sponsorship to help defray the cost of running a team. Even if baseball returns, games will be played without fans in attendance. With or without games, clubs are strapped for cash.
Hard Rock Stadium, home of the Miami Dolphins, recently released concept art for its plan to turn the stadium and parking lots into a drive-in movie and potential drive-in concert venue.
Other minor league teams could draw inspiration from the Blue Wahoos and rent out their facilities and ballpark on Airbnb. I have friends who are diehard baseball fans and who would love to throw a Bar Mitzvah at a ballpark.
I also have plenty of other friends, straight out of Bruce Springsteen's "Glory Days," that would love to relive past memories on the ball field by shagging balls in the outfield, taking hacks at home plate, or rounding the bases.
The Blue Wahoos Stadium sounds like a cool idea for a college reunion or bachelor party. But let me know when you can rent out the "Field of Dreams" farmhouse in Iowa. Now, that would be a fun and nostalgic experience. If you rent it, they will come.