Which teams will take a flier on an undersized running back the draft this year? JJ Taylor (Arizona), Eno Benjamin (Arizona State), Darrynton Evans (Appalachian State), Darius 'Jet' Anderson (TCU), and FB/RB Darius Bradwell (Tulane) are among the sleeper picks at the RB position heading into the 2020 NFL Draft.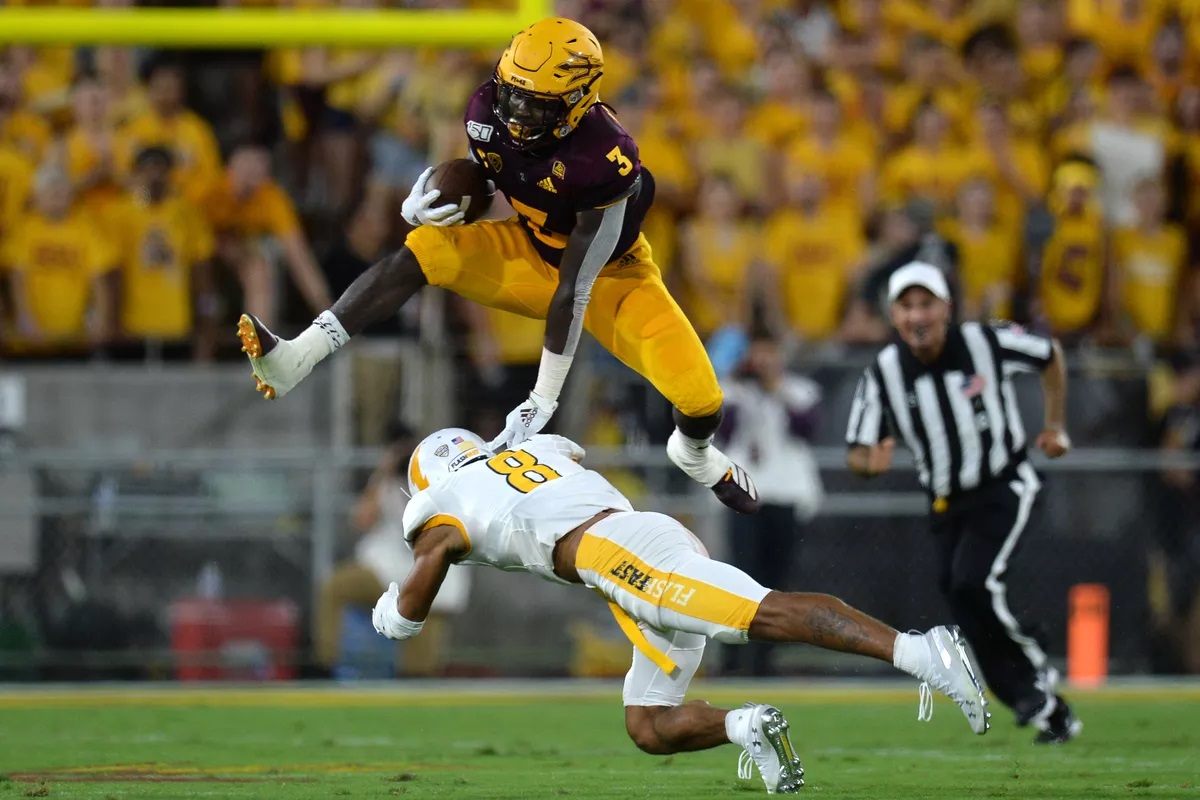 Appalachian State's Darrynton Evans didn't get the same exposure as someone like Jonathan Taylor or D'Andre Swift in the power conferences, but it was impossible to ignore his speed.
While a lot of smaller backs slip to later rounds, someone like Darius Bradwell could fill a dual role. The fullback seems like an antiquated position in the modern, pass-first NFL, but many teams like the New England Patriots and San Francisco 49ers employ the fullback as an integral piece of their offense. Darius Bradwell might be a big dude for a running back, but he offers versatility and flexibility as a fullback.
TOP RB Sleeper Picks 2020 NFL Draft
JJ Taylor (Arizona)
Eno Benjamin (Arizona State)
Darrynton Evans (Appalachian State)
Darius 'Jet' Anderson (TCU)
Darius Bradwell (Tulane)
LeVante Bellamy (Western Michigan) and Jonathan Ward (Central Michigan) could be running backs that end up on NFL rosters someday. Teams will knock themselves in the head for overlooking Bellamy (1,420 yards and 23 TDs) and Ward (1,108 yards and 16 total TDs) in the draft.
Southwest Heat: JJ and Eno
A pair of short running backs out of the southwest tore up the Pac-12 last season. Arizona's JJ Taylor stands at only 5-foot-5, but he's being considered back-up material in the NFL.
Despite his size, Taylor averaged 5.1 yards per carry with 11 touchdowns over his last two seasons. Taylor posted a strong junior season with 1,434 rushing yards and six touchdowns.
At 5-foot-9, Arizona State's Eno Benjamin handled a huge workload for Herm Edwards and the Sun Devils over the last two seasons. Edwards, a former NFL player and head coach, loved Benjamin's work ethic, and believes he has the heart to play in the NFL.
Benjamin recorded 11 games with 100-plus rushing yards. He posted 175-plus four times, including a sensational 312-yard clinic with three touchdowns against Oregon State in 2018.
Benjamin rushed for 2,725 yards and 26 rushing touchdowns (30 TDs total) over the last two seasons at Arizona State.
Benjamin, a Texas high school legend in Wylie, emerged as a top-5 recruit his senior season. He earned the distinction as the best running back in the state. He decided to head out West instead of staying in-state to play for one of the many Texas schools that heavily recruited him.
Speed Racers: Jet and Darrynton
Hey, anyone nicknamed 'Jet' is worthy of a flier in my book. TCU's Darius 'Jet' Anderson has been dubbed a "change-of-pace" running back due to his exceptional speed. Anderson averaged 5.4 yards per carry his senior season, but he only rushed for 825 yards and six touchdowns as part of a running back by committee stitch.
According to one scout, "Anderson had a good week at the Senior Bowl, showing his quickness, vision, cutting ability, and instincts. He could be a nice mid-round pick to be a solid backup and rotational back."
Darrynton Evans didn't gain the same exposure at Appalachian State that he would have playing for Clemson or South Carolina. Evans was the best player on an Appalachian State team that went 13-1 last season, including a Sun Belt title.
Evans rushed for 1,480 yards for 5.8 yards per carry. He scored 18 rushing touchdowns and added five more receiving scores. He lit up Charlotte for 234 yards and three touchdowns at the start of the 2019 season.
For more of OG's coverage of the upcoming NFL Draft, check out…
The 2020 NFL Draft begins at 8pm on Thursday, April 23 and will run through Saturday.