Running back Frank Gore reportedly signed a one-year deal with the New York Jets. The saga of the great Gore will continue as the third-highest rusher in NFL history suits up for his 16th season in the NFL.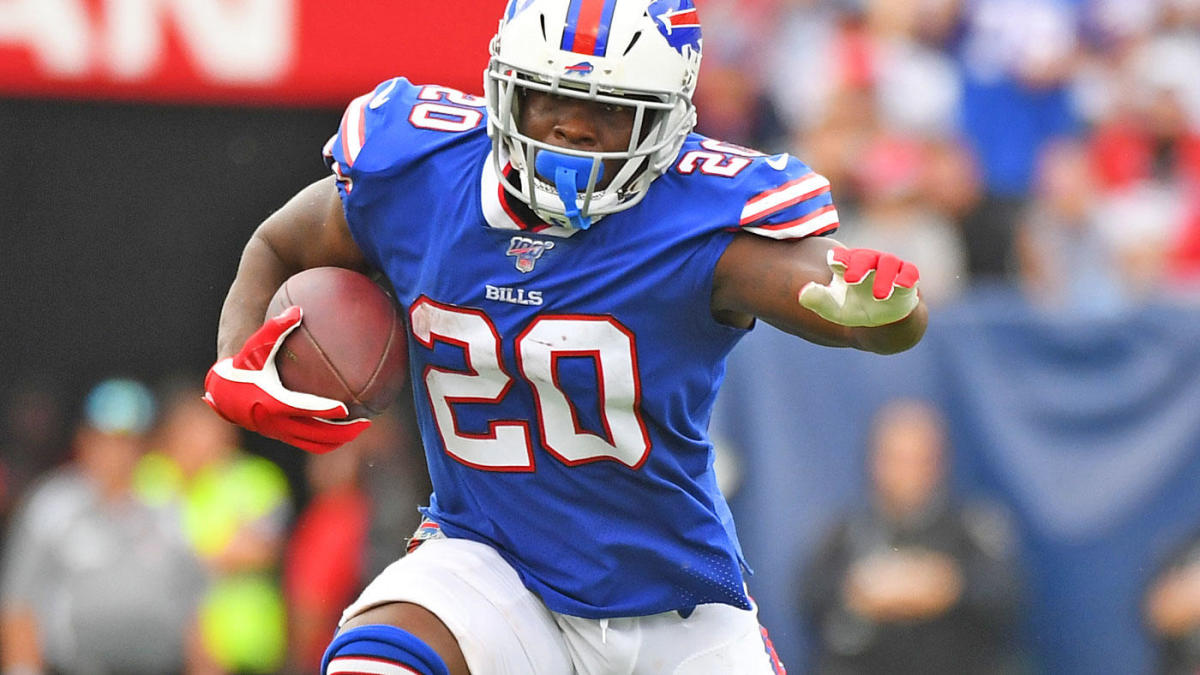 Gore, 36 and soon to be 37, started eight games with the Buffalo Bills last season. He played in all 16 games, but started only half. Gore achieved a momentous milestone last season when he passed Barry Sanders to become third on the NFL's all-time rushing list.
NFL All-Time Rushing Leaders
1. Emmit Smith 18,355 yards
2. Walter Payton 16,726 yards
3. Frank Gore 15,347 yards
4. Barry Sanders 15,269 yards
5. Adrian Peterson 14,216 yards
Gore has rushed for 1,000 or more yards nine times in his career. He missed 1K twice by fewer than 39 yards when he played for the Indianapolis Colts. Gore rushed for 967 yards in 2015 and 961 in 2017.
Gore scored 79 touchdowns in 226 career games with four different teams (San Francisco 49ers, Indianapolis Colts, Miami Dolphins, and Buffalo Bills). He racked up 15,347 yards and has a lifetime average of 4.3 yards per carry. He's also caught 18 touchdown receptions.
In nine playoff games, Gore scored seven touchdowns and averaged 4.5 yards per rush.
Gore ranks third all-time in rushing yards and still trails the great Walter Payton by 1,400 yards. If Gore expects to catch "Sweetness," then he might have to play into his 40s.
Adrian Peterson, currently ranked #5 all-time, is the only other active player in the Top 20 for all-time rushing. Peterson, 35, only trails Gore by 1,131 yards.
Gore: Burn Out or Fade Away?
NFL running backs have one of the toughest jobs in professional sports. A starting RB in the NFL puts his body through the equivalent of a car wreck every game. That's 16 car crashes per season, not including the playoffs. That's why it's difficult to lead the NFL in rushing in consecutive seasons. The grind on their body eventually catches up to them.
Frank Gore's durability and dependability is the reason he's still playing pro football. The fact that he's still rushing in the NFL at his age is a testament to his body, workout regimen, and sheer luck.
He blew out his knees twice in college with the Miami Hurricanes, but faded the injury bug in the pros.
"I still love it and still train my behind off," said Gore. "You can't listen to the haters. If I would have listened to what people said, I only would have played two or three years."
In 2010, he missed five games, which was unusual for Gore. A fractured hip ended his season in late November, which would mark his longest absence for any injury during his career.
Gore, nicknamed the Ironman by coaches and teammates, had a remarkable stretch where he started every game between 2012 and 2017.
Teammates in San Francisco dubbed him, "Frank the Tank," a nickname that originated from "Old School," a 2003 film directed by Todd Phillips.
Why the LOL Jets?
Gore joined the New York Jets as their backup RB even though they have one of the highest-paid running backs in the league. The Jets signed Le'Veon Bell last season after he sat out all of 2018.
Gore has a previous relationship with Jets head coach Adam Gase. Gase coached Gore twice during a stint with San Francisco 49ers, and again two seasons ago with the Miami Dolphins.
Gore will play behind Bell as a backup RB for the Jets. Bell struggled last year, but then again, so did the LOLJets. At least the team finished the season on a high note, winning six out of their final eight games. After starting out 1-7, the Jets played much better in the second half of the season with a 6-2 clip.
Gore's addition also bolsters the depth chart. He's a strong insurance policy if Bell gets injured. Gore will also help provide mentorship to the younger Jets running backs. The Jets drafted La'Mical Perine (Florida) in the fourth round with the #120 overall pick. Gase expects Gore will take Perine under his wing and show him how to become a professional, much like he did with Devin Singletary last season with the Buffalo Bills.
"I showed people, when I got the opportunity last year, that I can still play the game," Gore said. "And I'm still having fun."
Last season, Gore rushed 166 times for 599 yards, averaging just 3.6 yards per carry. He scored two touchdowns in 2019. He posted his lowest rushing output since his rookie season in 2005 when he played primarily as a backup behind Singletary.