John Harbaugh aired his frustrations with the NFL's COVID-19 guidelines during a radio interview on Thursday, saying that while he'll do as much as possible to protect the health and safety of his players, the current rules are too strict.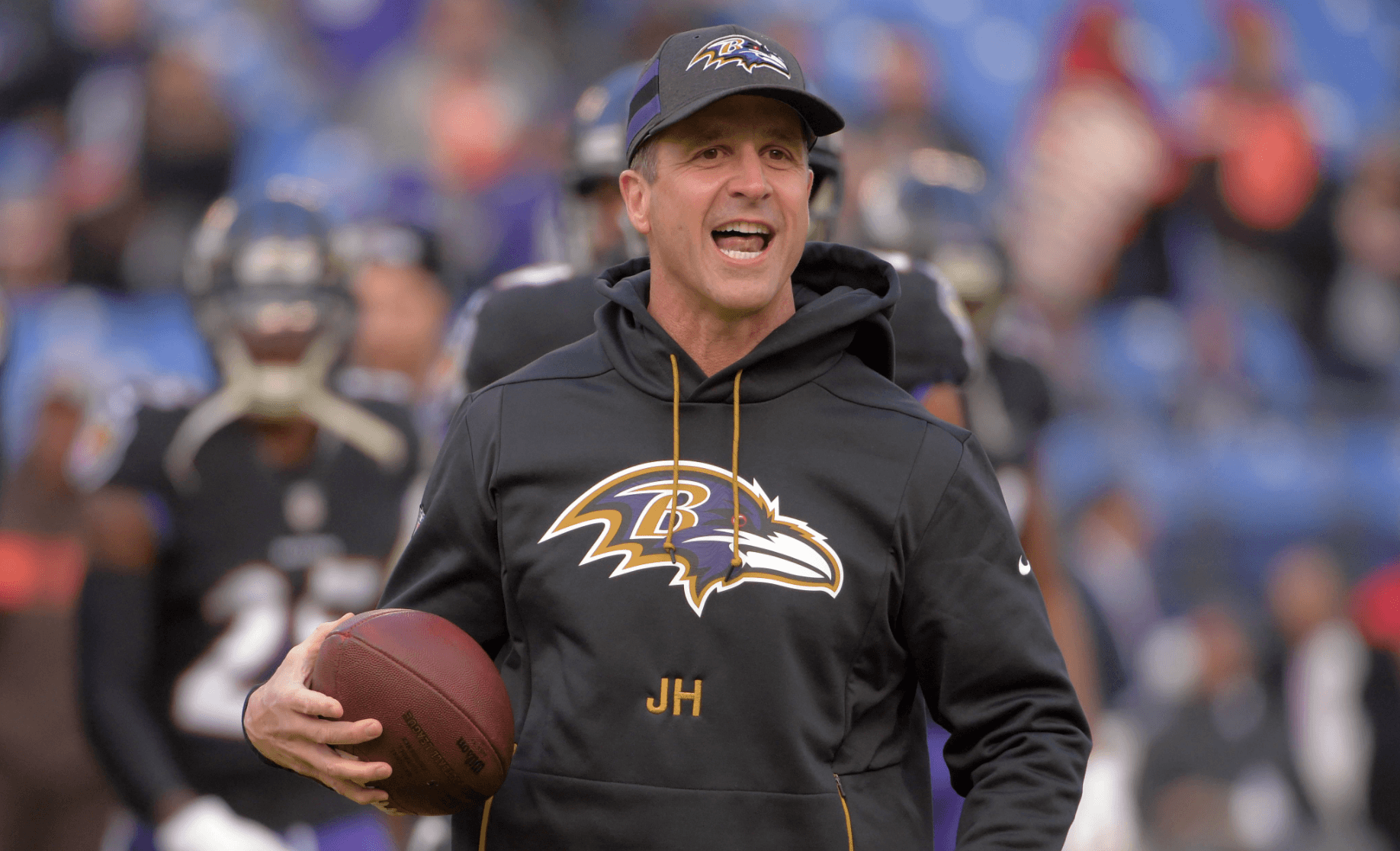 The Baltimore Ravens head coach told 105.7 The Fan that some of the NFL's rules simply aren't practical.
Harbaugh: 'Common Sense' Needed for Protocols
The NFL protocols call for social distancing in training facilities, locker rooms, and meeting rooms. All participants in team meetings and practices must pass daily COVID-19 tests in order to attend those events.
Among the highlights here:

– Locker rooms reconfigured to permit people being 6 feet apart

– Meetings must be conducted virtually when possible

– Helmets, shoulder pads, etc. disinfected after each game

– Masks required except when interfering with "athletic activities" https://t.co/AvNO7Si2Gt

— Tom Pelissero (@TomPelissero) June 8, 2020
According to Harbaugh, meeting these requirements won't always be possible.
"I've seen all the memos on that, and to be quite honest with you, it's impossible what they're asking us to do. Humanly impossible," Harbaugh said during Inside Access with Jason La Canfora and Ken Weinman. "So, we're going to do everything we can do. We're going to space, we're going to have masks. But, you know, it's a communication sport. We have to be able to communicate with each other in person."
Harbaugh also noted that limiting how many players can use facilities at any given time may not work, given the time constraints team often face.
"Are guys going to shower one at a time all day? Are guys going to lift weights one at a time all day?" Harbaugh asked. "These are things the league and the [players' association] needs to get a handle on and need to get agreed with some common sense so we can operate in a 13-hour day in training camp that they're giving us and get our work done."
Coaches Concerned by Limited Offseason
The NFL sent a memo to all teams on Sunday outlining the steps that must be taken before franchises can reopen their facilities. The league has yet to establish a timetable for when players can return to team training complexes.
"No set of protocols can eliminate the risk of contracting COVID-19, nor ensure that the disease itself will be mild," NFL commissioner Roger Goodell wrote in the memo. "And we should expect that these protocols will change as medical and scientific knowledge of the disease continues to grow. But we believe, along with the NFLPA, that these protocols offer a sound basis for bringing players back into the facilities and moving forward with our planning of the 2020 season."
Some coaches and scouts are concerned about the limited amount of practice and preseason time that teams will have available before the scheduled start of the regular season on Sept. 10.
"When you talk about crunching things down, you didn't have spring practices," NFL Network's Tom Pelissero reported on "NFL Now." "Now you have the possibility of not having as much practice, as much padded time through the course of August. As [one head coach] put it, how are you going to pick your team?"