The defending champions started the Eastern Conference semifinals in poor shooting form, and they quickly fell in a 0-1 hole. The #2 Toronto Raptors had one of those ugly nights when they couldn't hit the side of a barn, letting the #3 Boston Celtics jump out to a 1-0 lead in the second round of the NBA Playoffs.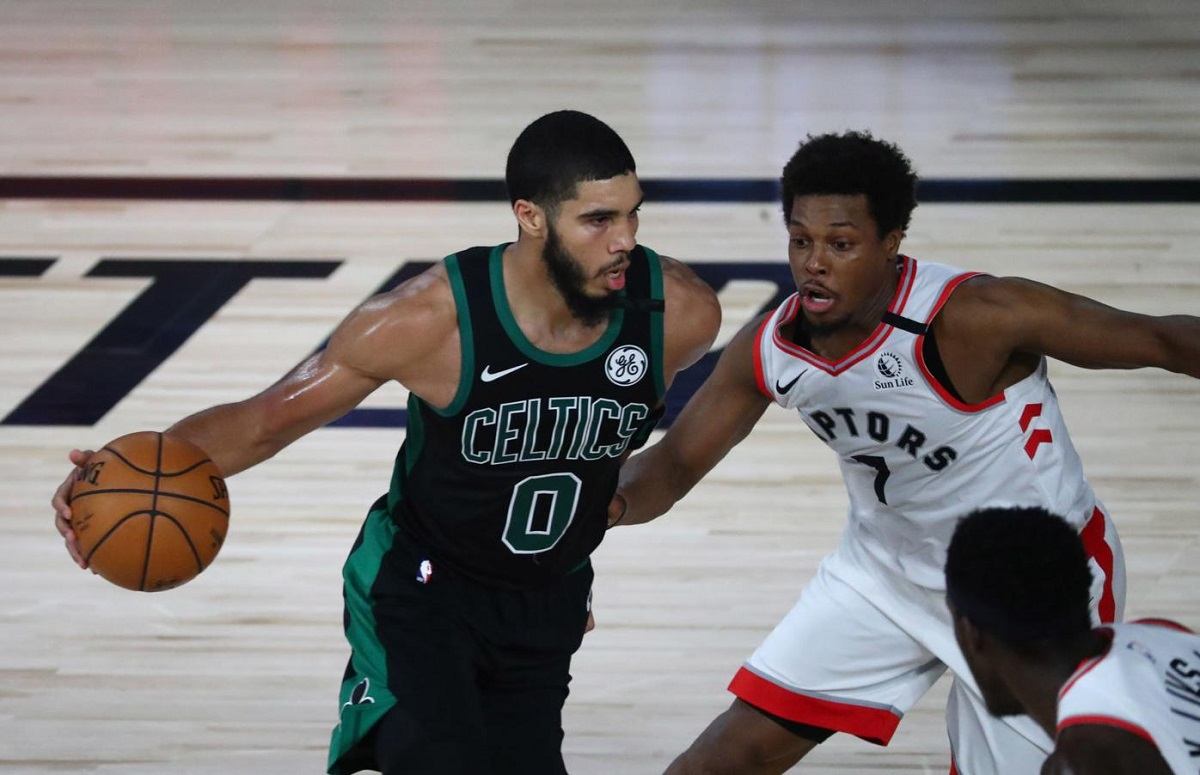 The Celtics jumped out to an early lead and, coupled with a terrible shooting performance, the Raptors lost 112-94 in Game 1. The Celtics were 3-1 against the Raptors in the regular season.
"For a really, really good team like Toronto, the defending champs know what it takes, so you have to be locked in even more," explained Celtics point guard Marcus Smart. "And that's just (what) we try to come out and do."
---
Boston Celtics (1-0) vs Toronto Raptors (0-1)
Tip Off: 5:30pm PT
Point Spread: TOR -1.5
Total: 217 O/U
Money Line: TOR -110 / BOS +105
---
The Raptors come into Game 2 as a slight favorite against the Celtics, who are getting +1.5 points.
After a loss in the opening game, the Raptors are no longer favorites win the series. DraftKings lists the Raptors at +150 odds to regain control of the series and advance to the Eastern Conference finals. The Celtics improved to +190 odds to advance to the East finals.
F-Ugly Shooting Raptors
The Raptors fell behind early and couldn't catch up. They allowed Boston to score 39 points in the first quarter while scoring just 23. Pascal Siakam got out of sync early with foul trouble. He never really got his groove going and finished with 13 points.
"He got to a lot of good spots and he just couldn't get any of them to go," said Raptors coach Nick Nurse.
Kyle Lowry led Toronto with 17 points despite playing on a sprained ankle.
Toronto shot 37% from the floor, but struggled with 25% from 3-point range, going just 10-for-40 from downtown. Fred VanVleet shot blanks with a 2-for-11 clip from 3-point land. Lowry and Norman Powell combined for just 21 points on 3-for-10 shooting from beyond the arc.
"Tough day for us, right?" said Nurse trying to dampen the dour mood. "Nothing was much fun out there today."
The Raptors can't figure out the Celtics at Disney. They lost one game during the restart and suffered a second loss in Game 1. The Celtics won both games at Disney by an average of 20 points.
Big D OG
We here at OG love OG Anunoby. He's our favorite NBA player for obvious reasons. But Anunoby is also a throwback to the rough and tumble days of the NBA (think late 1980s Bad Boys Pistons or mid-1990s NY Knicks) when you wouldn't see a second of playing time unless you played defense.
If the Raptors expect to survive the Celtics and advance to the East finals, Anunoby will have to be one of the key players. Since Kawhi Leonard left in free agency, Anunoby emerged as Toronto's defensive stopper, averaging 10.6 points and 5.3 rebounds during the regular season.
"It's a sense of pride for him to go out there and play hard at the defensive end and guard the best players in this league," said Nurse. "He'll be a big factor in this series on both ends."
Nurse and the Raptors could really use a little extra scoring punch from OG, like the stone-cold killer who lit up Denver for 32 points shortly before the shutdown in March.
Theis and Smart Game 1 Stars
The Celtics offense kicked it into high gear and never looked back. Jayson Tatum and Marcus Smart led the team with 21 points each. Kemba Walker scored 18 points and dished 18 assists.
Nick Nurse won the championship last year with Toronto, and won the NBA Coach of the Year this season. However, Boston's Brad Stevens outwitted him in Game 1. He wanted the Celtics to keep moving the ball and not fall into one of Toronto's smothering traps.
"Isolation is not the answer," explained Stevens. "They just load up on you. So the ball has to pop. You have to move. You have to find a great shot when you can, and you have to be patient enough to find it."
Stevens opted for a small lineup with three guards in the backcourt and a frontcourt consisting of Tatum and center Daniel Theis. Theis responded with a monster game, tallying 13 points and 15 rebounds in only 25 minutes of action. He averages only 9.2 points and 6.6 rebounds per game.
"We saw DT's version of Beastmode," joked Walker. "We call it Theismode."