Magnus Carlsen flirted with elimination from the Lindores Abbey Rapid Challenge on Thursday, but found a way to win his final game and reach the online chess tournament's quarterfinals.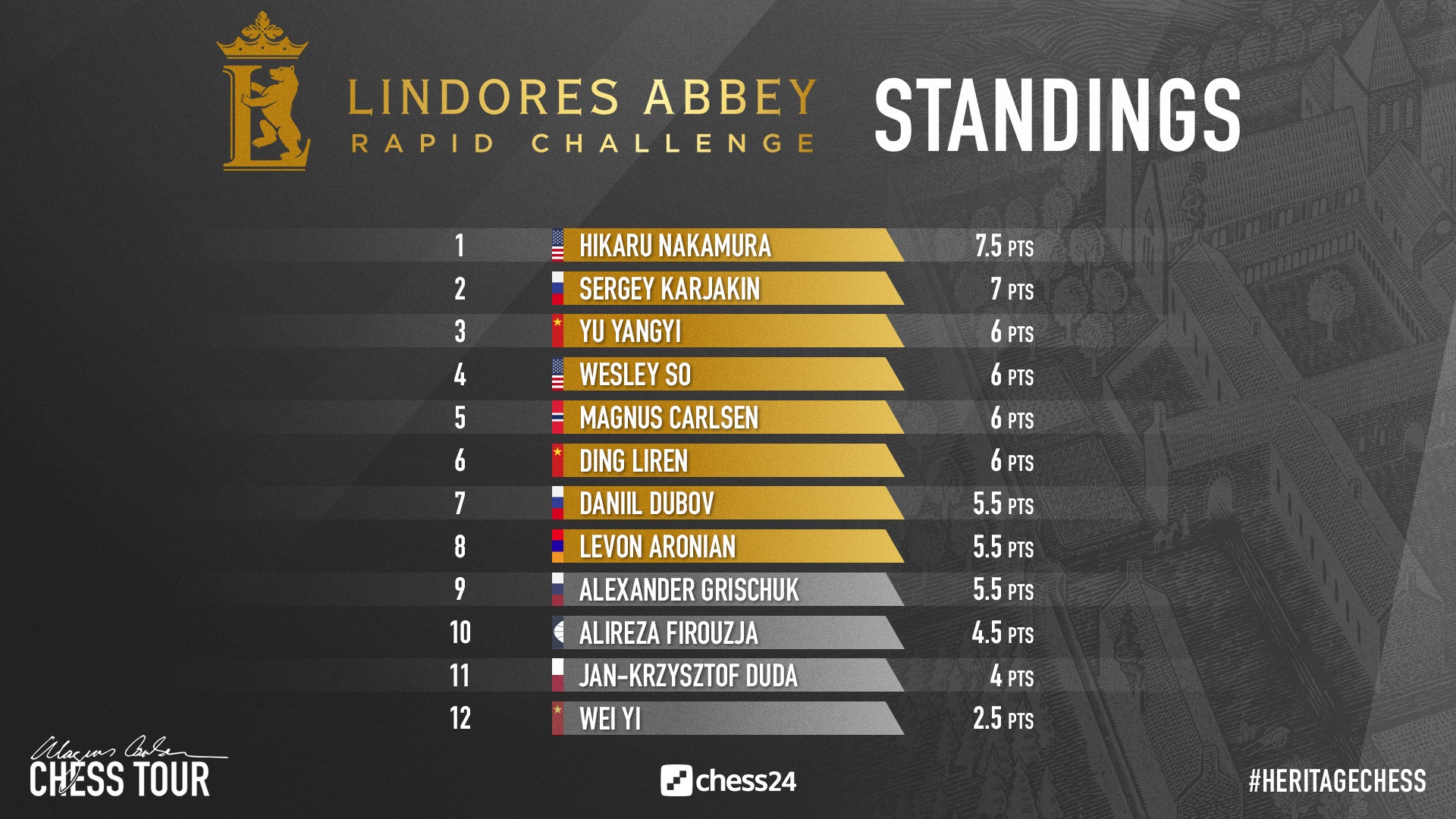 Carlsen defeated 16-year-old Alireza Firouzja in the final game of round-robin play to secure his spot in the knockout stage in the second event of the Magnus Carlsen Tour.
Carlsen Finds Brilliant Move to Advance
After starting the tournament with two wins and three points out of four in total on the first day of the Rapid Challenge, Carlsen limped to a 1.5/4 result on Wednesday. That still left him in a fine position to qualify for the quarterfinals, but a Round 10 loss to Daniil Dubov suddenly put that in doubt.
Carlsen needed at least a draw against Firouzja to clinch qualification, while the Iranian prodigy had the opportunity to leapfrog the World Champion with a win. Carlsen was able to get the advantage with the Black pieces, but only in a sharp position where both sides had the chance to play for a win.
"It was kind of a difficult position to play because I feel like I'm slightly better most of the way, but it's the sort of position where you cannot force a draw," Carlsen said after the round.
Carlsen found the brilliant Rb3 on his 33rd move, a brilliant exchange sacrifice that gave him a decisive advantage. While Firouzja declined to take the rook, it hardly mattered, as Carlsen coasted to a win from there.
Incredible drama, but Magnus beats Firouzja and makes it to the quarterfinals of the 2nd event of the Magnus Carlsen Chess Tour! https://t.co/h5khG1n7Eh #c24live #HeritageChess pic.twitter.com/QoiThUSGPB

— chess24.com (@chess24com) May 21, 2020
"It was pretty much a total s***show on my part," Carlsen said. "But I pulled through, so I shouldn't complain, and now, obviously, we all start from scratch."
Nakamura Secures Top Seed
American Hikaru Nakamura scored 7.5 points in 11 rounds to take the top seed heading into the quarterfinals. He'll take on Armenian Levon Aronian in the quarterfinal round. Sergey Karjakin took the second seed and will face Dubov, while Yu Yangyi will take on countryman Ding Liren. Finally, Carlsen will meet Welsey So in his quarterfinal.
The round-robin stage of @chess24com Lindores Abbey Rapid Challenge is completed.

Nakamura, Karjakin, Yu Yangyi, So, Carlsen, Ding, Dubov, and Aronian qualified for the knockout. Grischuk, Firouzja, Duda, and Wei Yi are out.

The quarters begin on Saturday. #HeritageChess pic.twitter.com/DtTXq3xt9P

— International Chess Federation (@FIDE_chess) May 21, 2020
The seedings set up a potential semifinal matchup between Carlsen and Nakamura, the two finalists in last month's Magnus Carlsen Invitational. Carlsen defeated Nakamura 2.5-1.5 in the final match of that tournament to win the $70,000 first prize.
---
Lindores Abbey Rapid Challenge Odds
Magnus Carlsen (-118)
Hikaru Nakamura (+400)
Ding Liren (+800)
Sergey Karjakin (+800)
Wesley So (+1400)
Yu Yangyi (+1400)
Levon Aronian (+2000)
Daniil Dubov (+2000)
Odds via Bwin.com
---
Carlsen remains a -118 favorite to win the Rapid Challenge according to online bookmaker Bwin. Nakamura (+400) is the second choice, ahead of Ding (+800) and Karjakin (+800).
In the Rapid Challenge, the players are competing for a top prize of $45,000. To win, they'll have to navigate a slightly different format than in the Magnus Carlsen Invitational. Each knockout round will consist of a best-of-three match format. Players will compete in four-game matches, with an Armageddon game in the case of a 2-2 draw. The winner of two matches advances to the next round.
The quarterfinal action begins this weekend following a rest day on Friday. The Nakamura vs. Aronian and Yu vs. Ding matches will start on Saturday, with the remaining players kicking off their first matches on Sunday.