The Carolina Hurricanes have been perfect at home and winless on the road throughout the Stanley Cup playoffs, including over the first four games of their series with the New York Rangers. They'll try to keep the home cooking going in Game 5 at PNC Arena on Thursday night.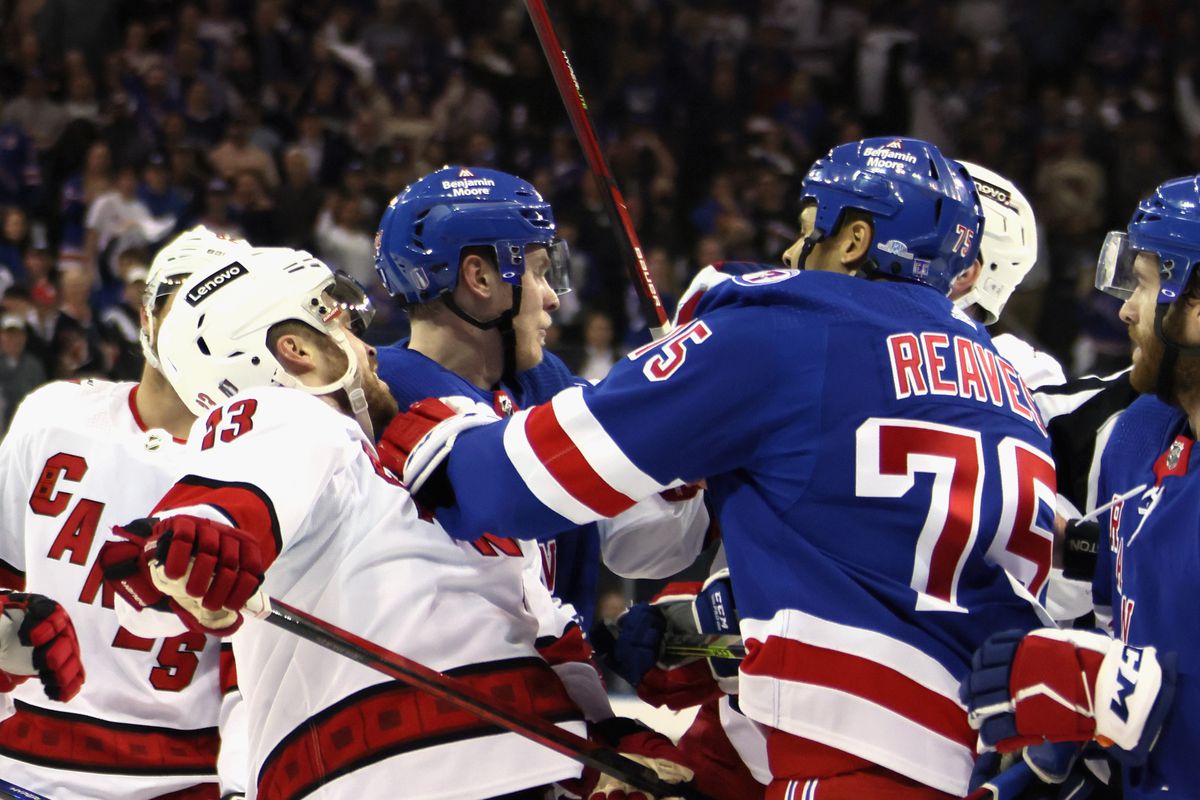 The Hurricanes are a -162 favorite to win Game 5 over the Rangers (+134), according to odds at FanDuel Sportsbook.
Hurricanes, Rangers trade home wins
Carolina jumped out to a 2-0 series lead at home to start the series. The Rangers were able to respond at home, winning twice at Madison Square Garden to even things up.
New York nearly broke through in Game 1, holding a 1-0 lead throughout most of the game before allowing a late goal and losing in overtime. Performances like that give Rangers coach Gerard Gallant hope that his team can break the Hurricanes' home winning streak. They'll have to in order to win the series, with two more games remaining in Carolina.
"It doesn't matter what happened in the past, it's about going forward," Gallant told reporters. "We played two real good games in their building last week. We didn't come out with a win, but we played two good hockey games. Keep working, keep playing."
The Hurricanes aren't counting on streaks to carry them to victory, either. Center Jordan Staal said that his team must play better, home or away, to win this series.
"I think as a group we didn't play very well in Game 4," Staal told reporters. "Give them credit: They made a push, and they were desperate, and we weren't. We looked sloppy. We're hoping to sharpen the knife again and be aware of where we're at and what we're trying to accomplish here."
Power play success eludes Carolina
One big difference in New York was that the Rangers scored on the power play, while the Hurricanes continued to struggle. Carolina is now 0-for-9 on the power play in the series, something that will likely have to change if they want to win two of the next three games.
"We've got areas we've got to get better at," Hurricanes coach Rod Brind'Amour told reporters. "At the end of the day, we want to score on our power play, just like they are on theirs. That makes a big difference if we can connect on that. In the last two games, we did hit two posts on our power play. We're there, it's just they've got to go in."
To do so, Carolina will have to get the puck past Rangers goalie Igor Shesterkin, a task that seems more difficult by the day. Shesterkin has a .925 save percentage and is allowing just 2.77 goals per game in the playoffs.
Those numbers have been even better since the Rangers pulled him from Games 3 and 4 in their first-round series against the Penguins. In seven games since, Shesterkin is 5-2 with a .939 save percentage and a 1.98 goals-against average.
"He's played great," Gallant said of Shesterkin. "He's a big guy, he's a big part of our group and I think he's ready for that now."