In this week's Quickie NFL Recap, a trio of NFC division leaders continued their winning ways with San Francisco 49ers (7-0), Green Bay Packers (7-1), and New Orleans Saints (7-1) securing victories in Week 8. All three teams are a combined 21-2 heading into the midway mark of the 2019 NFL season with San Francisco off to their best start in the illustrious history of the Niners.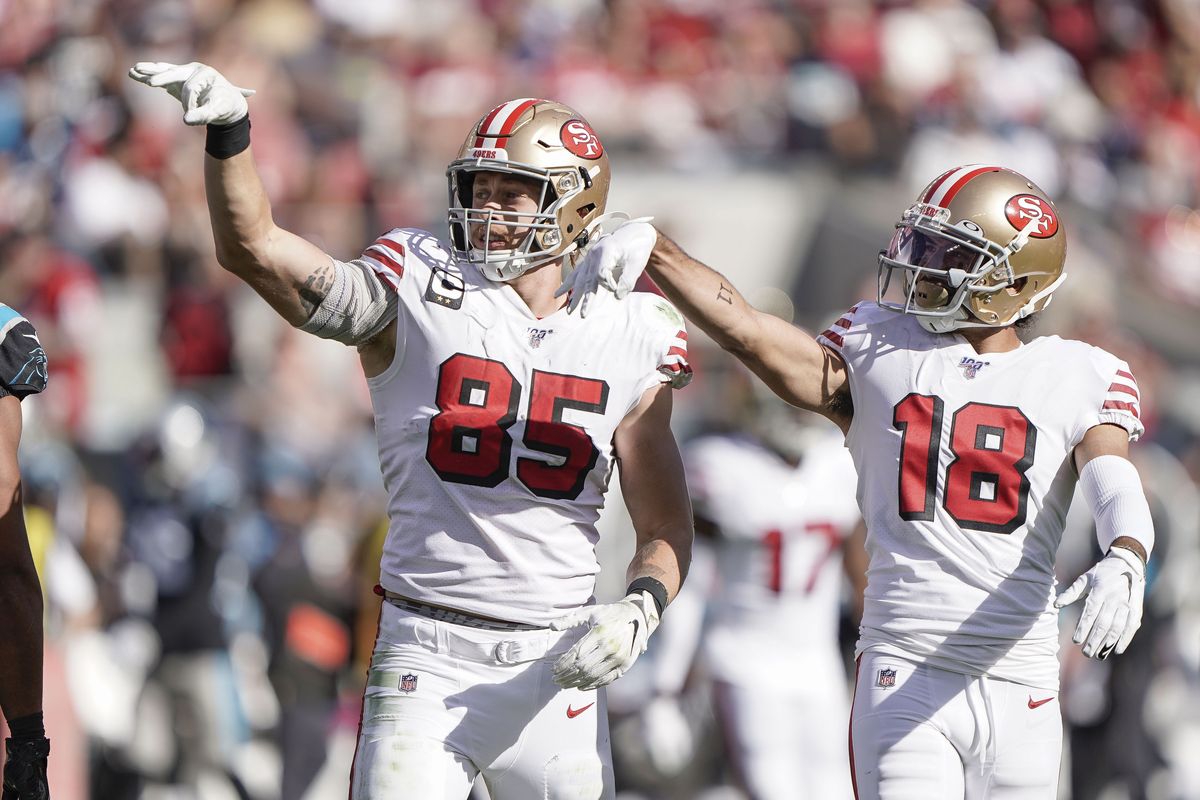 Meanwhile, the Minnesota Vikings (6-2) are first place in the NFC North and have yet to lose a home game in Minnesota.
Saints QB Drew Brees threw three touchdowns and looked impressive in his first week back in the lineup after injuring his thumb in Week 2. Aaron Rodgers threw a pair of fourth quarter touchdowns to lock up a tough road win for the Packers in Kansas City. Tevin Coleman scored four touchdowns in a Niners blowout win over the Panthers.
The bad teams were still bad. The winless teams, Miami (0-7) and Cincinnati (0-8), continued their futile ways. The NY Jets (1-6) were their typical LOLJets and the Washington Redskins (1-7) were beatdown on Thursday Night Football. They four worst teams in the NFL are a combined 2-28.
NINERS 7-0
San Francisco 49ers 51, Carolina Panthers 13… The Niners (7-0) jumped out to a 28-3 lead courtesy of three touchdowns from Tevin Coleman in the first half. Coleman finished with 4 total scores in the blowout. MVP-candidate Christian McCaffrey posted 155 combined yards and a TD in the atrocious loss for Carolina (4-3). The Niners are 7-0 for only the second time in franchise history.
PACKERS 7-1
Green Bay 31, Kansas City 24… Sunday Night Football action featured Patrick Mahomes on the bench nursing his dislocated kneecap. After falling behind 14-0, KC backup Matt Moore threw a pair of touchdown passes to put the Chiefs ahead 17-14 at halftime. Alas, Aaron Rodgers picked apart the porous KC defense in the second half. Rodgers threw two touchdowns to running backs in the 4Q to secure the comeback victory for the Packers (7-1). KC slipped to 5-3 and Mahomes wants to play next week. If this was not NFL Week 8 and a playoff game instead, Mahomes claimed he would've played on a sore knee.
WHO DAT ROLL IN BREEZY BREES RETURN
New Orleans Saints 31, Arizona Cardinals 9… Drew Brees looked sharp in his first game back with 373 yards and three touchdowns. The Saints (7-1) barely broke a sweat and improved to 4-0 at the Superdome. The Saints snapped Arizona's three-game winning streak, and the red birds fell to 3-4-1.
KUPP FLICKER
LA Rams 24, Cincinnati Bengals 10… The Rams were the home team at Wembley Stadium in London this week. European fans caught a mismatch with a squad that made it to the Super Bowl last year versus a team that had not won a game. The Bengals (0-8) remained the Bungles, while the Rams (5-3) finally get to go home after two long weeks on the road. Rams WR Cooper Kupp posted a monster game in London (7 receptions, 220 yards, TD). The Rams needed a win to stay pace with the Niners in the NFC West.
🗣 @CooperKupp!

A beautiful play drawn up by the #LARams. Kupp has 165 yards in the first half! @JaredGoff16 #CINvsLAR @NFLUK

📺: CBS
📱: NFL app // Yahoo Sports app
Watch free on mobile: https://t.co/a16R5wPShJ pic.twitter.com/5yglMkxYLu

— NFL (@NFL) October 27, 2019
THURSDAY NIGHT SKOL
Minnesota Vikings 19, Washington Redskins 9… The Vikings (6-2) are still unbeatable in Minnesota with a 4-0 home record. Even a short week could not slow down RB Dalvin Cook with 171 total offense (98 rushing, 73 receiving) and 1 TD. Another under hit on Thursday Night Football, but the Vikes failed to cover against Washington (1-7).
GOAT 300
New England Patriots 27, Cleveland Browns 13… The overrated Browns (2-5) spotted Tommy Boy and Belichick a 17-0 lead in the first quarter and that's all she wrote. The Pats improved to 8-0, while the victory marked #300 for Bill Belichick, who won his first job with Cleveland in the early 1990s. The Pats inched closer to a perfect 16-0 season.
FOWL BOWL
Seattle Seahawks 27, Atlanta Falcons 20… Russell Wilson and the Seahawks blew a 24-0 halftime lead, but hung on to win and fend off the Matty Ice-less Falcons (1-7). The Seahawks (6-2) remain undefeated on the road this season at 4-0.
BLIND SHOOTOUT IN HOUSTON
Houston Texans 27, Oakland Raiders 24… The Raiders (3-4) blew a late lead and allowed the Texans (5-3) to score 14 points in the fourth quarter. DeShaun Watson engineered the comeback and threw three touchdowns, including one while blinded by an opposing cleat. Houston won the game but lost DE JJ Watt for the rest of the season with a torn pectoral muscle.
Just ridiculous. 🤯@deshaunwatson | #OAKvsHOU pic.twitter.com/TQDGLX5AcE

— Houston Texans (@HoustonTexans) October 27, 2019
CLOWN SHOW IN J-VEGAS
Jacksonville Jaguars 29, New York Jets 15… Sam Darnold is still seeing ghosts for the LOLJets (1-6). Backup QB and cult hero Gardner Minshew stole the show with three TD passes for the Jags (4-4). In case you're keeping score at home… Cheesy Moustache QBs 1, Ginger QBs 0.
PHILLY BOUNCE BACK
Philadelphia Eagles 31, Buffalo Bills 13… Philly (4-4) has been in must-win mode for a couple of weeks and finally got a much-needed road victory in Buffalo. The Eagles ran all over the Bills (5-2). Bills Mafia went berserk after this ugly loss and the parking lots at Orchard Park were littered with busted and scorched tables.
DANNY DIMES SCHOOLED IN BIG D
Detroit Lions 31, NY Giants 26… Matt Stafford threw three TDs for the Lions (3-3-1), who won without RB Kerryon Johnson. Saquon Barkley scored a touchdown and combined for 143 yards for the Giants in the loss. The G-Men now lost four in a row and Danny Dimes has to pick up the pieces after a four-game skid.
BOLTS STEAL WIN, KICKER NEEDED IN CHICAGO
LA Chargers 17, Chicago Bears 16… Mega Kicking Tilt (MKT) continued in Chicago this Sunday when Eddie Piniero missed a chip shot as time expired. The downtrodden Bears (3-4) sunk to a 1-3 record at Soldier Field and equaled last year's number of losses (12-4 in 2018). Phil Rivers and the Chargers (3-5) stole a win on the road despite rushing for only 36 yards for the Bolts.
DOINK-LESS MISS as the #Bears out #Chargers the original at home giving the #Boltz a 1 point win – #KickersInChicago 17-16 #LACvsCHI #LAChargers #BoltUp #Bears100 #NFL100 #SportsTalkLine pic.twitter.com/DTAkXvSbzB

— Steven Van Over (@StevenVanOver) October 27, 2019
TRIPLE SHOT TANNEHILL
Tennessee Titans 27, Tampa Bay Bucs 23… Ryan Tannehill threw three TD passes, including a fourth quarter touchdown to AJ Brown to seal a comeback victory for the Titans (4-4). The Bucs (2-5) and their Swiss Cheese D blew another second-half lead.
DEGEN GAME OF THE WEEK
Indianapolis Colts 15, Denver Broncos 13… The Degen Game of the Week was easily the ugliest of NFL Week 8 as well. The lack of red zone production plagued the Broncos (2-6), but it's their lack of killer instinct that even had Joey Flacco questioning his faith in the play calling. Old Man Vinatieri connected on a 55-yarder and drilled a 51-yard game winner for the Colts (5-2).
MONDAY NIGHT TANK BALL
Pittsburgh Steelers 27, Miami Dolphins 14… Monday Night FitzMagic! The Dolphins (0-7) jumped out to an early 14-0 lead but then went cold. The Steelers (3-4) saved face in and scored 27 unanswered points to avoid an embarrassment on national TV to conclude NFL Week 8.
For the straight dope on each week, check out more NFL quickie weekly recaps.