The San Francisco 49ers defeated the New Orleans Saints during a 48-46 offensive explosion at the Superdome. The shootout between the Saints and Niners is the leading contender for NFL Game of the Year.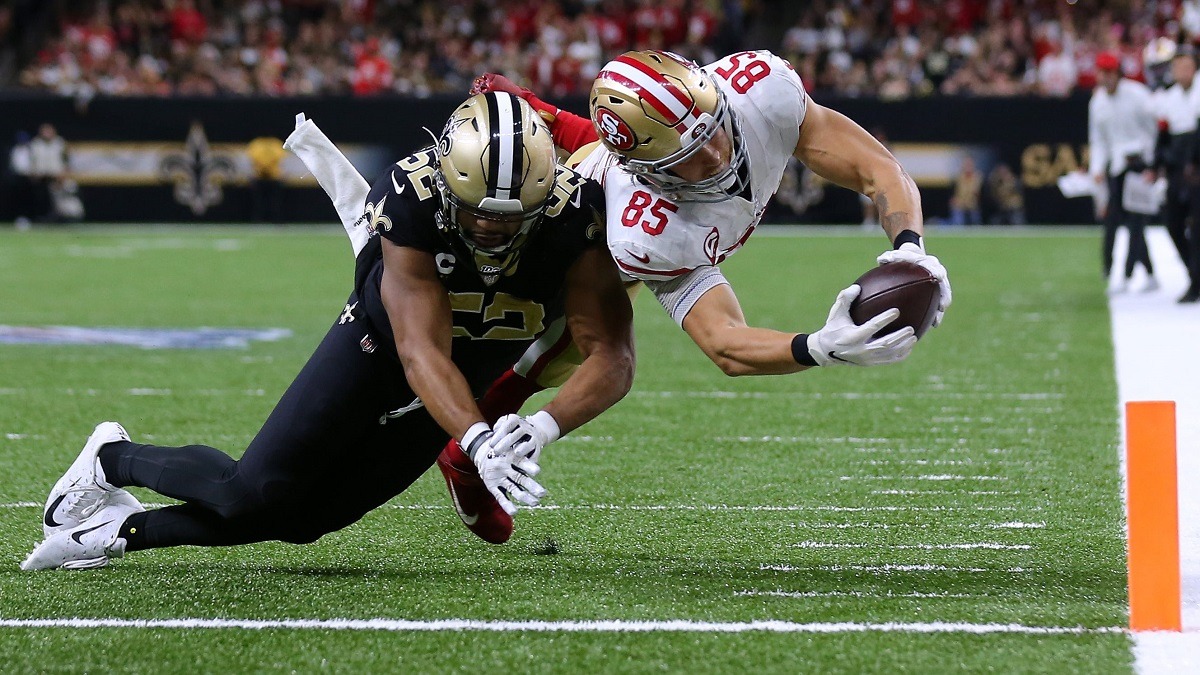 Fans kept a close eye on the Niners and Saints showdown because the NFC championship could come down to those two teams. The Niners pulled off an impressive road win against the Saints at the deafening Superdome during their toughest stretch of the season.
Meanwhile, the New England Patriots and Kansas City Chiefs should have been the potential Game of the Year when the NFL released the 2019 schedule. However, this match up included a depleted Pats' WR corps and a banged-up Patrick Mahomes. Tom Brady's offense continued to look awful as they lost their first home game of the season to Mahomes and the Chiefs.
The Tennessee Titans won a road game in Oakland to put them within spitting distance of the AFC South title after the Houston Texans were ambushed by the Denver Broncos in a rout.
Both the Philadelphia Eagles and LA Rams kept their playoff aspirations alive for another week with key victories against divisional foes.
Ravens Clinch NFC North Title
Baltimore Ravens 24, Buffalo Bills 17… The Ravens (11-2) secured the AFC's first postseason berth with a close win over the Bills (9-4). Lamar Jackson threw three touchdowns in an unusually low-scoring affair for the highest-scoring offense in the NFL.
Saint and Niners, Game of the Year?
San Francisco 49ers 48, New Orleans Saints 46… Heck of a shootout, which reminded everyone about last year's Game of the Year between the Kansas City Chiefs and LA Rams during a high-intensity matchup on Monday Night Football. Drew Brees threw five touchdowns for the Saints, while Jimmy G countered with four TDs for the Niners. Both quarterbacks combined for over 700 passing yards. WR Emmanuel Sanders threw a touchdown and caught another in the comeback win for the Niners against the Saints.
🤯@ESanders_10 to @RMos_8Ball 🏄‍♂️#GoNiners #SFvsNO pic.twitter.com/3AzpuJVbPE

— San Francisco 49ers (@49ers) December 8, 2019
KC Clinches AFC West
Kansas City Chiefs 23, New England Patriots 16… Patrick Mahomes finally got revenge after last year's loss in the AFC Championship, and the Chiefs (9-4) went on the road to deliver the Patriots (10-3) a rare loss at Foxboro. The Pats dropped their first game at home all season thanks to clutch defense from the Chiefs, coupled with several officiating gaffes. Tom Brady's kids better ask Santa Claus to send their daddy a couple of wide receivers for Christmas.
Rams Stay in the Hunt
LA Rams 28, Seattle Seahawks 12… The LA Rams (8-5) kept their postseason hopes alive with a must-win victory over the visiting Seahawks (10-3), who were previously undefeated on the road this season. The Rams defense kept both Chris Carson and Russell Wilson in check. They sacked Wilson five times, and forced one interception. Todd Gurley contributed 115 yards and a touchdown, while Jared Goff threw two scores in the divisional win.
Tannenhill Now 6-1 as Starter
Tennessee Titans 42, Oakland Raiders 10… The Titans (8-5) continued their march toward the postseason by stomping the Raiders (6-7) in their penultimate home game in Oakland. Ryan Tannenhill's torrid streak continued with 391 yards and three touchdowns. Derrick Henry rushed for more than 100-plus yards — again — and found the end zone twice.
Ryan Tannehill is who we wanted Joe Montana to be???

386 yards and 3 TDs today #Titans pic.twitter.com/jICMoj5GAL

— Hayden Winks (@HaydenWinks) December 8, 2019
10 Wins for the Pack
Green Bay Packers 20, Washington Redskins 15… Credit the Skins (3-10) for not rolling over this late in the season. They gave the Packers (10-3) a run for their money after falling behind 14-0. Aaron Rodgers had a low-fi game with a touchdown, while Aaron Jones put on a hi-fi performance with 192 combined yards, including 134 rushing yards and a touchdown.
Hot Mess in Dallas
Chicago Bears 31, Dallas Cowboys 24… The Cowboys (6-7) are a hot mess as their losing skid hits three in a row. After winning their first three games of the season, the Cowboys are 3-7 in their last 10 games. Mitch Trubisky threw three touchdowns in the victory for Da Bears (7-6).
Skol!
Minnesota Vikings 20, Detroit Lions 7… The Vikes (9-4) almost blanked the lowly Lions (3-9-1), who managed to avoid a shutout with a garbage-time TD in the fourth quarter. The Lions kept a banged-up Dalvin Cook in check, but the Vikes still won with Kirk Cousins spreading the ball around to 12 different receivers and running backs.
Texans Trampled
Denver Broncos 38, Houston Texans 24… The Broncos (5-6) might have finally found their future quarterback. Rookie Drew Lock threw for 309 yards and three touchdowns in an upset in Houston. The Texans (8-5) scored twice in the fourth quarter, including an acrobatic rushing TD from DeShaun Watson, to make this game look a lot closer than the final score indicated.
Sixth rushing TD of the season for @deshaunwatson.#DENvsHOU | #ProBowlVote pic.twitter.com/o6U1HPdUNu

— Houston Texans (@HoustonTexans) December 8, 2019
Duck Strikes Again
Pittsburgh Steelers 23, Arizona Cardinals 17… The Steelers (8-5) won another game with Duck Hodges at quarterback. However, their real hero was Diontae Johnson, who returned an 85-yard kick for a touchdown, and added another receiving score. The Cardinals (3-9-1) lost another close one.
Stayin' Alive
Philadelphia Eagles 23, NY Giants 17… Eli Manning got his job back, at least for one week, while rookie Daniel Jones nursed a sprained ankle. Manning tossed two touchdowns to Darius Slayton, but the Giants (2-11) lost their ninth game in a row after they failed to fend off the Eagles (6-7) in overtime. The Eagles kept their postseason chances alive with a key divisional victory.
Colts Dunzo
Tampa Bay Bucs 38, Indianapolis Colts 35… The Bucs (6-7) officially ended the Colts (6-7) and their quest for a postseason bid. The "Good" version of Jameis Winston showed up for this one. He tossed a whopping 456 yards and four touchdowns.
LOLJets Win 10 FG Game
NY Jets 22, Miami Dolphins 21… You know it's an ugly game when both teams combine for 10 field goals. The Jets (5-8) got a lucky call from the zebras and a game-winning field goal from Sam Ficken as time expired to secure a revenge victory over the Dolphins (3-10). FitzMagic went 0-for-6 in the red zone with zero touchdowns, while the Fins' kicker went 7-for-7 on field goals.
Hope you Started Ekeler in Your FFL
LA Chargers 45, Jacksonville Jaguars 10… Chargers backup RB, Austin Ekeler, became a one-man wrecking crew with 213 combined yards and a touchdown, including 112 receiving yards and 101 rushing yards. The Chargers (5-8) won an easy road game, while the Jags (4-9) lost five in a row.
RIP Riverboat Ron
Atlanta Falcons 40, Carolina Panthers 20… The Panthers (5-8) fired Ron Rivera, but their losing ways continued as their losing streak extended to five games. The Falcons (4-9) are now 3-2 in their last five games. Matty Ice set a record for his longest-career touchdown with a 93-yard strike.
Ohio Bowl
Cleveland Browns 27, Cincinnati Bengals 19… Both teams had zero shot at the postseason, but intrastate bragging rights were on the line. The Browns (6-7) and Baker Mayfield held their own serve at home against Andy Dalton and the hapless Bengals (1-12). Joe Mixon had a breakout game with 146 rushing yards and touchdown, but it wasn't enough to fend off the Browns.