In this week's Quickie NFL Recap, Green Packers QB Aaron Rodgers unleashed six touchdowns, including 5 TD passes in a blowout against the Oakland Raiders, and the two final undefeated teams remained unbeaten after the San Francisco 49ers (6-0) and New England Patriots (7-0) both pitched shutouts in Week 7.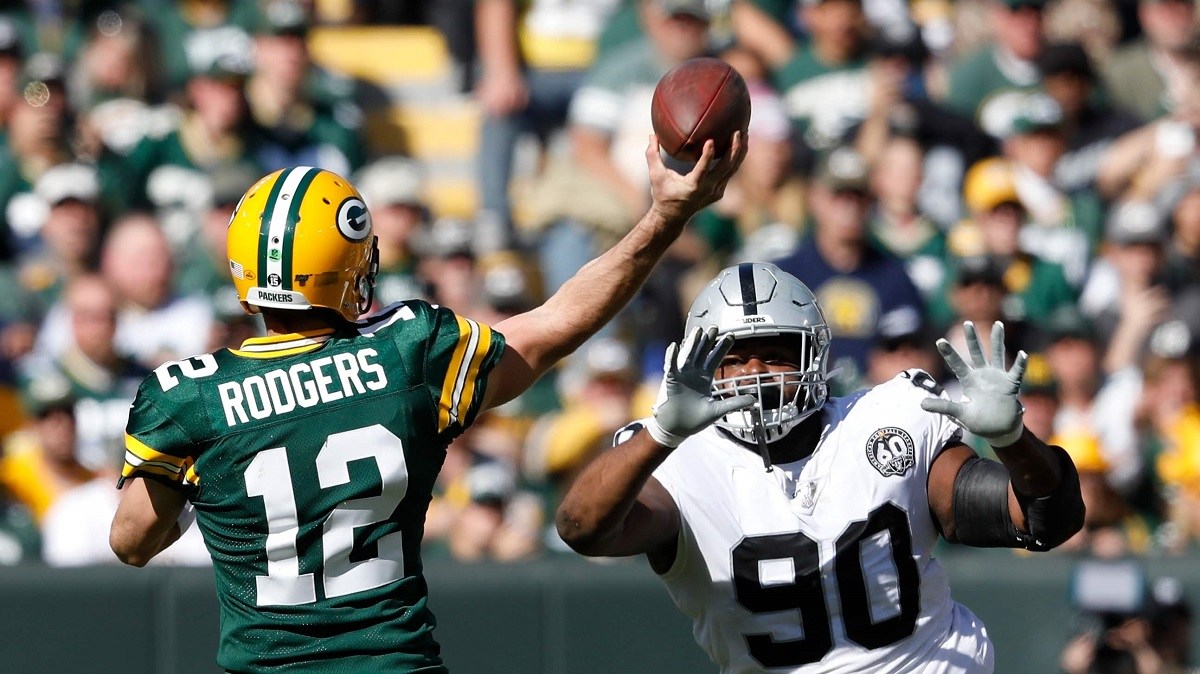 In other news, the bad teams were still bad as the Cincinnati Bengals (0-7), and Miami Dolphins (0-6) continued their losing ways.
If you've been tracking NFL quarterback injuries, both Patrick Mahomes and Matt "Matty Ice" Ryan were knocked out of games in Week 7. Mahomes will be out for four to six weeks after dislocating his knee. Matty Ice is day-to-day with a sprained ankle.
MAHOMES DOWN, EVERYONE FREAK OUT
Kansas City 30, Denver Broncos 6… Everyone will remember where they were the night they witnessed a trainer pop Mahomes' knee back into place before the QB phenom walked off the field on his own two feet. Kansas City (5-2) ended a two-game skid, but lost Mahomes against the Broncos (2-5). Heck, if Andy Reid could win with Alex Smith at QB, he can definitely win with Matt Moore as Mahomes' understudy.
AARON RODGERS 5 TD… WAIT, 6 TDs!
Green Bay Packers 42, Oakland Raiders 24… Aaron Rodgers looked as good as he's ever been with 5 TD passes. Rodgers posted a perfect passer rating with 429 yards and five TDs to five different receivers. He even ran one in for an even six-pack.
🏈 429 passing yards
🙌 6 total touchdowns
📈 Perfect 158.3 passer rating

Watch @AaronRodgers12's Week 7 highlights! #OAKvsGB | #GoPackGo pic.twitter.com/S2OpMrGe5L

— Green Bay Packers (@packers) October 21, 2019
JACOBY 4 TIMES
Indianapolis Colts 30, Houston Texans 23… The Colts (4-2) and Texans (4-2) are tied for first in the hotly contested AFC South. Jacoby Brissett threw four touchdowns in the Colts victory, including two to Zach Pascal. Brissett outplayed Watson in this budding divisional rivalry.
NINERS WIN MONSOON BOWL
San Francisco 49ers 9, Washington Redskins 0… The Niners (6-0) earned this mud-soaked victory against the Skins (1-5) under monsoon conditions. Robbie Gould hit three field goals in the second half to secure the victory. It's that time of year when weather becomes a major factor in games. Hope you bet the under in the lock for Week 7.
WHO DAT BEATS DA BEARS
New Orleans Saints 36, Chicago Bears 25… Teddy Bridgewater improved to 5-0 as a starter, and the Saints improved to (6-1). Mitch Trubisky returned to action, but the Bears (3-3) couldn't stop the Saints. Even without RB Alvin Kamara, the Saints extended their five-game winning streak.
VIKES PILLAGE THE BIG D
Minnesota Vikings 42, Detroit Lions 30… Dalvin Cook led the well-balanced Vikings attack with 142 rushing yards and two touchdowns. Good Kirk Cousins showed up once again, and Good Kirk tossed four more touchdowns. Adam Thielen caught one of those TDs, but injured his hamstring on the freak play. The Lions (2-3-1) put up a good fight, but they couldn't stop the Purple People Eaters (5-2).
Dalvin Cook is pretty good. pic.twitter.com/Q1IpegpulE

— Minnesota Vikings (@Vikings) October 20, 2019
MCVAY SMOKES HOTLANTA
LA Rams 37, Atlanta Falcons 10… The Rams (4-3) beat up on a bad team, but they got their mojo back against the lowly Falcons (1-6). Newly-acquired CB Jalen Ramsey gave the defense a boost. They also KO'd Matty Ice, but Matt Schaub came off the bench to toss a garbage-time TD.
BILLS MAFIA FISH SWEAT
Buffalo Bills 31, Miami Dolphins 21… FitzMagic almost pulled off an upset in Buffalo (5-1), but the tanking Dolphins (0-6) remain winless. Aside from the LOLJets, the Dolphins are the only team in the league that could give up an touchdown on a failed onside kick. Miami should change their nickname to the Miami Fish Tanks.
BAD GINGER BUNGLES
Jacksonville Jaguars 27, Cincinnati Bengals 17… The Jags (3-4) scored 18 unanswered points in the fourth quarter on the road, and rallied for a win over the hapless Bengals (0-7). Andy Dalton threw three interceptions in the 4Q, including a Pick-6 to seal their fate. The Bungles running backs rushed 16 times for zero net yards. That's not a typo. A big fat zero.
CHASE PWNS G-MEN
Arizona Cardinals 27, NY Giants 21… The Cardinals (3-3-1) won three in a row after beating up the NY Giants (2-5) in the Meadowlands. Cardinals backup RB Chase Edmonds stole the show with three touchdowns. The Giants lost three straight games after rookie Daniel Jones won his first two games as a starter.
BOLTS LOSE ANOTHER CLOSE ONE
Tennessee Titans 23, LA Chargers 20… The LA Chargers (2-5) had multiple chances to win this game, but failed to convert on the goal line. Sure, the zebras did another crappy job, but the Chargers have only themselves to blame for this loss against the Titans (3-4). Too bad Phillip Rivers has an allergic reaction to QB sneaks. The Bolts could've used one in this instance.
DENIED! @MelvinIngram forces the goal line fumble. @Chargers land on it. #SEAvsLAC pic.twitter.com/GkyOQ4rJyh

— NFL (@NFL) August 19, 2018
L-JAX OUTRUNS 12th MAN
Baltimore Ravens 30, Seattle Seahawks 16… The Ravens (5-2) went into hostile territory and beat the Seahawks (5-2) on their own turf. The Seahawks' D did a good job containing Lamar Jackson the quarterback (9-for-20, 143 yards, zero TD), but they couldn't stop Lamar Jackson the runner, who racked up 116 yards and a touchdown.
DALLAS BOUNCE BACK
Dallas Cowboys 37, Philadelphia Eagles 10… The Cowboys (4-3) bounced back after an ugly loss to the NY Jets. The Eagles (3-4) looked lost once again, and they couldn't stop the Dak and Zeke Show. The Cowboys rushed for 189 yards and three touchdowns with Dak and Zeke scoring one each.
KING STAYS THE KING
New England Patriots 33, New York Jets 0… After a surprise victory over the Dallas Cowboys, the LOLJets (1-5) returned to their old tricks in NFL Week 7. Sam Darnold threw an interception on the Jets' second play of the game. It was all downhill from there. The Patriots stifling defense pitched another shutout and spooked Darnold in the process. The Pats (7-0) covered this one after letting the Jets back-door a cover the first time they met.
For the straight dope on each week, check out more NFL quickie weekly recaps.