Underdogs prevailed once again in Week 6 of the NFL, with a 10-4 record against the spread, and the Seattle Seahawks currently in the running for best group TD celebration after they busted out vintage dance choreography inspired by the 1990s boy band, NSYNC.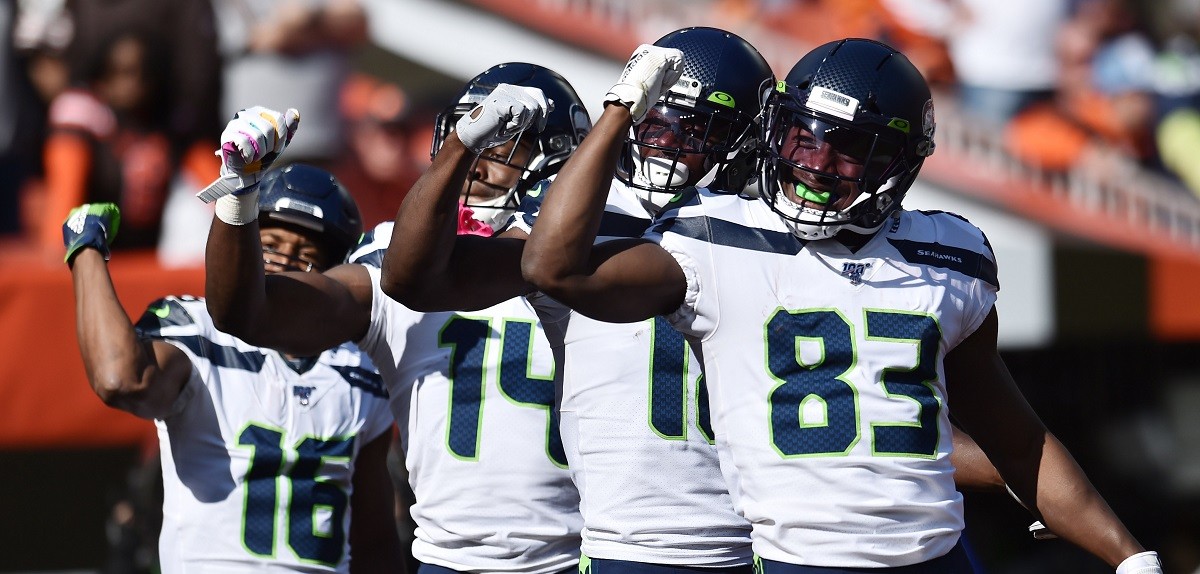 In this week's Hemingway Report for Week 6, the big story once again involved those pesky dogs. Home dogs went 2-2 against the spread in Week 6 (not including the London game), but underdogs overall went 10-4 ATS.
Two NFC South backups keep winning. Carolina's Kyle Allen improved to 4-0 as a starter as the Panthers won their fourth game in a row. Saints backup, Teddy Bridgewater, improved to 4-0 as a starter, and the Saints (5-1) continue to roll without Drew Brees.
In the Degen Game of the Week, the winless Washington Redskins flew down to Miami to take on the tanking Dolphins in the Winless Bowl (or the Toilet Bowl, Futility Bowl, or INSERT PEJORATIVE HERE _____ BOWL). The Redskins (1-5) emerged with the victory after the Dolphins failed to convert a 2-point conversion they had no business attempting. The Dolphins (0-5), and Cincinnati Bengals (0-6), continued their losing ways as the only teams remaining without a victory this season.
Meanwhile, two unbeaten teams (New England Patriots and San Francisco 49ers) remained undefeated in NFL Week 6. Those wacky #LOLJets finally won a game. The Jets scored three touchdowns against the Cowboys, but none of them did a cool NSYNC TD dance like the Seahawks.
NINERS 5-0
LA Rams 31, SF Niners 27… Jimmy G and the Niners (5-0) stayed undefeated, while the Rams (3-3) dropped their third game in a row. The smothering Niners D pitched a shutout in the second half. The Rams ineffective offense missed RB Todd Gurley, who sat out with a sore knee.
BYE BYE BYE, SEAHAWKS NSYNC TD DANCE
Seattle Seahawks 32, Cleveland Browns 28… Another wild back-and-forth game. Russell Wilson (295 yards, 2 TD) rallied Seattle after a 20-12 halftime deficit. Baker Mayfield threw three picks, but Nick Chubb rushed for 122 yards and a score. After Jaron Brown scored, the Seahawks pulled off the TD dance celebration of the year (thus far) with a rendition of "Bye Bye Bye" by NSYNC. Justin Timberlake and the rest of NSYNC approved of the Seattle TD dance. Who knows if the Seahawks started a TD dance trend of incorporating NSYNC and other 90s boy bands?
🚨 THE @SEAHAWKS JUST DID @NSYNC'S BYE BYE BYE DANCE THIS IS NOT A DRILL 🚨 pic.twitter.com/FIOqUAycJS

— FOX Sports: NFL (@NFLonFOX) October 13, 2019
TEDDY FOOTBALL WINS AGAIN, VOL. 4
New Orleans Saints 13, Jacksonville Jaguars 6… It was a defensive slog for Gardner Minshew in J-Vegas. The Saints D kept Minshew and Leonard Fournette out of the end zone. Bridgewater won another game for the Saints. Wasn't pretty, but he got the job done, and the Saints improved to 5-1. Their Super Bowl odds jumped after a timely tweet from Pope Francis.
HOME SKOL HOME
Minnesota Vikings 38, Philadelphia Eagles 20… The Vikings (4-2) are a completely different team at home (3-0). The Vikes jumped out to an early 24-10 lead, and never looked back. Kirk Cousins threw for 333 yards and four touchdowns. Despite all the trade chatter, disgruntled WR Stefon Diggs scored thrice. The Eagles (3-3) forgot how to defend Diggs, and he made their secondary look like zombies.
WATSON ROAD WARRIORS
Houston Texans 31, Kansas City Chiefs 24… Tyreek Hill scored twice in his first game back, but the Chiefs blew a 17-3 lead. DeShaun Watson and the Texans scored 20 unanswered points by running all over KC. The Chiefs regained the lead in the second half, but blew it in the fourth quarter. After starting 4-0, a banged-up Mahomes and Kansas City (4-2) dropped two in a row at home.
LONDON CALLING, PART 2
Carolina Panthers 37, Tampa Bay Bucs 26… Another meh London game with 16 garbage-time points from the Bucs. Jameis Winston coughed up five interceptions in a Bucs loss (2-4). Christian McCaffrey had an off game with 22 carries for 31 rushing yards, yet CMAC still scored two touchdowns. Allen notched a fourth-straight win for the Panthers (4-2).
GINGER SPLEEN BEATS DAK AND ZEKE
New Yok Jets 24, Dallas Cowboys 22… Jets QB Sam Darnold (338 yards, 2 TD) returned from mono and the sporting world got turned upside down by the #LOLJets upsetting the Dallas Cowboys. The Jets were up 21-6 at halftime thanks to a 92-yard TD bomb from Darnold to Robby Anderson. Dallas chipped away at the lead, but failed a chance to tie with a blown 2-point conversion. The Cowboys (3-3) have lost three games in a row, and the Jets (1-4) finally won a game.
The longest TD from scrimmage this season.

Sam Darnold & @youngamazing9 #TakeFlight for 92 yards! 🛩 #DALvsNYJ

📺: CBS
📱: NFL app // Yahoo Sports app
Watch free on mobile: https://t.co/xLc7ljuEnj pic.twitter.com/jzGih5GRi3

— NFL (@NFL) October 13, 2019
WICKED SMAHHHHT DEFENSE
New England Patriots 35, New York Giants 14… Tommy Boy and Big Daddy Belichick beat up another bad team to stay undefeated at 6-0. The Pats covered (now 4-2 ATS) thanks to a pair of fourth quarter touchdowns. The top-ranked Patriots defense pitched a shutout in the fourth quarter for a fifth time this season. The Pats D allowed only seven points in the 4Q all season (a garbage-time Pick-6 against the Jets).
BACKDOOR GINGER COVER
Baltimore Ravens 23, Cincinnati Bengals 17… The Bengals scored on the first play of the game, but they couldn't stop the Lamar Jackson show (236 passing yards, 156 rushing yards). Andy Dalton scored a garbage-time rushing TD for a back-door cover. The Ravens (4-2) lead the AFC North, while the Cincy Bungels are still winless at 0-6.
EXTRA POINT BLUES
Arizona Cardinals 34, Atlanta Falcons 33… A back-and-forth battle after the Cardinals (2-3-1) blew a 17-point lead. Matty Ice lit up the Cards for four touchdowns, and rookie Kyler Murray tossed three. The Falcons had a chance to tie it late, but kicker Matt Bryant missed a rare XP. Atlanta coach Dan Quinn's job is on the line after a 1-5 start, while Arizona's rookie coach, Kliff Kingsbury, is slowly finding his way.
TOILET BOWL
Washington Redskins 17, Miami Dolphins 16… In the Degen Game of the Week, Washington won the battle of winless teams. Scary Terry McLaurin scored two touchdowns in Washington's first victory of the season. Miami finally scored points in the second half, and FitzMagic almost led them to a victory. Miami rolled the dice and attempted to win with a 2-point conversion. Alas, it failed, and the Fish remained winless at 0-5. That's #tanking at its finest.
The #Dolphins went for a 2-point conversion to "win it" and this is what they called. 😂🤣😂🤣#Tankingpic.twitter.com/vBKRKwoMkE

— Dov Kleiman (@NFL_DovKleiman) October 13, 2019
SNOOZE CITY, COLORADO
Denver Broncos 16, Tennessee Titans 0… The Titans (2-4), and especially QB Marcus Mariota, forgot to show up in this snoozer against Denver (2-4). You know it's a boring affair when the game never shows up on NFL Red Zone, and that's during a sparse afternoon session with only four games on the docket for Week 6. You were better off watching the Seahawks NSYNC TD dance GIF on a loop for three hours.
THREE RIVERS WEST
Pittsburgh Steelers 24, LA Chargers 17… The Steelers (2-4) were down to their third-string QB (Devlin Hodges, who?), yet still pulled out the road win. More Steelers fans were at this Sunday Night Football game in SoCal than Chargers fans. The Steelers nearly blew a 24-point lead. Phil Rivers tried to work his black magic in the fourth quarter with two touchdowns to TE Hunter Henry, but the Chargers (2-4) comeback fell short.
CROSBY COMEBACK
Green Bay Packers 23, Detroit Lions 22… In Week 6 Monday Night Football action, the Lions (2-2-1) blew a 9-point lead in the 4th quarter, and got hosed by the zebras. The Packers (5-1) won when Mason Crosby nailed a game-winning field goal to cap off another Aaron Rodgers comeback at Lambeau Field. With Davante Adams still out with turf toe, the Packers were running thin at WR after Geronimo Allison left the game with a concussion. Fourth-string WR, Allen Lazard, hauled in four receptions, including a 65-yard touchdown. He had never caught a ball from Rodgers before getting called into action. Backup RB, Jamaal Williams, stepped up for the Packers with 144 combined yards, including 104 rushing yards and a TD reception.
Check out more quickie weekly NFL gambling recaps for the entire 2019 season.