Alabama football has a problem several college coaches wish they had, two quality quarterbacks vying for the starting position.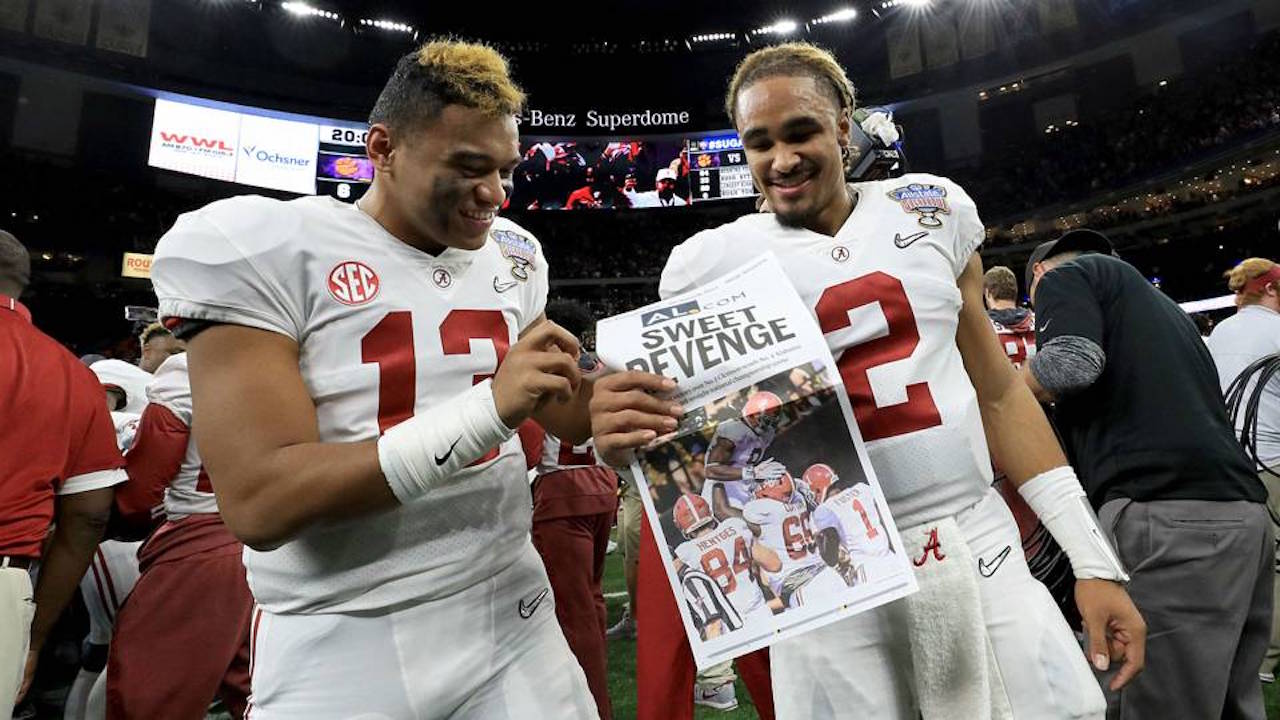 Junior Jalen Hurts is locked in a battle with sophomore Tua Tagovailoa for the starting position and Crimson Tide fans are wondering who will be under center when the season begins on Sept. 1.
The controversy has not affected the team's odds to repeat as the national champions. The Westgate Las Vegas SuperBook released its opening odds in January and had Alabama as the favorite at 3/1. Since then the team has dropped to 2/1.
Hurts has been the starting signal caller for the last two years. The 19 year old lead Alabama to a National Championship and was named SEC Offensive Player of the Year and SEC Freshman of the Year in 2016. At one point last year he was a 20-1 pick to win the Heisman Trophy.
But last season he struggled and that was magnified when Coach Nick Saban pulled him at halftime of the National Championship game against Georgia. Tagovailoa replaced him and led the team to a comeback victory.
Spring Practice Intrigue
When the Crimson Tide's Spring Practice began on March 20, Saban made the position an open competition between the two. Tagovailoa entered the Spring as the favorite, but no decision was ultimately made on who would lead the offense.
When the Alabama A Game was played on April 21 before 74,732 fans, Hurts got his shot to impress the coaching staff and came up short. He went 19-for-37 for 195 yards, zero touchdowns and one interception. Tagovailoa did not play because of an injury to his left hand, his throwing hand.
Despite the struggles, coach Nick Saban said that he still has confidence in his junior QB after the game.
"I was not disappointed in the way Jalen played," Saban said. "We have some guys that can rush, and even though we were rushing four guys most of the time, there was way too much pressure in the pocket for the quarterback to be able to operate like we would like. Jalen made some good plays and throws, and I'm sure if you were to talk to him he would say, 'I wish there were things I did better and can improve on.'"
Tagovailoa has shown he is the better passer of the two, but Hurts has only lost two games in two years and is an effective runner and game manager. Still some are saying Saban is leaning toward his sophomore.
Transfer Talk Getting Louder
If Tagovailoa is made the starter whispers were starting that Hurts would transfer. His father, Averion Hurts said the possibility to leave was there if his son wasn't the starter.
"Coach Saban's job is to do what's best for his team. I have no problem with that," Averion Hurts said. "My job is to do what's best for Jalen, and make no mistake, Jalen is a quarterback, and he wants to play quarterback. He loves Alabama, loves Coach Saban and everything about that place. But he wants to play, and he will play. Well, he'd be the biggest free agent in college football history."
The issue is mute for now. Tagovailoa is recuperating from surgery on his left hand and won't be available until summer. But if he returns healthy and takes over the quarterback spot, Hurts could very well leave the program.