Ben Simmons of the Philadelphia 76ers struggled with free throws in the 2021 postseason, which shattered his confidence, and prompted bookies and sportsbooks like DraftKings to post a prop bet on whether or not Simmons will hit or miss his first free throw of the new regular season.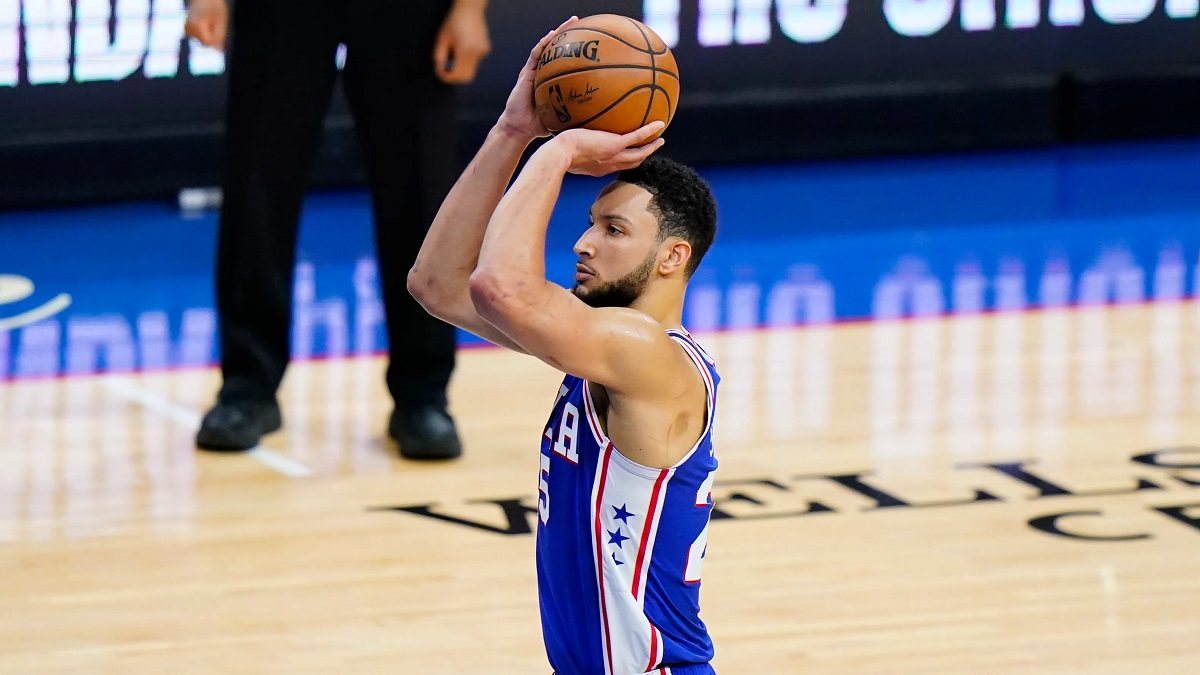 The current prop bet at DraftKings has odds on whether or not Simmons hits his first free throw, with -145 odds for yes, and +120 odds for no.
Simmons is a career 59.7% free-throw shooter, which is way below average for a typical point guard. Then again, Simmons at 6-foot-10, isn't your typical point guard. His janky, left-handed shooting style looks like something you'd see at a rec center or playground, and not in the NBA where teams have snipers with perfect styles.
Simmons had an awful postseason with the 76ers, who were knocked out of the Eastern Conference semifinals by the Atlanta Hawks. In 12 playoff games, he averaged 11.9 ppg — nearly 2.5 points off his season average. He passed up a wide-open layup for fear of getting fouled and embarrassing himself at the free-throw line. That drew the ire of his teammates, coaches, fans, the media, and even the ghost of Benjamin Franklin, who rolled over in his grave.
---
Ben Simmons Prop Bet

Will Simmons Hit or Miss His First Free Throw?
---
Simmons demanded that the 76ers trade him in the offseason. However, the 76ers were unable to find a suitable package due to his max-contract, emo-attitude, and terrible shooting. The team suggested Simmons rebuild his poor shooting motion over from scratch and adopt a right-handed jumper and free throw while abandoning his awkward left-handed motion. The chaos continued when he decided to skip the start of training camp.
Last season with the 76ers, Simmons shot 61.3% from the free-throw line, which was a tick down from his career-high of 62.1% from the 2019-20 season.
In last year's postseason, Simmons cracked under pressure. He connected on 34.2% of his shots from the charity stripe. Overall, Simmons hits 52% of his free throws in the playoffs, almost 10% below his regular-season career average.
Simmons didn't appear in the season opener last night against the New Orleans Pelicans. Head coach Doc Rivers kicked Simmons out of practice for dogging it and not engaging with teammates. The 76ers suspended Simmons for one game. He's expected to return to the team for their home opener in Philadelphia on Friday evening against the Brooklyn Nets.