Prop bettors to know who will score the first touchdown in the upcoming Super Bowl but at OG we're obsessed with the opposite. We want to know which member of the Kansas City Chiefs or Tampa Bay Bucs will score the last touchdown in the Super Bowl. And yes, if you're into wild prop bets and exotic wagers during the Super Bowl, then take a peek at the last touchdown prop bet.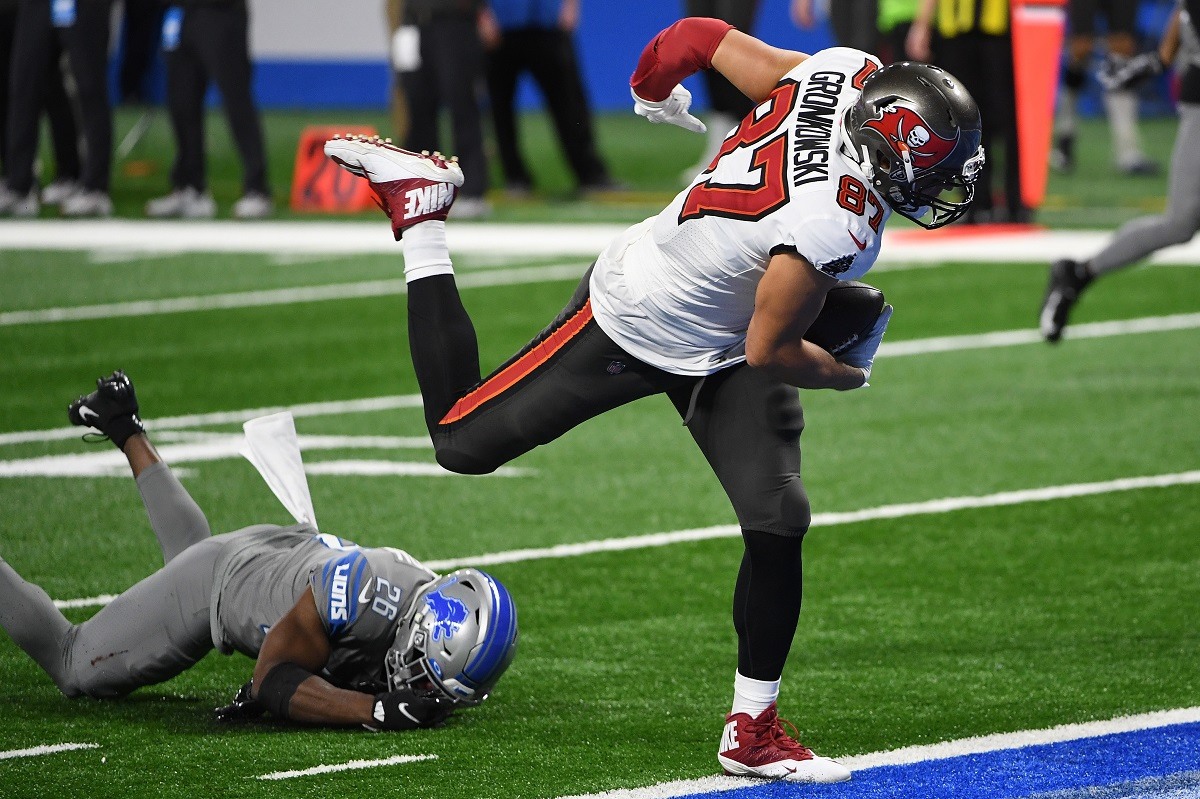 South Point Casino and Sports Book in Las Vegas posted their lengthy list of Super Bowl prop bets. The one that caught our eye was a prop bet on the "player to score last touchdown" in the Super Bowl.
SUPER BOWL PROP BET – PLAYER TO SCORE LAST TD
Travis Kelce +600
Tyreek Hill +600
Mike Evans +1000
Leonard Fournette +1000
Clyde Edwards-Helaire +1200
Chris Godwin +1200
Darrel Williams +1500
Patrick Mahomes +1800
Rob Gronkowski +1800
Antonio Brown +1800
Mecole Hardman +1800
Ronald Jones +2000
Scotty Miller +2500
Tom Brady +2500
Cameron Brate +2500
Demarcus Robinson +2500
Byron Pringle +3000
FIELD +1000
NO TDs +20000
---
As expected, Kansas City All-Stars Travis Kelce and Tyreek Hill are co-favorites at +600 odds as the last player to reach the end zone in Super Bowl 55. Mike Evans at +1000 is the highest Member of the Tampa Bay Bucs for this prop bet.
The field pays 10/1 and that could be applied to anyone not listed in the prop, including a defensive player who sealed the Super Bowl with a Pick-6 interception returned for a touchdown.
Blowouts or Nail Bitter?
What is your Super Bowl narrative? Close game? Blowout? Ugly and sloppy game? Back and forth slugfest? A snoozer for three quarters then a shootout in the fourth quarter? Once you figure that out, then you can reverse the outcome of the Super Bowl in your head. Did the big game come down to a game-winning drive? Was it a blowout in garbage time?
If you want to wager on a dramatic ending, then which player will be the one that wins the game? Will it be a Patrick Mahomes pass to Kelce (+600) or the Cheetah (+600)? How about Brady to Evans or Godwin? Will a running back burst through at the goal like Clyde Edwards-Helaire (+1200) or Leonard Fournette (+1000).
Second and third stringers could come into play in garbage time during blowouts. That means wideouts like Mecole Hardman (+1800) or tight end like Cameron Brate (+2500) offer up solid value.
For sentimental reasons, Tampa tight end Rob Gronkowski at +1800 is worthy of a flier. This could be just a one-and-done season for Gronk after coming out of retirement to play with Tom Brady and a new team in Tampa Bay. If that's the case, Brady could look for his old buddy one last time before Gronk rides off into the sunset for a second retirement.
No Touchdowns?
With two high-scoring offenses meeting each other, Super Bowl 55 is expected to be a high-scoring affair. There's also a chance of a blowout and in those circumstances, you have to consider weird possibilities liked a fat guy touchdown or a trick play.
But how about zero touchdowns? Is that even possible in the pass-heavy offenses that took over the game in the 2010s and now the 2020s? There's never been a Super Bowl without a touchdown, but we came close two years ago.
In Super Bowl 53, the New England Patriots defeated the Los Angeles Rams 13-3 in the lowest-scoring Super Bowl in NFL history. The Patriots scored the lone touchdown when Sony Michel rushed for a TD in the fourth quarter. In case you were wondering, Michel's score helped bettors cash prop bets as the first and last player to score a TD in Super Bowl 53.
For the nihilists out there, no touchdowns in the Super Bowl pays out 200/1 on the "Last Player to Score a Touchdown" prop bet.
Check out more Super Bowl prop bets in our comprehensive coverage of Super Bowl 55.